Thomas Hachtman

Thomas Hachtman, the creator of Gertrude's Follies, woke up this morning after a violent coughing fit brought on by the recent rescue of a stray Siamese. Hachtman was born in Rockville Centre, NY. His early art education began with Jon Nagy and Winky Dink. Numerous drawings that displayed his precocious brilliance done on the Winky Dink screen, the Etch-a-Sketch and the Magic Slate have been sadly lost. In 1964, inspired by Big Daddy Roth and Stanley Mouse, Hachtman began decorating the t-shirts of neighborhood children with what he thought were 'permanent markers'. When all the wash loads in Malverne began turning pink (the red markers were especially impermanent) angry parents gathered on his doorstep insisting the culprit be dealt with. On his sixteenth birthday Hachtman was given, by his concerned mother, a Paache Model H airbrush. Soon he was happily airbrushing t-shirts and sweatshirts in his suburban basement beginning his lifelong inhalation of paint mist that would contribute to the cough that woke him up this morning.

In the summer of 1966 Tom Hachtman studied landscape painting with Michael Wright at the Art Barge in Amagansett. The next year Hachtman went to Philadelphia where he studied illustration at the Philadelphia College of Art, now the University of the Arts. After graduating he joined Cloud Studio in NYC where he did covers and illustrations for magazines (GQ, American Way), books(Cure For Cancer) and record albums (First Rush: The Comedy of Chris Rush). While at Cloud he appeared in numerous photo comics.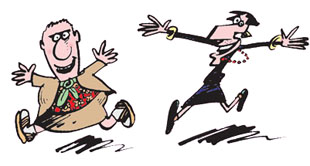 In 1978 Hachtman began drawing a strip titled Gertrude Follies for the Soho Weekly News. It was a hilarious semi-fictional depiction of the lives of Gertrude Stein, her companion Alice B. Toklas and their friends. Animator Michael Sporn became interested in doing a feature-length cartoon and Hachtman began working on a storyboard and script. Tim Curry was interested in giving his voice to Alice and this event made Page Six of the New York Post. A short film remains unfinished but the experience led Hachtman into the field of animation where he would waste many precious years of his life toiling with his airbrush, breathing more deadly fumes.

In 1994 Hachtman took a job doing editorial cartoons for the New York Daily News. He wasted another two precious years making stupid jokes about O.J. Simpson, Rudolph Giuliani and Bill Clinton. All he learned in this period is that 'Ebbets Field' is not possessive and has no apostrophe.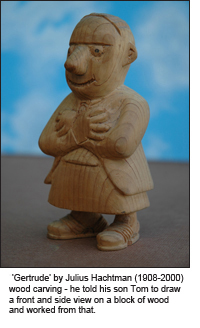 After the Soho Weekly News folded and Gertrude's Follies faded, Hachtman met a literary agent named Betsy Nolan who told him he was brilliant, but had to think 'mainstream'. He brought her a dozen samples of an idea he called DoubleTakes. These drawings combined two celebrities into one caricature such as Bing Cosby, Dustin Hoffa, Marlon Monroe, Zsa Zsa Gaborgnine, etc. Harmony/Crown published a collection along with a book of pick-up lines to launch a new humor line.

Tom Hachtman's DoubleTakes (As Betsy Nolan insisted it be called) also appeared in Esquire, National Lampoon, USA Weekly and numerous exhibitions. A show entitled Zsa Zsa Gaborgnine and Friend was shown at the Demuth Foundation in Lancaster, PA. His other cartoons have appeared in the New Yorker, MAD and Playboy.

Since 1984 Hachtman has been a regular contributor to the syndicated editorial art service INX. His recent work can be seen at inxart.com.

He now lives near the ocean in New Jersey and collaborates with his wife covering the walls of the finer restaurants, nail salons, bagel shops, pediatrics clinics and McMansions of New Jersey with beautiful murals. He has a son Sherwood.

Hachtman's celebrity encounters: Leroy Neiman got a job for him doing caricatures at the Playboy Hotel in Great Gorge, NJ. The Amazing Kreskin used to hang out on the beach near him. Both very nice guys. Met Springsteen on 8th Street. Met Robert Downey Jr. at a party. Also nice guys. Oh, yeah, he met Tina Brown at a New Yorker party. He asked her if Nicholson Baker would be there and she replied, "He's probably home wanking."
101 100 99 98 97 96 95 94 93 92 91 90 89 88 87-57 BuyGertrude'sFollies