THE PHANTOM MINUS
Leaves are falling, screams are rising, and the scent of artifical pumpkin flavoring is in the air. All Hallow's Eve is fast approaching and E. Basil St. Blaise has fired up the ol' VCR for his annual Blood Feast ((1963) –– Red red whine.) wherein he binges horror classics until he feels Braindead ((1992) –– Smarts.) "And then I'm ready for FOX News," he reports.
Sipping a Zombie, of the cocktail variety, our reviewer went on to explain, "Lon Chaney Sr., the Man of a Thousand Faces, gave us two of the iconic monsters of Hollywood's Silent Era, the grotesque Hunchback and the horrific Phantom. Those were my kind of leading men –– extremely threatening, but not as romantic leads. They were the kinds of suitors that made you feel good about your chances at romance. Later, one became a Disney song and shuffle man à la Nathan Lane, the other a skulking, crooning ad for Proactiv. "
The Hunchback of Notre Dame (1923) –– Never gets over the hump.
The Hunchback of Notre Dame (1939) –– Dead ringer.
The Hunchback of Notre Dame (1956) –– Quasidodo.
The Hunchback of Notre Dame (1996) –– Gargoyle interrupted.
The Phantom of the Opera (1925) –– Erik addle.
The Phantom of the Opera (1943) –– Disaster aria.
The Phantom of the Opera (2004) –– Webber gruel.
The Phantom of the Paradise (1974) –– Rocky horror picture slough.
And, as a bonus, the vertically-challenged St. Blaise scales the heights and plumbs the depths of sci-fi flicks that feature terrors awfully small or terribly big.
The Devil-Doll (1936) –– Shrinking violence.
The Incredible Shrinking Man (1957) –– Mini camp.
The Incredible Shrinking Woman (1981) –– Minute maid.
Attack of the Puppet People (1958) –– Wee whackers.
Fantastic Voyage (1966) –– Micros cope.
Honey, I Shrunk the Kids (1989) –– Teeny boppers.
Honey, I Blew Up the Kid (1992) –– Shoulda used dynamite.
War of the Colossal Beast (1958) –– Jumbo scrimp.
Attack of the the 50 Foot Woman (1958) –– Econo-large.
Attack of the 50 Ft. Woman (1993) –– Stun size.
Village of the Giants (1965) –– Mega what?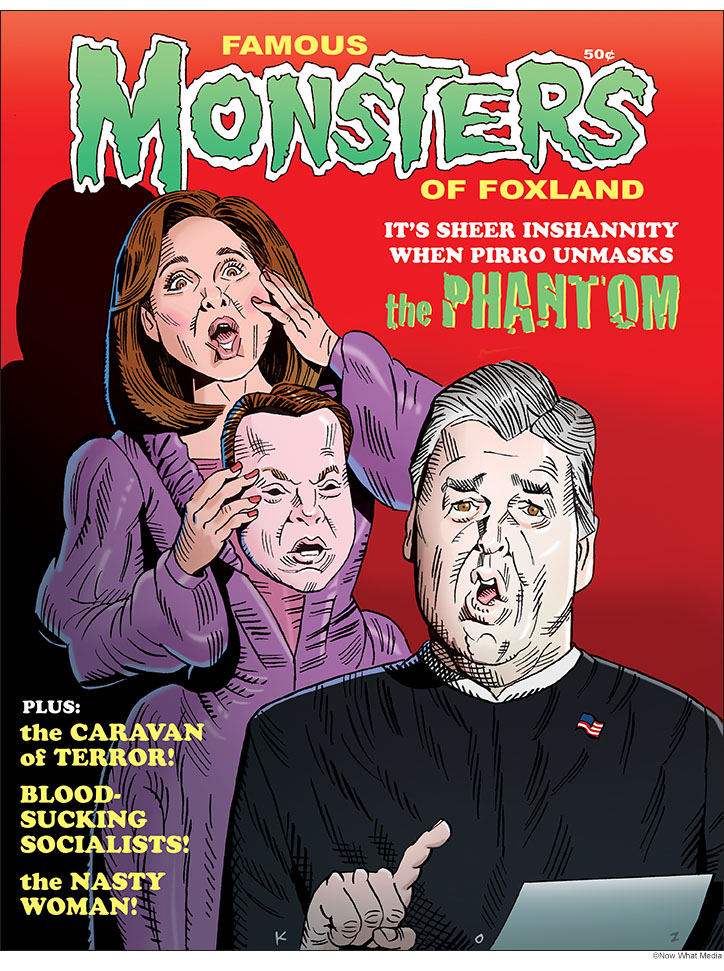 10/25/18
---
SLASH AND BURN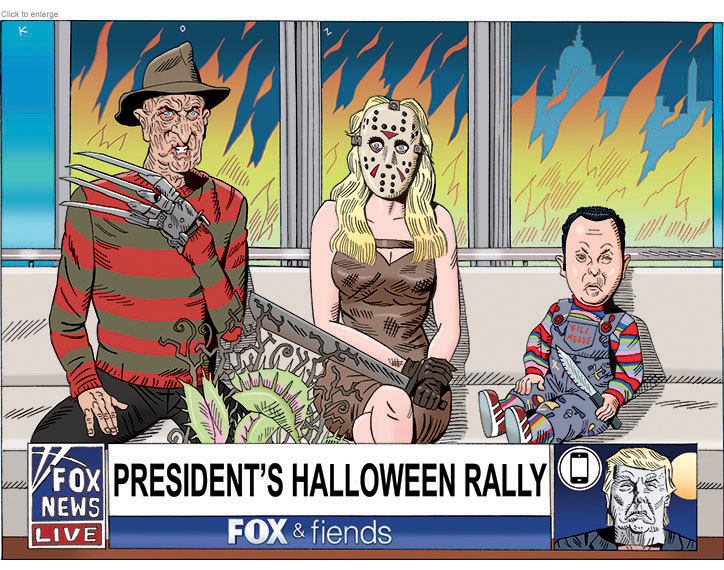 FOX News is the AIP of cable stations –– a schlock outfit pumping out scary stories on the cheap that prove inexplicaby popular. American International Pictures was a production company active from 1954 through 1980 that released exploitation films of every sleazy stripe, under the aegis of cigar-chomping vulgarian Samuel Z. Arkoff (a sort of Roger Ailes, but with far more class.) They gave us classics like I Was a Teenage Frankenstein ((1957) –– A total zitshow.), The Ghost in the Invisible Bikini ((1966) –– Sun scream.), and The Thing With Two Heads ((1972) –– And half a brain.) Although FOX's demographic is decades older than AIP's horny teens, this House of Horrors has brought us far more terrifying monsters like O'Reilly, Palin, and Trump.
To celebrate FOX talent in this spooky season, E. Basil St. Blaise, our all-seeing Dr. Cyclops ((1940) –– Dedicated to the one-eye love.) of film criticism, focuses on the slasher flicks that arose in the 70s and 80s and spawned numerous damaged offspring that haunt us to this day. St. Blaise claims not to have been a fan of the gory subgenre. "Most of them are about as exciting as a lumberjack contest with all that chopping," he laments, "I usually end us sawing wood. And those poor teenagers –– getting impaled for the first time oughta' be fun. And not with a fireplace poker."
"The baddies usually have as much personality as a Cuisinart blender. Freddy Krueger changed that, but old pizza face would never shut up. I prefer my horror with a touch of classy menace and a Continental accent. Like that truly scary Sebastian Gorka on FOX. Couldn't you just see him glowering in a red-lined cape in a remake of Count Yorga, Vampire ((1970) –– Bit fit.)?"
Halloween (1978) –– Stab hunter.
Halloween II –– 6 (1981-1995) –– Cutting class.
Halloween H20: 20 Years Later (1998) –– Watered down.
Halloween: Resurrection (2002) –– Raises a stink.
Friday the 13th (1980) –– Boo camp.
Friday the 13th Part 2 –– Jason X (1981-2001) –– Expiration dates.
Freddy vs. Jason (2003) –– Freddy the 13th?
Friday the 13th (2009) –– Who's axing?
A Nightmare on Elm Street 2: Freddy's Revenge (1985) –– Like Montezuma's.
A Nightmare on Elm Street 3 –– 5 (1987-1989) –– Sleeping bogey.
Freddy's Dead: The Final Nightmare (1991) –– Dead to rise.
A Nightmare on Elm Street (2010) –– Creep's up.
Childs Play (1988) –– UpChucky.
Child's Play 2 (1990) –– Babble head doll.
Child's Play 3 (1991) –– Gamy face.
Bride of Chucky (1998) –– Raggedy angst.
Seed of Chucky (2004) –– Daft spunk.
Curse of Chucky (DVD 2013) –– Cussin' It.
Cult of Chucky (DVD 2017) –– Sect's fiend.

10/23/18
---
BREACH BUM
Facebook exposed 50,000,000+ users' personal data to the firm Cambridge Analytica which allegedly used it to influence a number of political outcomes including the UK's Brexit vote and the 2016 US election. This extraordinary carelessness and the bumbling reaction of Facebook's founder to it inspired Thomas Kerr to produce the following paean.
Zuckymandias
I met a web-surfer from an antique LAN,
Who said — "Two sneakered and trunkless legs of stone
Stand in the desert. … Near them, on the sand,
Half sunk a shattered visage lies, whose glasses,
And curly red hair, and sneer of smug command,
Tell that its sculptor well those passions face recognized
Which yet survive, stamped on social media,
The post that mocked them, and the 'like' that fed;
And on the pedestal, these words appear:
My name is Zuckymandias, King of Kings;
Look on my Facebook, ye Mighty, and despair!
Nothing beside remains. Round the decay
Of that colossal Wreck, boundless and bare
The lone and level sands stretch far away."
–– With apologies to Shelley ... none at all to Zuck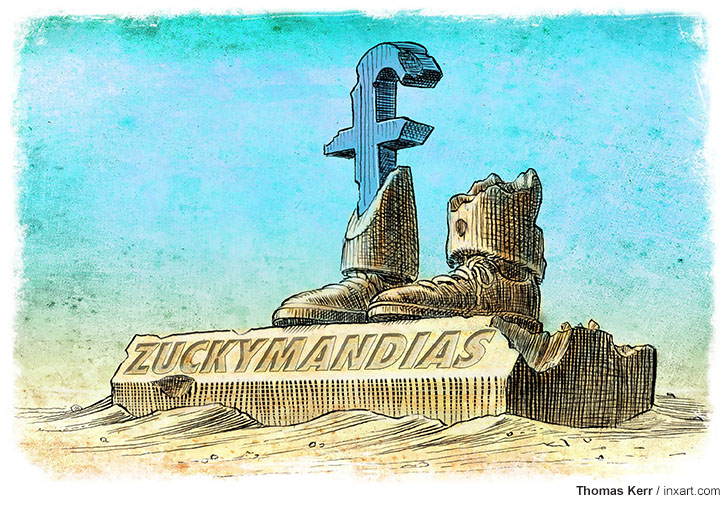 03/29/18
---
BUTTON HOLES
At what point will Donald J. Trump issue the executive order to officially change the inscription on the Great Seal of the United States from E Pluribus Unum to Magnitude Rerum? He judges reality entirely in terms of quantity over quality and the proportion that obsesses him most is that of Dong Jr. He finds metaphors for his manhood everywhere, from skyscrapers to bank accounts to missiles to men's heights to Marco Rubio's dick. Surely this phallocrat would love the precept Size Matters thus enshrined on a scroll held in the beak of a bulked-up blond, coiffed eagle with two large testicles hanging beneath the striped shield.
North Korea's Kim Jong-un bragged in his New Year's day speech that, "The entire United States is within range of our nuclear weapons, and a nucler button is always on my desk."
The President of the United States tweeted the following measured response: "North Korean Leader Kim Jong Un just stated that the "Nuclear Button is on his desk at all times." Will someone from his depleted and food starved regime please inform him that I too have a Nuclear Button, but it is a much bigger & more powerful one than his, and my Button works!"
Will the acrimonious comparison of the magnitude of their comparative mushroom clouds be the 'inauguration crowd controversy' of this year?
Update: Porn star Stormy Daniels released her memoir Full Disclosure on October 2, 2018. In it she recounts her alleged affair with Donald Trump in 2006 and helpfully describes the President's mushroom-like member. Boom.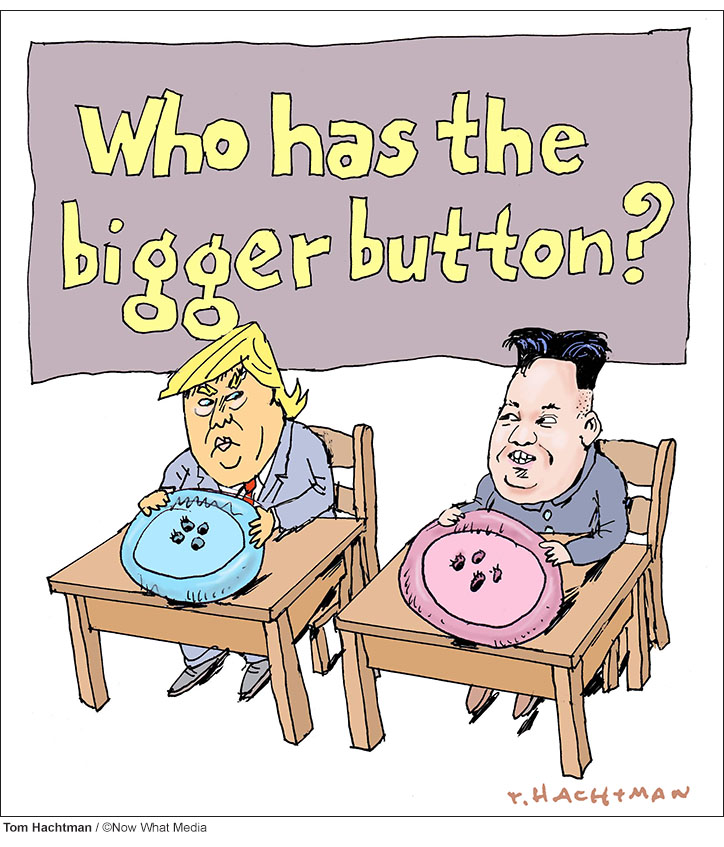 01/03/18
---
DOXING DAY
Let us set the scene as The Yuletide Trust announces its 2017 Top 12 Wishes of Christmas List just in the Saint Nick of time. It's X-msk Eve in balmy Omsk (only -15º C), and Wishfinder General Adesta Fidelis is standing at the podium in the festively festooned Rudolph Room about to deliver her remarks. Her audience is composed of her bodyguard Misha, two ham radio operators, four Yuletide Trust interns, two correspondents from the local newspaper Komsomolskaia Pravda, and a reporter from RT who wrote an insufficiently enthusiastic article about Vladimir Putin's personal depilatory engineer. Ms. Fidelis is attired in a GFK Ugly Sweater from the Ghostface Killah Collection and we are told the long-stemmed martini glass by her side is filled with pure melted Siberian snow.
With a broad, but nervous smile, the diminutive Ms. Fidelis begins, 'Welcome, one and all, to the most eagerly-awaited Celebrity List since Ranker's The Absolute Worst Actors-Turned-Musician. Every year we are one step ahead of the competition, including the NSA, in uncovering the most secret desires of the rich and famous and sharing them with the poor and anonymous –– let's hear it for our Jolly Bear cyber team! Extra bitcoins in your virtual stockings this year."
After a swig of 176 proof water she continues, "Now some of you might like me to address the elephant in the room, not the pink one doing the Cossack dance on Misha's shoulder –– and explain why it is I, not CEO Holly Ann D'Ivie, standing here at this momentous moment. First, let me dispel some fake news reports that have been circulating concerning our fine leader. A) She is not in the Boris Yeltsin Clinic "drying out". She is definitely not dried out. And #2, I shlipped her a Polonium cocktail and this is my All About Adesta moment. C'mon, you can't even get arsenic around here, for cryin' out loud."
"No," she insists after another cleansing shot, "no, the truth is she's in Washington, DC appearing before some Senate or House or Souse Committee on Russian meddling in the 2016 election. Seems like Ms. D'Ivie was alleged to be in a certain shecret meeting at Trump Tower last June translating between that fat record promoter and Don Jr. English to whatever it is he speaks. Well, that, and the accusations of money laundering here at the Trusht for that stalled Trump Siberian Resort Project."
"And yes, the escape attempt failed and Yul Tannenbaum, our original CEO, is back in Alaska's Goose Creek Correctional Center. Maybe he can tidy up a space in the cell next door for Ms. D'Ivie –- heck, they'd go at it like cats and dogs. Now you know my secret wish. And here are the next dreamy dozhen." With that Ms. F disappears behind the podium, presumably stepping down from her stool. We can still see the following list waving in her left hand, as though in surrender.
12) Kevin Spacey: Digit spinner.
11) Rose McGowan: "Hurry, cane Harvey!"
10) Kim Jong-un: Testes rocket kit.
9) Sarah Sanders Huckabee: An ounce of truth.
8) Sen. Al Franken: Double-D stress balls.
7) Roy Moore: Teen Wolf boxed set.
6) Meghan Markle: Royal prints.
5) Ivanka Trump: Tiffany watched.
4) Colin Kaepernick & Trump Cabinet: New knee pads.
3) Stephen Miller: What do you give the man who hates everything?
2) America, T minus 1122 Days: 190 proof water.
1) Santa Claus: A U.S. travel visa.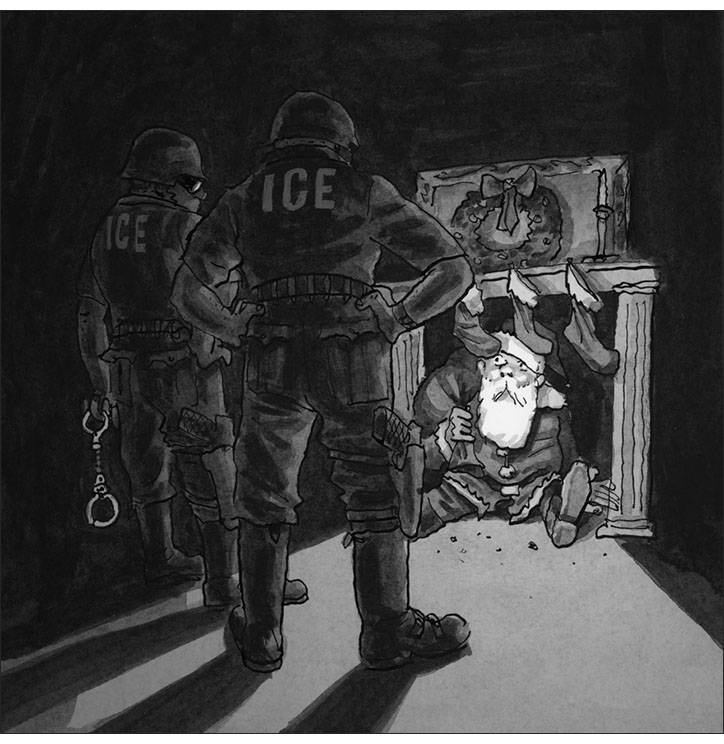 Drawing © Rob Shepperson
For more of Rob's TGIF drawings visit robshepperson.blogspot.com
12/24/17
---
ORNAMENTAL BREAKDOWN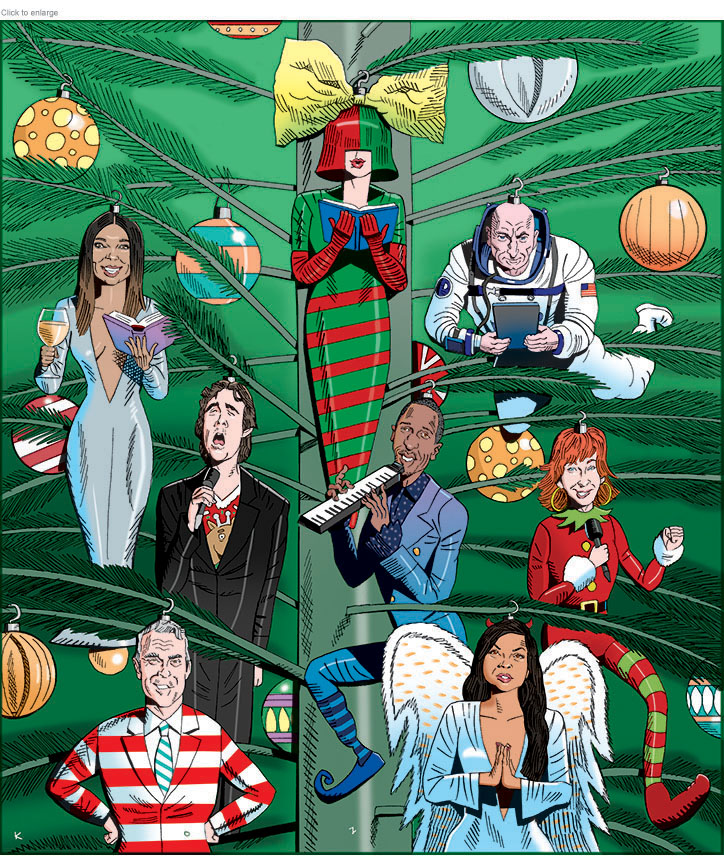 The year has simply flown by and it's time again to dispose of whatever income you have left on grudging gifts, while praying that you can still write them off as 'business expenses' after the Republicans pass their tax bill. Always remember to add 'LLC' after your name on the enclosed card, just in case. To help you select the perfect not-too-special something for that awfully average someone, we've enisted our Little Drama Boy, E. Basil St. Blaise, to review the best of the new crop of Holiday Albums.
Blaise says, "I like to fire up the portable butane range here in my mobile HQ –– which is currently parked in a Wal-Mart lot in Safford, AZ (until after the New Year's Sales) –– and warm up some of my special Groggy Nog. Then I spin these disks and see which ones get little Josef, my somewhat deaf affenpinscher, to yap the loudest. His ear, the left one, is still unerring. Then I pray some of those homicidally cheerful carolers will come along so I can reach up through the hatch in the roof of my trailer and pour some of the tepid Nog down on them and pretend it's boiling oil like in my favorite Chas. Addams cartoon. Sigh. I love this season.'
Every Day Is Christmas / Sia –– Sia troubles.
Christmas Everyday / Smokey Robinson –– Smokey and the band did.
You Make It Feel Like Christmas / Gwen Stefani –– Black-eyed peace.
Christmas Christmas / Cheap Trick –– Snow mas!
Dear December / The Minus 5 –– Non-plussed.
Christmas After Midnight / Fantasia –– Wheeze hours.
Finally It's Christmas / Hanson –– Present-day.
Let It Snow / 98 Degress –– Let it melt.
Christmas Back to You / Chanté Moore –– Moore the merrier.
The Christmas Wish / Herb Alpert –– Tootle eww.
My Kind of Christmas / Reba –– Air filcher.
Not So Silent Night / REO Speedwagon –– Noise to the world.
Christmas with Jon Batiste / Jon Batiste –– Dud of winter.
Christmas in Tahoe / Train –– Green sleaze.
Simply Christmas / Leslie Odom Jr. –– X-mas for Dummies.
Noël / Josh Groban –– No, hell.
St. Blaise also dug through the teetering stack of non-fiction books on the night table next to his bed to find the ones that really put the 'Moi!' in memoir. Here are some gems from 2017 that you probably overlooked, but your unsuspecting giftee can look over.
Growing Up Fisher by Joely Fisher –– Joely old eff.
The Grouchy Historian by Ed Asner with ed. Weinberger –– Crank shaft.
A Good Life: Newspapering and Other Adventures by Ben Bradlee –– Special ed.
Endurance by Scott Kelly –– Gravitational bull.
We're Going to Need More Wine by Gabriel Union –– Drinking out loud.
Sisters First by Jenna Bush Hager and Barbara Pierce Bush –– Bush babies.
An American Family by Khizr Khan –– Right in the Khizr.
A River in Darkness: One Man's Escape from North Korea by Masaji Isikawa –– Korea & Lives.
Going Into Town: A Love Letter to New York by Roz Chast –– Chast itty belt.
Standing Strong by Teresa Giudice –– Jersey cowed.
I'm Fine…and Other Lies by Whitney Cummings –– Cummings and goings.
It Takes Two: Our Story by Jonathan and Drew Scott –– Scotts freak.
Believe Me by Yolanda Hadid –– Does the dirty Hadid.
There Is No F*cking Secret by Kelly Osbourne –– Or point.
Kirk and Anne: Letters of Love, Laughter, and a Lifetime in Hollywood by Kirk Douglas and Anne Douglas –– Douglas circa.
The Secrets of My Life by Caitlyn Jenner –– Cait spayed.
Cravings: How I Conquered Food by Judy Collins –– Sweet Judy blew lies.
Judy and I: My Life with Judy Garland by Sid Luft –– Luft waffle.
Superficial: Andy Cohen –– Cohen bothers.
Around the Way Girl by Taraji P. Henson –- Jam Henson.
12/19/17
---
ALABAMA QUAKES
In anticipation of the inevitable Roy Moore win I began the first drawing below on Alabama's Election Night for inclusion in this week's Inx Package. It depicts Judge Dreadful as the driver of the GOP's new pedo van, scaring away young females. In the Age of Trump, extreme cynicism has become the default setting in all matters political, and I was dead certain that Alabamans would reject 'big city' critiques of Moore's antediluvian views (even Noah would think they were backward) and the painfully credible charges of his preying on underaged girls. I was sure they'd elect him as much out of cussedness as an embrace of his 'values'.
I've rarely been so happy to admit I was wrong. Doug Jones, a fairly progressive Democrat with a solid history on defending civil rights, edged out the reprobate, dealing a blow to Trump, Bannon and the Senate Republicans. Well, Happy Hanukkah and Holy Shit. I was thrilled to amend the original image.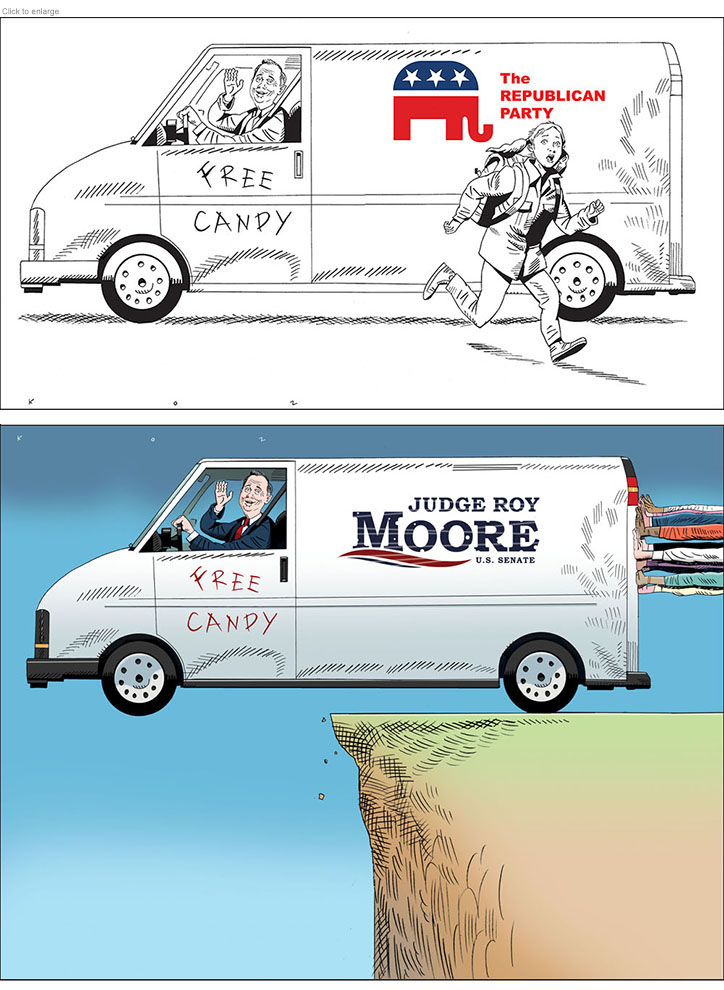 Martin Kozlowski
12/13/17
---
HARDY HORROR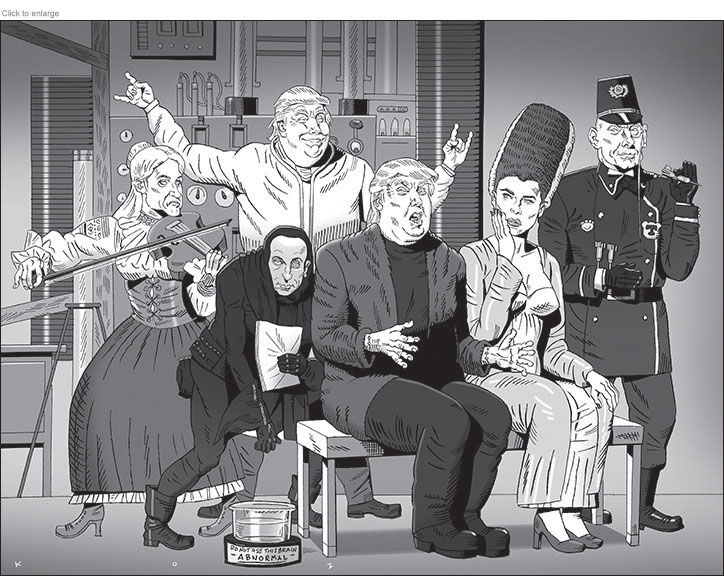 It's once again that season when we don't know whether to laugh or scream. Come to think of it, that's how we've felt for the entire past year. Either way, we've set The Abominable Dr. Phibes ((1971) –– Price gouging.) of film criticism, E. Basil St. Blaise, to reviewing some ghastly Halloween favorites as an entire nation succumbs to hysteria.
Chief source of our nervous titters has been the real-time remake of the Mel Brooks classic Young Frankenstein ((1974) –– The Igor Sanction.) currently being taped in the White House. St. Blaise claims, "Old Trumpenstein combines belly laughs with strangled cries for help in ways we haven't seen since Abbot and Costello Meet the Mummy ((1955) –– Tomb it may concern.) We're all so spooked by it that we're looking for explanations in the strangest places –– from evil Russian trolls to lead in the water to The Invasion of the Body Snatchers ((1956) –– Aiie!Pods). Personally, I blame white-as-a-KKK-sheet supernatural forces like the kind you'd find in these haunted features."
Blithe Spirit (1941) –– Common seance.
The Uninvited (1944) –– The school of horrid knocks.
The Innocents (1961) –– The turn of the screwed.
Carnival of Souls (1962) –– Bury-go-round.
The Haunting (1963) –– Home 'n' spectre.
The Legend of Hell House (1973) –– Habitat for inhumanity.
The Amityville Horror (1979) –– Bugger boo.
The Fog (1980) –– Like pee soup.
Poltergeist (1982) –– Hocus bogus.
House (1985) –– Ghost stories.
Ghost (1990) –– Bury the lead.
Ringu (1998) –– Tape dreck.
The Sixth Sense (1999) –– Chills Willis.
The Devil's Backbone (2001) –– Spine-tinkling.
The Ring (2002) –– Video killed the rounder-eye star.

As Mel Brooks snarked, 'It's good to be the King", and Castle Rock star Stephen has been having his hack-work translated into mediocre monster movies for 40 years. Here's a look back at some notable adaptations from the last millineum.

Carrie (1976) –– Promcom.
Salem's Lot (1979) –– The shunshine boys.
Creepshow (1982) –– Fright tracker.
Christine (1983) –– Plymouth rot.
The Dead Zone (1983) –– The Foresight Saga.
Cujo (1983) –– Sics sics sics.
Children of the Corn (1984) –– Scream of the crop.
Firestarter (1984) –– Corpus crispy.
Maximum Overdrive (1986) –– Garbage truck.
The Running Man (1987) –– Track scars.
Pet Semetary (1989) –– Father knows beast.
It (1990) –– Fears of a clown.
Misery (1990) –– Fan friction.
The Lawnmower Man (1992) –– Rotor ruder.
Thinner (1996) –– Diet hard.
The Shining (1997) –– Overlook.
Apt Pupil (1998) –– Fascist and furious.
The Green Mile (1999) –– Racking chair.
10/30/17
---
BOOKING THE COOKS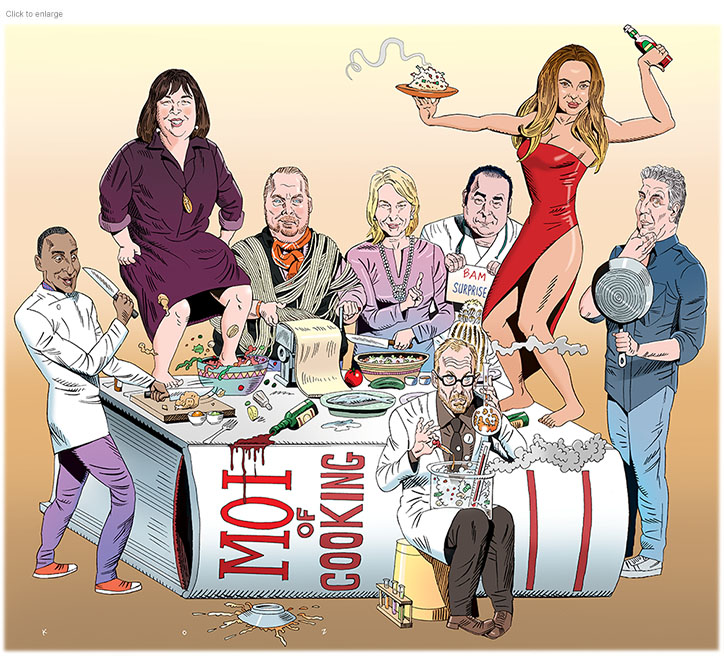 E. Basil St. Blaise, our Escoffier of critically seared pans, sampled several recent celebrity cookbooks to deliver the following distasteful menu. The sheer glut of these volumes makes one wonder how many chefs' d'oeuvres does the home cook really need? How many of these weighty tomes with their food-porn spreads and over-seasoned prose can a kitchen cupboard even bear?
And in the Age of Trump, who wants fancy recipes and elaborate preparations when you feel the desperate urge to eat your stress? Only the fastest, greasiest, cheesiest, sloppiest comfort food will do. Farm to table? More like microwave to mush.
Appetites: A Cookbook by Anthony Bourdain –– Pots unknown.
Cooking for Jeffrey: A Barefoot Contessa Cookbook by Ina Garten –– Ina Garten de veto.
Alton Brown: EveryDayCook by Alton Brown –– Hash Brownie.
Meathead: The Science of Great Barbecue and Grilling by Meathead Goldwyn –– Grate expectations.
Mario Batali--Big American Cookbook: 250 Favorite Recipes from Across the USA by Mario Batali –– Batali wacker.
The Red Rooster Cookbook: The Story of Food and Hustle in Harlem by Marcus Samuelsson –– When the cock croaks.
Damn Delicious: 100 Super Easy, Super Fast Recipes by Chungah Rhee –– Rheegurgitation.
Cravings: Recipes for All the Food You Want to Eat by Chrissy Teigen –– Chrissy hind.
The Seasoned Life: Food, Family, Faith, and the Joy of Eating Well by Ayesha Curry –– Dim Curry.
Essential Emeril: Favorite Recipes and Hard-Won Wisdom from My Life in the Kitchen by Emeril LaGasse –– Emeril shitty.
Martha Stewart's Appetizers: 200 Recipes for Dips, Spreads, Snacks, Small Plates, and Other Delicious Hors d'Oeuvres, Plus 30 Cocktails by Martha Stewart –– Non starters.
Jacques Pépin Heart & Soul in the Kitchen by Jacques Pépin –– Pépin seared.
James Beard's All-American Eats: Recipes and Stories from Our Best-Loved Local Restaurants by The James Beard Foundation –– Stir crazy.
02/01/17