ImagiNATIONS: Art as Solidarity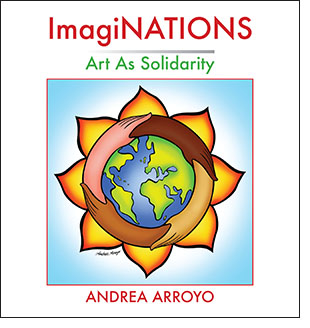 This is the premiere collection of the work of artist Andrea Arroyo whose ImagiNATIONS: Art as Solidarity is an ongoing series of images created in response to issues that touch us everyday. With extraordinary compassion she explores topics like immigration, civil and gender rights, displacement, gun violence, international conflicts, and the environmental crisis.
In page after page of vivid color artwork she tackles these subjects with righteous indignation, deep empathy and visual grace. Her sophisticated work is both hard-hitting and lyrical, drawing on her Mexican heritage and her exquisite sense of graphic design.
Members of the press, please consult the Media Kit.
About the Author
Andrea Arroyo is an award-winning artist working in painting, illustration, site-specific installation, and public art, whose work has been exhibited and collected internationally. Her awards include New York Foundation for the Arts Fellowships, Global Citizen Award Artist, United Nations Ranan Lurie Award, 21 Leaders for the 21st Century, Outstanding Woman of New York, Official Artist of the Latin Grammys, and multiple grants from Northern Manhattan Arts Alliance, Puffin Foundation, Upper Manhattan Empowerment Zone and Lower Manhattan Cultural Council. Her artwork has been published extensively, including on the cover of The New Yorker and in The New York Times, The Nation, The Manhattan Times, and numerous international publications.Public art projects include commissions for Morris-Jumel Mansion, Artbridge, MTA Arts & Design, Women's Rights National Historical Park and the Elizabeth Cady Stanton Museum. Her public art project in glass, My Sun, My Planet, My City, is installed permanently at the Gun Hill Road subway station and was included in 15 Of The Most Beautiful Subway Stations In New York City by Secret NYC.
Editorial Reviews
"Not only do I enjoy admiring Andrea's art, it inspires me because in her beautiful images I constantly feel her unwavering commitment to causes she is passionate about. Andrea is unique in her single-minded love for beauty, community and justice combined."
–– Liza Donnelly, Writer and cartoonist for The New Yorker
"Andrea Arroyo responds to challenges faced by all our communities, locally and globally, with images that uplift, inspire, and empower. Her art is a call to social action, an invitation to hope, and a celebration of our shared humanity." 
–– Guillaume Kientz, Director and CEO, Hispanic Society Museum & Library
"Too often it can seem impossible to nurture and sustain kindness in this world: powerful forces around us are determined to promote selfish, myopic behavior... We all need an antidote to the poison of selfish myopia. Thankfully, we have the beautiful and inspiring work of Andrea Arroyo: Her artworks embody "art as solidarity" and illuminate our collective way forward. Andrea's aesthetics, like her soul, offer a most gentle yet firm way of seeing, sensing, confronting, and caring." 
–– Pablo Suarez, Ph.D., Innovation lead, Red Cross Red Crescent Climate Centre, Artist in residence, National University of Singapore
"... Ms. Arroyo creates images of hope and beauty while bringing important issues facing our community to the forefront. "Art As Solidarity" is a perfect title, as I have always found her work to bring people together, and to express our shared humanity. This collection is a perfect example of that."
–– Luis Miranda, Miranda Family Fund
"Arroyo's Solidarity series reflects upon issues that we all face in our daily lives and serves as a reminder that humanity is unified through love, compassion, and kindness. The work provides hope for our future while providing a space for reflection on the history of inequities and injustices that still surround us today." 
–– Shiloh Holley, Art Historian and Executive Director, Morris-Jumel Mansion Museum
For more on the work of Andrea Arroyo, please visit andreaarroyo.com
To request a Review Copy please write to nowwhat@nowwhatmedia.com
Paperback • 154 pages • Color • 8.5"x9"