INX Battle Lines

Three Decades of Political Illustration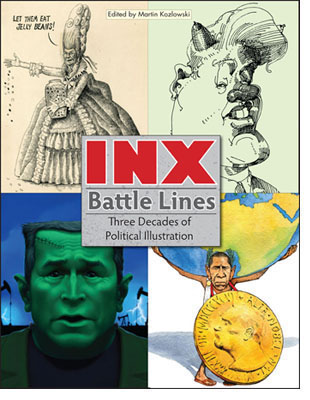 In over 275 explosive illustrations, INX Battle Lines etches a searing picture history of the last three decades. These are the very best drawings from the files of the INX Group –– images that have been syndicated to journals of opinion in the U.S. and abroad since 1980.
The 55 renowned artists represented here are equal-opportunity offenders, and their work crosses party lines –– Red States run red and Blue States sing the blues in works that are by turns hilarious, harrowing, and haunting.
The book contains brilliant black & white and color illustrations by Jean-François Allaux, Michelle Barnes, Melinda Beck, Paulette Bogan, Steve Brodner, Yvonne Buchanan, Horacio Cardo, Giora Carmi, David Chelsea, Paul Corio, Scott Cunningham, Bob Dahm, Henrik Drescher, Randall Enos, Vivienne Flesher, Bob Gale, Felipe Galindo, Glenn Head, David Gothard, Tom Hachtman, Rupert Howard, Jordin Isip, Ryan Inzana, Frances Jetter, Randy Jones, Susann Ferris Jones, Janusz Kapusta, Thomas Kerr, David Klein, Igor Kopelnitsky, Ira Korman, Martin Kozlowski, Peter Kuper, Liz Lomax, Matthew Martin, Mark Matcho, Robert Neubecker, Laird Ogden, Rick Reason, Bill Russell, Steven Salerno, Betsy Scheld, Sara Schwartz, Jill Karla Schwarz, David Shannon, Rob Shepperson, Brad Teare, Seth Tobocman, Peter Vey, Christophe Vorlet, Charles Waller, Ellen Weinstein, James Williamson, Glenn Wolff, and Robert Zimmerman.
If you're a fan of great illustration, political cartoons, or hair-trigger satire, you will be knocked out by this collection.
Order from amazon.com or with the widget to the right.
Order from barnesandnoble.com
To request a Review Copy please write to nowwhat@nowwhatmedia.com
For more on the INX Exhibition click here.
See a 16-page preview of the book on Scribd
Visit inxart.com for more on INX, the artists, and the book.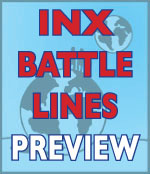 Paperback • 110 pages • Full Color • 8.5"x11"