Karen in Wonderland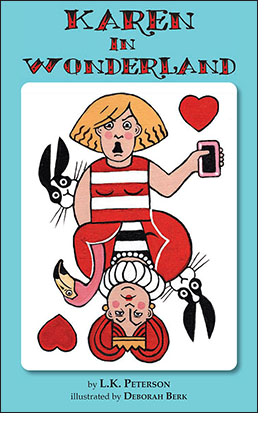 A trip down the rabbit hole sends Karen on a quest to speak to the manager, but everyone she meets along the way, from the Caterpillar to the Cat and some Mad Tea Partiers, just makes her furiouser and furiouser.
Written by L.K. Peterson whose books include Fairly Grim Tales, The Da Vinci Cold, Further Adventures, Talk to the Hair and Political Animals: Now What Anthology No. 2 and is responsible for the website Ant Farmer's Almanac. He lives in Brooklyn, NY with his wife, an illustrator.
Drawings by Deborah Berk who is an illustrator, sculptor, photographer and former art therapist. She lives in Brooklyn, NY with two emotional-support turtles and her husband, who is a writer.
To request a Review Copy please write to nowwhat@nowwhatmedia.com
Order on Amazon:
Karen in Wonderland
Order from barnesandnoble.com

Paperback • 68 pages • Black & White • 5"x8"