Political Animals

Now What Anthology No. 2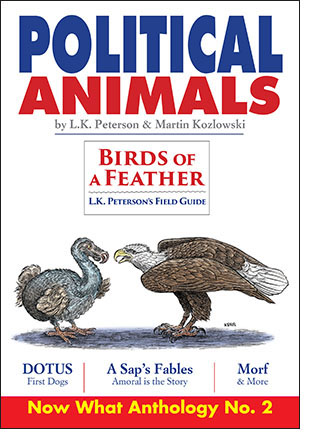 The long-awaited Now What Anthology No. 2 takes on the unnatural political order with talon-sharp wit. It includes:
Birds of a Feather:
L.K. Peterson's Field Guide
Written by L.K. Peterson
Illustrated by Randy Jones
High-flying satire in an avian vein.

DOTUS
Written and Illustrated by Martin Kozlowski
Modern Presidents and their pups.

Morf
Written by L.K. Peterson
Illustrated by Jill Karla Schwarz
A Kafkaesque tale of creepy-crawly demagoguery.

Lame Duck Theatre
Illustrated by Tom Hachtman
The fowl aftermath of electoral defeat.

A Sap's Fables: Amoral is the Story
Written & Illustrated by Martin Kozlowski
The parables of Jestus Equivicus aka A Sap get a modern retelling.

The National Zoo: A Mildlife Gallery
Illustrated by Inx artists
The very best beastly illustrations from inxart.com.
Order on Amazon:
Political Animals
Order on barnesandnoble.com.
Paperback • 100 pages • Color • 7"x10"