MONSTERS OF THE IVY LEAGUE
The great Randy Jones has illustrated a new book entitled Monsters of the Ivy League by the very funny Ellis Weiner and Steven Radlauer. The writers, who have independently worked for The National Lampoon, Spy, and The New Yorker and have authored several best-selling humor books between them, offer up a rogue's gallery of the very worst graduates of America's most elite schools.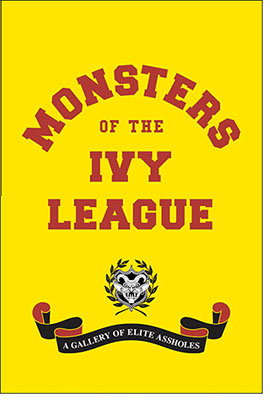 Here's their description:
Everybody knows that the schools of the Ivy League –– universally touted as the pinnacle of American higher education-have graduated countless political leaders, corporate titans, and global power brokers. But did you know these schools have also produced murderers, warmongers, traitors, plagiarists, slave traders, pederasts, and every other variety of moral reprobate?

Whether you're a high school student grinding away in the hope of gaining admission to one of these institutions, a parent propelling a child toward Ivy glory, a current Ivy League undergraduate wondering "What the hell is this place?" or even an Ivy League alum, professor, administrator, or dropout-this book was written specifically for you. As a warning. Because there are certain things-monstrous things-that go unmentioned in the catalog, campus tour, or employment package.

And if your Ivy League application was rejected, here's compelling and consoling evidence of how lucky you are.
We interviewed Randy Jones about his work on the book.
NW: How did you get involved with this project?
RJ: Steve Radlauer and Ellis Weiner met and remembered my art and asked me to illustrate their book. We collaborated on a couple of things in the mid 80s.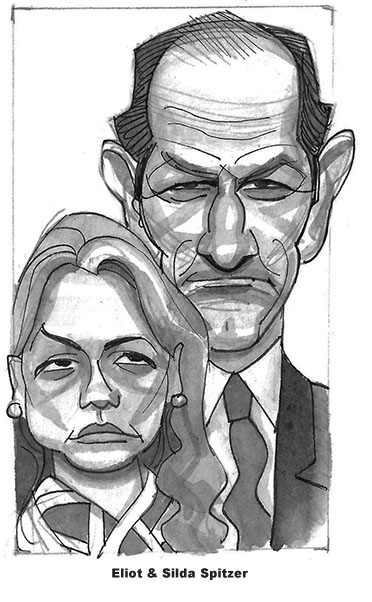 NW: Did you work with Ellis Weiner at the National Lampoon?
RJ: We never worked together at The Lampoon. We did work on two separate projects that were never published.
Steve and I worked on a book called How To Live In The Suburbs Without Being Like Your Parents. Ellis and I worked on a book called Fly On The Wall about the Bush Sr. White House.
NW: What kind of deadline did you have? What media did you work in?
RJ: I started the project in August 2016. Most of the drawings were drawn at The University Hospital waiting room in London, Ontario while my father was having dialysis treatment three times a week.

Drawing Monsters was very therapeutic for me at that difficult time. I really enjoyed working with Ellis and Steve.
I used Micron pens and Schmincke watercolors.
NW: Which of the caricatures are you most happy with?
RJ: Some of my favorite caricatures are John C. Calhoun, Jason Bohn the bloody-nosed murderer, Elliot Spitzer and his wife…and Donald J. Trump.
NW: How do you feel about the finished product?

RJ: I think it's a very cool book with some spicy words, and it's a good read for waiting rooms.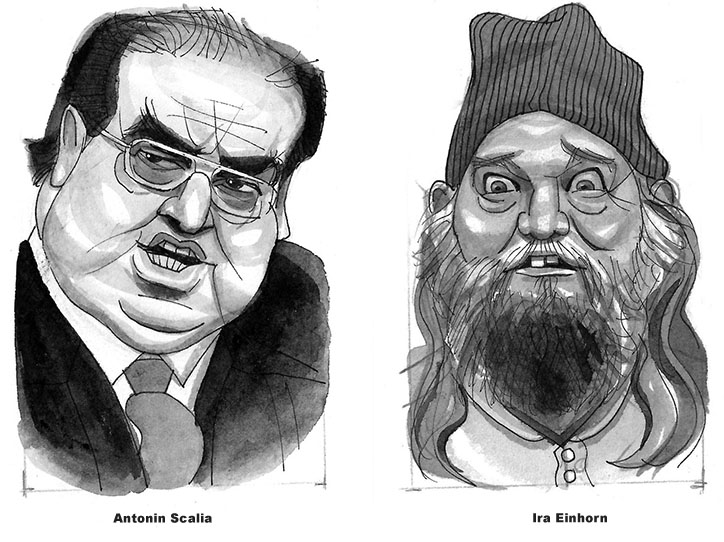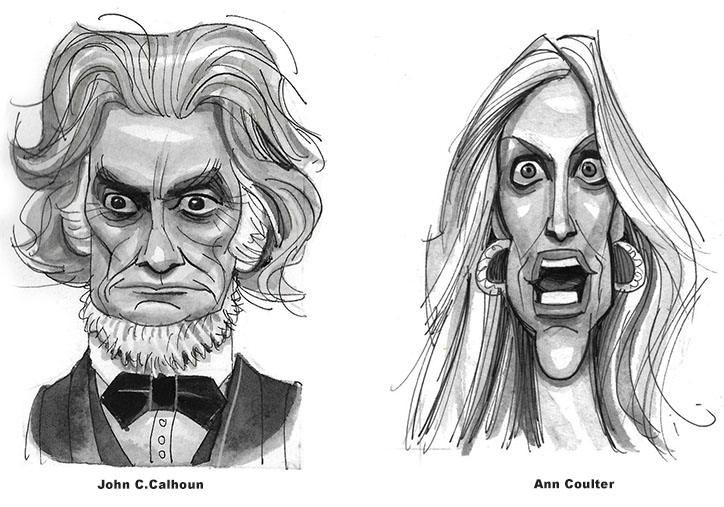 7/20/17
---
THE INNER CIRCLE
In an ancient time when ink-stained journalists stalked the corridors of power in New York City there sprang up an organization called the Inner Circle. Founded in 1927, the group, composed of City Hall reporters –– then all newspapermen –– began sponsoring fund-raising dinners which included a satirical show sending up the current political scene.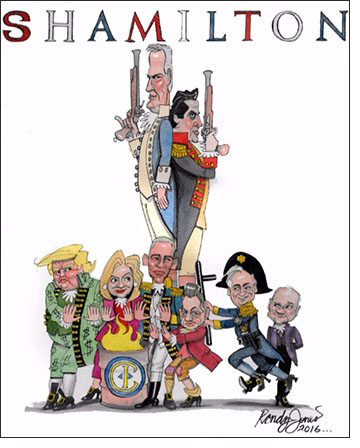 All these years later, their mainly electronic offspring contine the tradition, each April mounting a musical revue that lampoons municipal malfeasance and Hizzoner's miscues. The journos themselves portray the politicos with minimal makeup, medial musicianship and maximal malice. The sitting Mayor, straining to be a good sport, joins in onstage, and his typically ridiculous appearance often warrants some light-hearted press coverage the following day. Over time the show has expanded to include more digs at Washington and the national scene. For more on the event's history visit innercircleshow.org.
This year's 94th Annual Inner Circle Show is entitled SHAMILTON and will take place Saturday April 9 at the New York Hilton. The image to the left depicts blood enemies DeBlasio and Cuomo preparing to duel à la Hamilton and Burr as rapsodized by Lin-Manuel Miranda in his Broadway smash. Finding a seat will be tough if you're not a member of the New York press corps, but no tougher than getting in to the namesake show.
Our own Randy Jones has been illustrating the commemorative program since the mid-90s and has produced a flood of hilarious images reaching from the Dinkins through the DeBlasio administrations. Below is a sampler of some of Randy's finest covers preceded by two earlier efforts –– A John Vliet Lindsay from 1970 by John Pierotti, a cartoonist for the pre-Murdochian New York Post and an Ed Koch from 1988, by Jerry Schlamp, who worked for the Daily News. For more cover art, there's some spotty coverage here.
Randy's work includes four Giulianis from 1995, 1996, 1998 and 1999, and two Bloombergs from 2004 and 2011.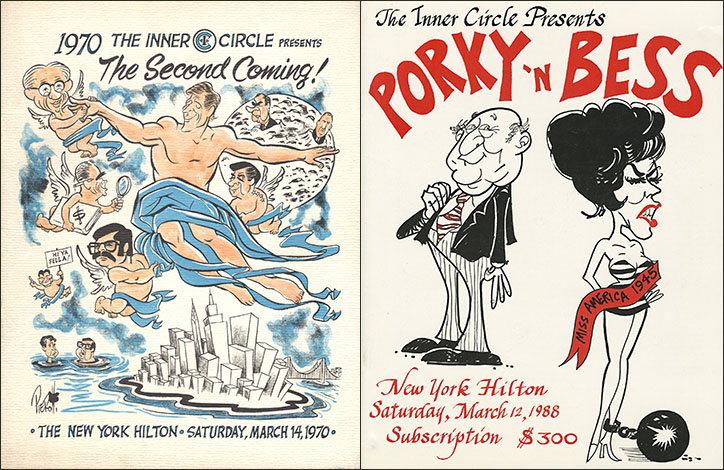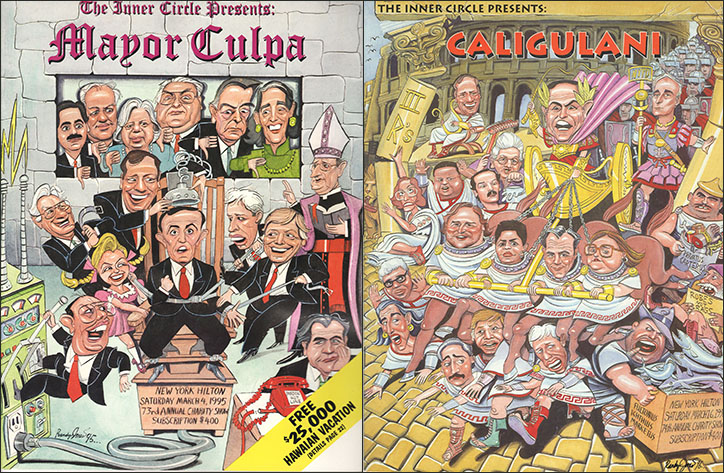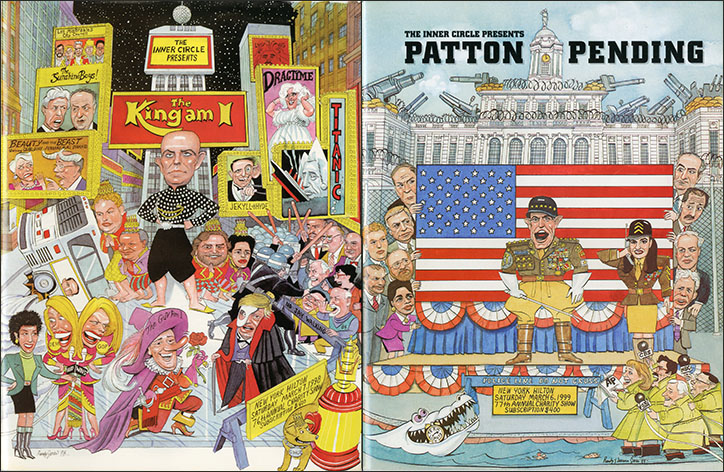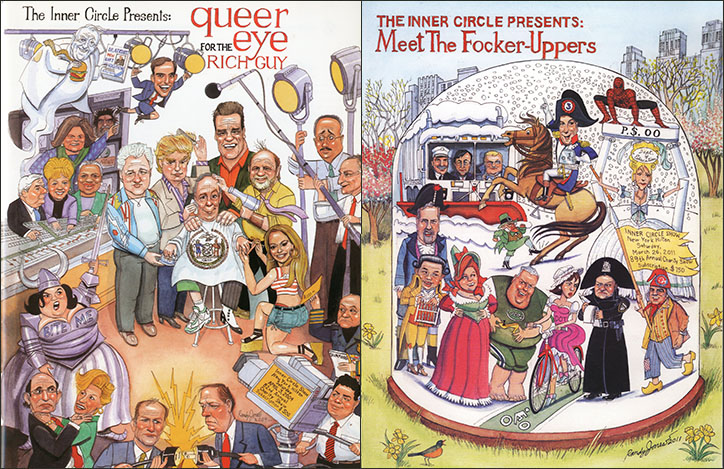 03/28/2016
---
BLYTH SPIRIT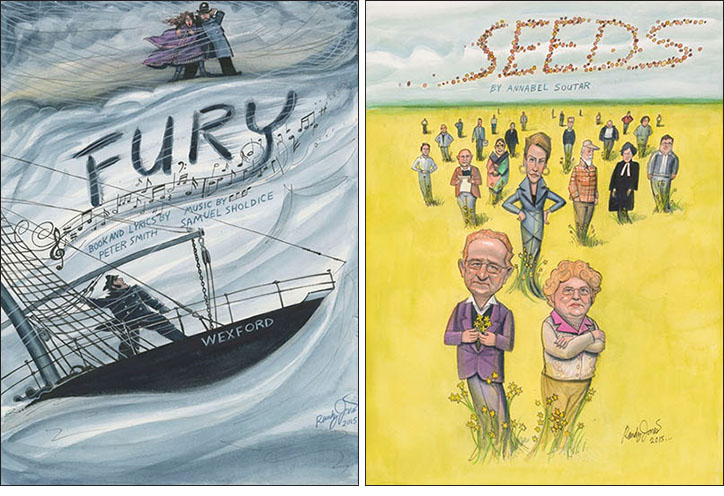 An hour and a quarter north of London, Ontario, in rustic Huron County, the Blyth Festival is flourishing this summer. Running from June 24 (the first budding tree) until September 12 (the first snowflake), it's a theatrical season of five original Canadian plays.

Now What's brightest Northern Light, Randy Jones, was commissioned to create posters for four of the plays.The stunning results are pictured here. E. Basil St. Blaise, our critic and a favorite subject of Randy's, has written of the Festival, 'What Blyth glory?'
If you're vacationing up north this summer, it sounds like an intriguing alternative to the nearby Stradford and Shaw Festivals.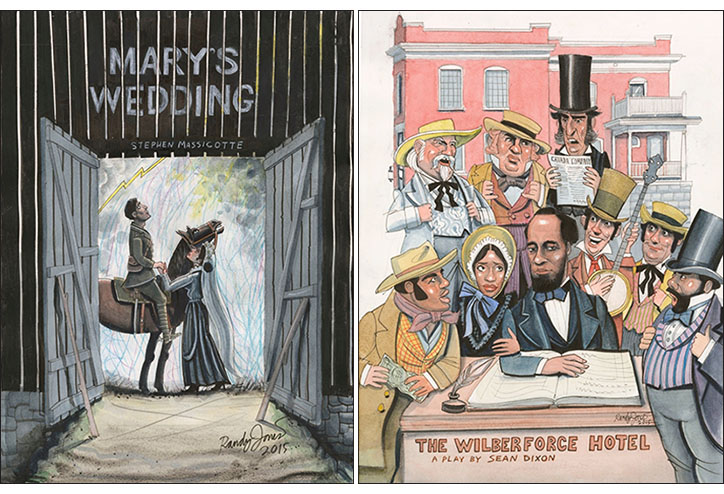 05/21/15
---
TOBY OR NOT TOBY?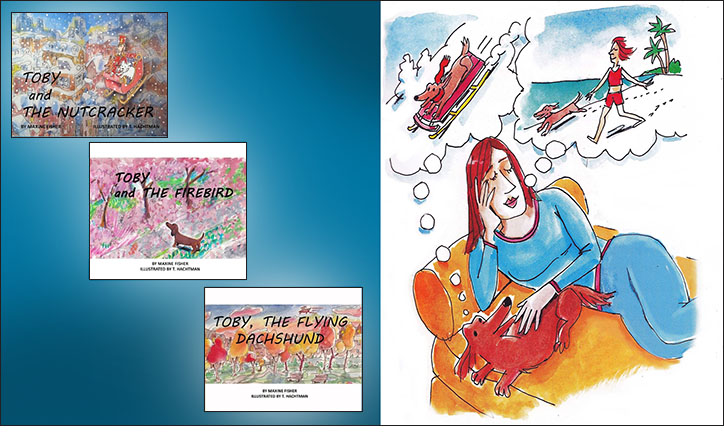 The answer is definitely Toby! Toby and the Nutcracker, the latest in a series of delightful children's books concerning the adventures of an intrepid weiner dog, has just been published. It's described as 'a re-telling of the Christmas tale "The Nutcracker" featuring Toby, the dachshund and his canine friend Babka.'

It follows Toby and the Firebird and Toby the Flying Dachshund, two other whimsical adventures written by Maxine Fisher and illustrated gorgeously by Tom Hachtman, creator of Gertrude's Follies. They seem like ideal gifts for a doxie lover of any age.
12/10/14
---
THINK AND DIE 25th ANNIVERSARY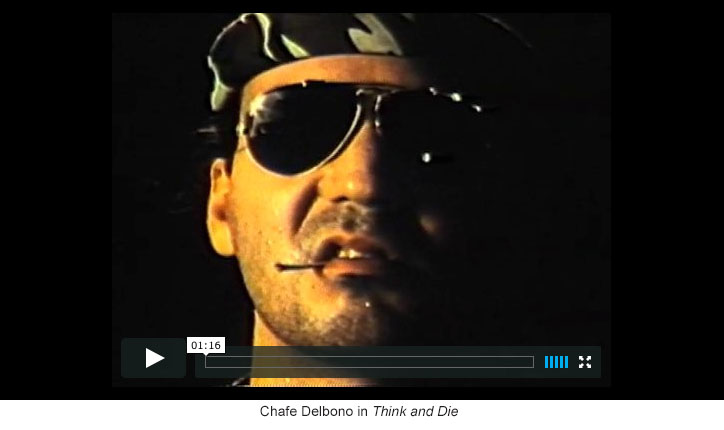 After being left to rot for twenty-five years on VHS tape, the never-whispered-about, seldom remarked upon, subterranean, almost-sorta-kinda-maybe minor classic short, Think and Die, has resurfaced on the Internet to almost universal indifference.
Undeterred, Producer Tom Scarpino is humping the flick like he's praying for a sequel. He lightly dusted off the original print, added a meandering insider interview, a few scattered notes, a list of the complete cast and crew, and little else. How can you resist? Menahem Golan, where are you when we need you? Click here NOW!
10/31/14
---
THE SHUNGA GAMES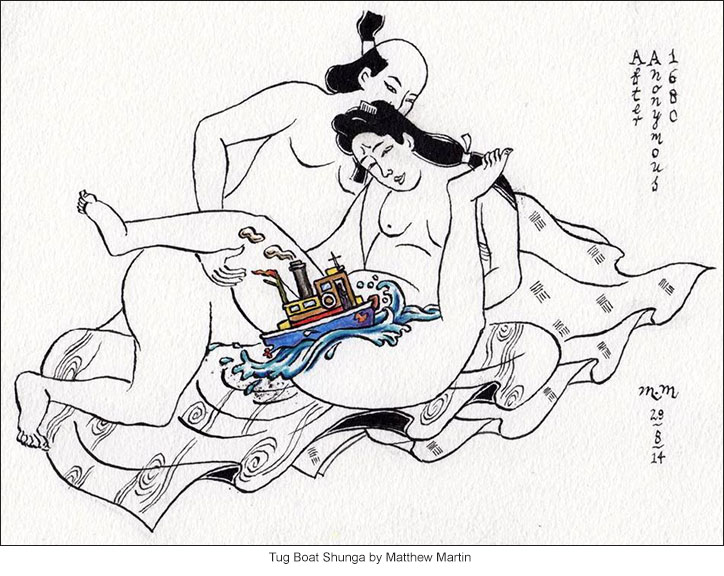 Master cartoonist Matthew Martin, who contributed mightily to INX in the day, has a new show Down Under billed as
a drawing exhibition of sex, humour and the joy of making lines on paper.

It's entitled Shunga and includes a tasty selection of his takes on that unique style of Japanese erotic art. If you're local or on walkabout be sure to stop in.
Shapiro Gallery
162 Queen Street Woollahra NSW
Exhibition Dates
Sunday 14 - Sunday 28 September 11am - 5pm

9/19/14
---
SECURITY LEAK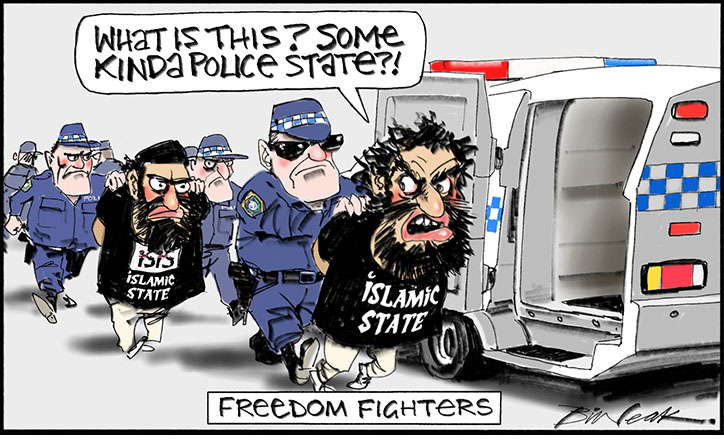 Another satirical wizard of Oz, Bill Leak, published this cartoon in The Australian. Note the t-shirt on the second suspect –– it features a reproduction of Tom Hachtman's ISIS logo from Levant on the Edge on this site's What Not page. Tom tells us the legendary illustrator Robert Grossman provided inspiration for the cutting-edge design. Thanks all around.
9/19/14