If Wishes Were Whores, Buggers Would Ride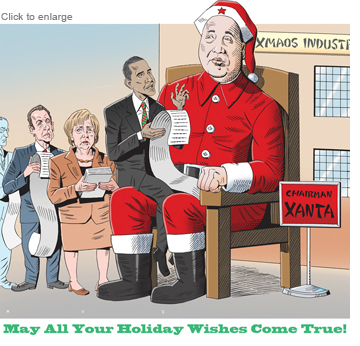 Once again, the Yuletide Trust, the Golden Globes of Holiday Hopes and Dreams, has procured for our amusement the wish lists of the rich and infamous. President Yul Tannenbaum, a former employee of Rupert Murdoch's now-defunct News of the World, would not disclose the Trust's exact methodology in obtaining these yens and itches, but he did suggest, with a smirk, "these celebs oughta' be asking Santa for a locked cell phone."
Corresponding to the twelve days of Christmas, but with nary a partridge in a pear tree in the batch, here are the dirty dozen:

12) Barack Obama, Angela Merkel, Nicolas Sarkozy, and three-quarters of the world's leaders: The great wallet of China.
11) Jerry Sandusky: Casey Anthony's lawyer.
10) Kim Jong-un: Daddy's 10-kiloton perm.
9) Moammar Gaddafi: Not to have to share his tent in Hell with Osama bin Laden.
8) Jon Corzine: To Occupy Wall Street…with tales of how he "misplaced" $1.2 billion.
7) Tim Cook: Jobs security.
6) Herman Cain: A pizza ass.
5) Charlie Sheen & Demi Moore: Two and a half men.
4) Conrad Murray: Something to help him chillax.
3) Pippa Middleton: A touch of Harry in the night.
2) Netflix subscribers: To not have Reed Hastings piss down their backs and tell them it's streaming.
1) Kris Kringle: For the world to end on December 21, 2012 –– anything for a vacation.
12/21/11
---
The Aiddems Family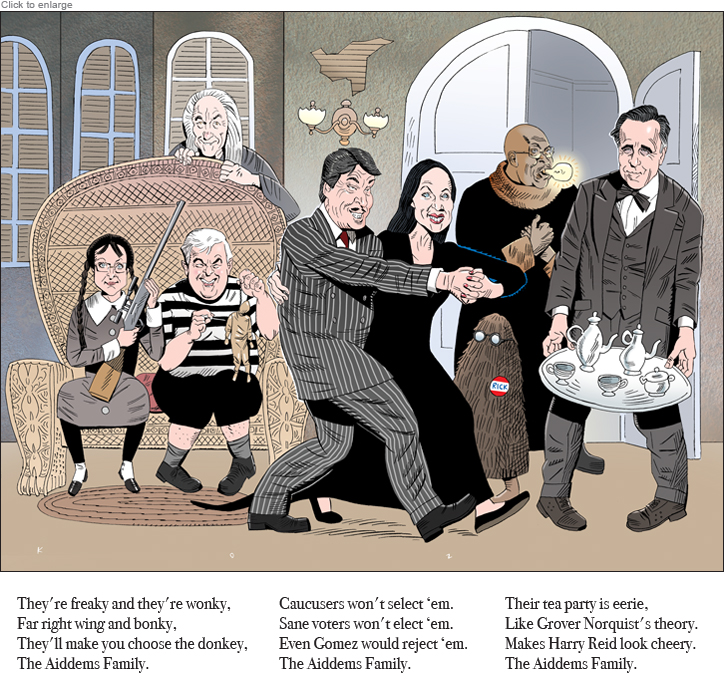 10/31/11
---
The Fall
The following is an excerpt from a manuscript believed to be by Stephen King that was considered lost or, at least, misplaced. Perhaps intentionally.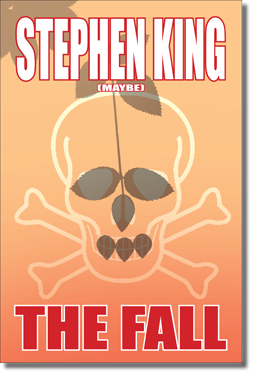 The sun sank like a one ball into the left pocket of the cold October sky. The sky wasn't really the color of a pool table. It was more the color of the slate that would be revealed if one were to suffer a horrible miscue and rend the green baize with a sickening screech of cue tip against stone. Nor did the sun have a big number 1 printed on it. But the image of a one ball tumbling helplessly into the pitiless infinity of the night froze the heart of Benjy Weems.
"Like a one ball," Benjy thought to himself as he stepped out onto the porch of his rambling New England Victorian. "Like the one ball I sank that time I scratched and it cost me the bet with Chuck Harbaugh. And then cost me my wife. Damn Chuck Harbaugh! And why in God's name didn't I do this earlier in the day? Damn the Pats on TV!"
He stood paralyzed on the porch like a roadside statue of Paul Bunyan at a used-car dealership, only smaller. Which was ironic because he had once worked at a used-car dealership. It didn't have a statue out front, just a college kid in a beaver costume, and only during the summers.
The insidious breeze licked at his ankles like Bruto, his beloved Doodleman Pinscher.
"Jesus, I love Bruto," Benjy mused," but is he really a good boy? Even after how he took a chunk out of the newsboy? A chunk the size of a very rare Filet Mignon at Le Petit Couchon downtown?"
"The little bugger deserved it," Benjy whispered darkly through clenched teeth. "He teased Bruto. Teased me –– I don't look like the guy in those ED ads. Punk. Minus a chunk." He smiled blackly and then his eyes rose to regard the three hulking giants that towered above his front yard.
He'd heard stories before he'd bought this house –– back when he and Laurie were just married, back when Reagan told everybody to "Just Say No" –– back when he could go all night. Stories about how the homes there on Cthulhu Lane were built on land that had once been Indian burial grounds. How the ravening souls of a thousand braves still roiled beneath the ink black soil. How depraved shamans sacrificed virginal squaws and commingled their blood with wolf entrails to nurture the seeds from which these great, gnarled monsters sprang.
At least that's what the real estate agent had said. The one with the yellow glass eye. The one who kept ogling Laurie with his good one. The one who he still believes turned little Kevie against him.
Kevie. He hadn't thought of the boy for several hours. A new record. He played It's Raining Men on the iPod Nano in his mind. Kevie's favorite. Even at age nine. He remembered how he had always thought that that was a little odd. As was Kevie's ability to see into the future when a murder was about to happen. Odd.
Benjy was shaken from his reverie as the sinister breeze worked it's way past his partially unzipped fly and chilled him as he'd seldom been chilled before. "Well, I'll need brass balls for this," he growled to himself. "Brass balls and my Peacemaker."
With a superhuman effort, he forced himself to inch towards the steps leading into the yard, the yard gradually dissolving into dusk. And then he heard it. Was it a banshee's wail? The breeze had become a wind and seemed to cry "the fall, the fall, the fall…" in an anguished rasp. He'd heard that ancient call before. Last year and the year before and the year before that. And each time he had faced this same horror. Faced it and prevailed.
He sprang suddenly from the steps and made for the utility shed next to the house. The wind played along his now sweaty spine like a butch masseuse with two left hands. There would be no happy ending. He made it to the shed and tore open the door. The stench of potting soil, gasoline, Weed B Gone, and death assaulted his nostrils. For one terrible instant he remembered the blower. The blower that Laurie had bought him. The blower that had saved him more than once. The blower his neighbor Norm had borrowed and forgot to return.
"Damn Norm!", he thought. "I'll sic Bruto on him! But I don't need the blower. Not when I have this." He reached into the gathering gloom and fumbled around like an anxious teen on a first date before placing his aching hand on its stiff shaft. The Peacemaker!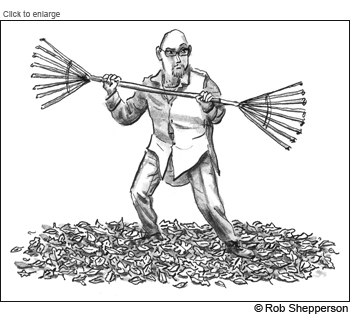 He'd crafted it himself. Spent long hours in his workshop. Weighed and measured, sawed and stitched. Honed each fingerlike tine to withstand the maximum assault. He hefted it above his head, relishing its exquiste balance, its fearsome symmetry. He felt the fear melt from his soul as a smile spread across his face. "Bring it on, bitch," he hissed, thinking even in that instant, "Does that sound macho enough?"
He whirled from the shed, weapon held firmly before him. Whirled to feel the icy force of the north wind slap him full in the face. Like that cocktail waitress. In Philly. "Bring it on, buddy," he offered defiantly.
Now he heard it for the first time as his eyes traveled up the knotted bodies of the three behemoths. The dreaded rustling. He could see them nestled up there, thousands upon thousands of them. Sinister. Diabolical. Malefic. Waiting and rustling.
He could see them even in the twilight as they glowed eerily. Glowed in hellish scarlet, zombie-eye yellow, bilious ochre, blood orange, scar-like umber. He could just make out the serrations which ringed each like so many tiny, razor-sharp teeth. He imagined a whole Amazon's-worth of hungry, irridescent piranhas suspended above him, vibrating in the currents of the wind. Chittering. Slavering. Poised to strike.
A mighty gust of wind tore through the sky and the first terrible wave wafted down viciously in the general direction of Benjy Weems' head. He hoisted the Peacemaker above him, gritted his teeth, and gasped, "God help me."
10/24/11
---
Stein of the Times
At the Contemporary Jewish Museum in San Francisco, at an exhibit titled Seeing Gertrude Stein, two lesbians were asked to stop holding hands. When they protested they were asked to leave the museum.
Let's see –– Gertrude Stein show. In San Francisco. Yes, we read that correctly. The Museum has apologized. The security guard works for an independent company, is not an employee of the museum and obviously knows nothing about the show or San Francisco.

This note comes to us from Tom Hachtman, creator of Gertrude's Follies, who has some of his work included in the show. He's also shared the two sketches below inspired by the scandalous event. And then kicked in a celebratory Gert and Alice image.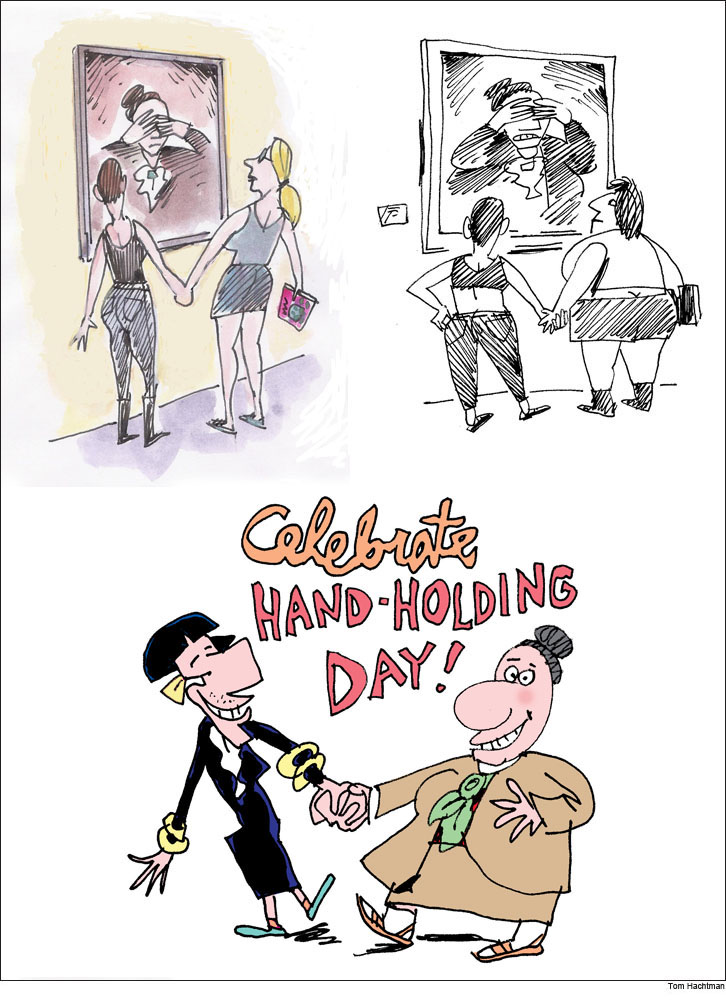 07/21/11
---
Weiner Take All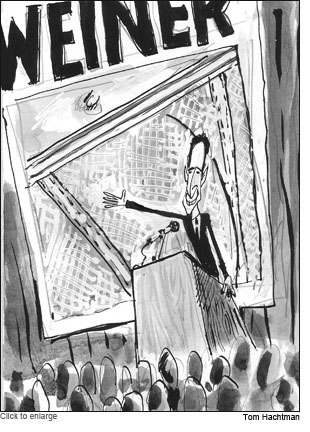 Hollywood is rushing to cash in on the sensational sexting scandal of Anthony Weiner, the Democratic Representative who has made New York's District 9 look increasingly like a sci-fi horror film. Producer Willi Schortz has a tentative deal with spindly Adrien Brody to play the skeletal Weiner in an 'epic reimagining' of the Orson Welles classic Citizen Kane. Brody would strap on the Dirk Diggler prosthetic phallus first worn by Mark Wahlberg in Boogie Nights as Citizen Hanes, if a product placement deal can be struck with the underwear manufacturer.

A musical version called Flashpants is in the works from director Rob Marshall who hopes to get a crash-dieting Christian Bale to pull on the tighty-whities (or gayish-grays) to be his soaking-wet Maniac.

Related projects on the distaff side, include Sext in the City, which focuses on four carefree, yet sophisticated semi-sluts who are lucky recipients of Weiner's meat and tweets. A made-for-TV movie entitled Briefs Encounter aimed at the Oxygen market would dramatize the emotional toll the notorious bulge shot had on its innocent recipient, Gennette Cordova to be played by adorable Selena Gomez.

Alex Gibney, director of Client 9: The Rise and Fall of Eliot Spitzer will release The Tweet Smell of Success, a documentary on the dangers of sexting while driving neocons crazy.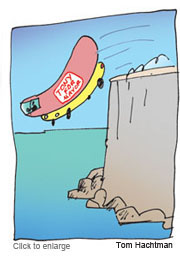 The porn industry won't be able to resist flogging the Weiner either with salacious titles like The Schlong Hot Summer, Look Who's Dorking, Shvantz Upon a Time in America, and Dixar Animations' The Loin King.

The conservative blogger who exposed the tumid tweets, Andrew Breitbart, is also the subject of a proposed biopic. Dirty, Rotten, Creepy, Deluded Scoundrel will weave the ultimately inspiring tale of a rightwing pseudo-journalist and blogger who finds fame and fortune by flashing a photo of another man's dick to shock jocks.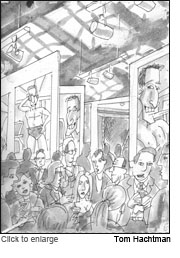 In response Weiner is rushing a book to his publisher that's designed to put a lighter spin on his e-indiscretions. Described by insiders as a valentine to his wife, he hopes You Gotta Have a Sense of Huma, shores up his fragile marriage. It's said to include chapters with light-hearted titles like Tony No Baloney, You're Pregnant and We're Both Showing!, I Am Just Happy to See You, Have You Seen My Pole Numbers? and My Reerection Campaign.

The Weiner saga is the latest in a long, hard line of naughty political picadilloes made public. John Edwards' initial rejection of the love child he had with a campaign staffer is to be dramatized in The Rielle Thing with a slimy lizard set to play the ex-candidate. Arnold Schwarzenegger who was redubbed The Luvenator, after his maid service while in orifice, is still hoping to revive his Hollywood career. It's rumored that he might actually play himself with Jennifer Lopez costarring as housekeeper Mildred Baena in Clean and Jerk.

06/10/11
---
Wishy Washout
From their headquarters in North Pole, Alaska, The Yuletide Trust has just released its eagerly-awaited 2010 Top 12 Wishes of Christmas List. Trust Prexy Yul Tannenbaum explained, "Despite budgetary cutbacks and snow drifts up past our keesters, we ignored all the mishigas of the season and fulfilled our sacred trust: to leak the top X-mas wishes of celebrities that we hacked from Santa's laptop. We rank them from somewhat heartfelt to most fervent and publish them to make the average gift-giver feel grateful that the people on his or her list are nobodies and not demanding schmucks like these."

Tannenbaum, short of stature, though not exactly elfish, is a one-time employee of S. Claus Industries and a long-time observer of the Gifting Field. He is the author of Presents Tense: The Giftie's Anxiety at the Holiday Kick and the startling memoir The Wrap Up: Ribbons, Bows and Booze. It is not clear if there are any other active members of The Yuletide Trust.
Herewith the list:
12) Lindsay Lohan: Miley's salvia and her saliva.
11) Santa Claus: A massive cloud of ash from the Eyjafjallajškull volcano in Iceland to keep him grounded Christmas Eve.
10) Kim Jong-il: Global nuclear war and a lapdance from Jenna Jameson.
9) Spiderman: To "turn off the dark" on Bono and the Edge.
8) Mark Zuckerberg: To be poked, and not on Facebook.
7) Justin Bieber: For the other one to drop.
6) Rep. Charlie Rangel: The forgiveness and respect of his peers, particularly Boss Hogg.
5) Rick Sanchez: The number of Helen Thomas' publicist.
4) Elin Nordegren: A new set of Woods.
3) John Boehner: A gross of silk handkerchiefs with Nancy Pelosi's face embossed on them.
2) David Hasselhoff: Keith Richards' Life and liver.
1) Uncle Sam: Extradition of Julian Assange to Switzerland, or, better yet, Hell.

12/22/10
---
Veni, V-Day, Vici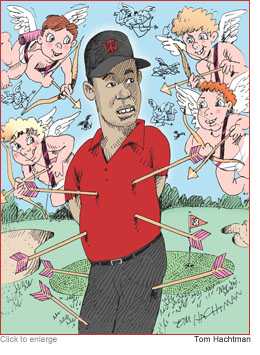 The Valentines Directorate (VD) has listed its top ten male lovers for the year dating from February 14, 2009. "It was a neck-and-necking competition this annum," commented VD chief Romeo L'Amour, "without a hicky's-breadth of separation between the top smoochers and the also-pecks."
Unsurprisingly, the top vote getter was Tiger Woods, a "veritable martyr to passion", per L'Amour, "a man whose first name screams animal sex drive and whose surname suggests he's got the extremely stiff clubs in his bag to back it up." How many bouquets and chocolate bonbons will the dirty duffer be sending this year, given the multiple maidens on his crowded scorecard (and each with a hole-in-one)?
Runner-up was former Presidential aspirant John Edwards for his multiparty romance that began with an election year bid to screw a nation of Democrats even as he was poling mistress Rielle Hunter. The title Bastard Out of Carolina could refer equally to him or his illegitimate heir. Second runner-up was the disgraced Carolinian to the South, Mark Sanford, the Lovernator who went AWOL to tango horizontally with his Argentine inamorata. Both of the politicos' spurned spouses produced best-selling books to prove that Hell hath no royalties like a woman scorned.
The rest of the lauded Lotharios are:
4) McSteamy Mark Sloan for romancing the stoned in his 3D(ouchebags) sex tape.
5) New York Governor David Paterson for his ardent denials of the blind love that dare not print its name.
6) gay blade Charley Sheen who finally learned the benefit of marriage: you don't need to pay a chick to abuse her.
7) Italian Prime Minister Silvio Berlusconi whose dalliances with teenagers prove that when the moon hits your eye like a bigga reproduction of the Statue of Liberty, that's amore.
8) The Twilight vampire guy for getting all those little suckers to flock to movie theaters.
9) ESPN baseball analyst Steve Phillips who suffered a gland slam after blaming sex addiction for his double play for a production assistant.
10) Michael Moore, who dedicated an entire film to his deep passion for an economic system, and the sound of his own voice in Capitalism: A Love Story.

02/13/10

---
Santa's Lap Dance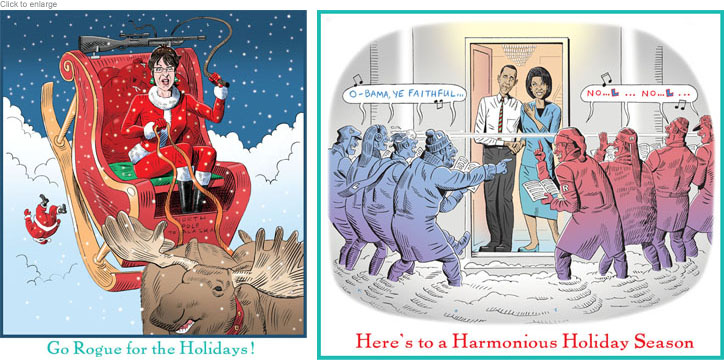 The Yuletide Trust has issued its annual Top 12 Wishes of Christmas List:
12) Mahmoud Ahmadinejad: silent nuke, holy nuke; 11) Michael Richards: NAACP Image Award; 10) Mel Gibson: bupkes; 9) Tiger Woods: hole-in-one or more; 8) Nadya Suleman: octo-gone; 7) Falcon Heene: golden parachute; 6) Rihanna: Brown belt; 5) Mark Sanford: tango and cash; 4) Michaele Salahi: 15 more minutes; 3) Sarah Palin: big birther clubs; 2) Bernie Madoff: bars of soap; 1) Silvio Berlusconi: his two front teeth. Enjoy your own holiday cheer with the INXart Holiday Package.

12/24/09
---
Nobel Gas

Nominators Unashamed of Premature Evaluation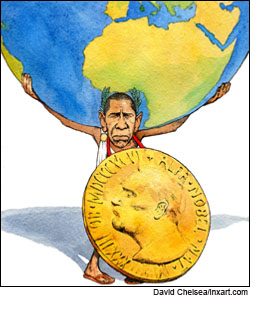 The Norwegian Nobel Committee (Nonoco) was apparently inspired by the preemptive strike doctrine of former President George W. Bush in impetuously awarding it's prestigious Peace Prize to Barack Obama. And, perhaps, by the idea of providing a gold-plated de nada to Obama's heart-felt perdon for Bush's disastrous postemptive damage to America's global relations.

Now, the renowned Now What Institute of Nominators (NOWIN) in Moose Tick, MN has been inspired by Nonoco's foresight and fearlessness to inaugurate its own Premature Achievement Awards. The first annual Preemies will honor the anticipated accomplishments of an illustrious roster of honorees dedicated to jumping the gun, letting slip the spoiler, and reading the last page first. Nowin Chairperson and futurist Erwin "Eloi" Tiffler insisted the Preemies were the perfect prize for our impatient times, noting, "everything in our society is about instant gratification –– we're just hitting the fast forward button and zipping to the H.G. Wellesian next of when, y'know? And, in the process, blowing the Vegas bookies' minds."

So let us steam open the Price-Waterhouse envelopes, and pre-reveal the 2010 Preemie winners before they're nominations have even been officially posted.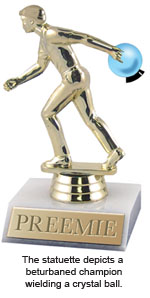 Literature –– Sarah Palin will bag and dress the prestigious J. Danforth Quayle Citation for Outstanding Political Memoirization for her brilliant 2011 sequel (written in three weeks!) Going Rogue II: Rogue v. Wade.
Chemistry –– The Brangelina Loving Cup for Media Magnetism will be bestowed on irresistable screen couple Buzz Lightyear and Woody for their entire artificial body of work that climaxes in Toy Story IV: Strap-ons.

Medicine –– The Platinum Hypo should inject new life into the career of David Hasselhoff whose selfless donation of stem cells from his liver will lead to a treatment for acute sufferers of Alcoholic Self-shaming Syndrome (ASS).

Physics –– The Jerry Falwell Matter From Heaven Trophy will be granted to the Kansas State School Board which will reenter the creationism debate by mandating Fundamental Neophysics be taught in middle schools to explain cataclysmic events like earthquakes, tsunamis and volcanoes in terms of the cumulative evil energy generated by gay sex.

Economics –– The Madoff Medal in Applied Pyramid Theory will be shared equally by former Secretary of the Treasury Henry Paulson and current Secretary Timothy Geithner for rescuing the critical U.S. Corporate Bonus System –– the award includes a handsome Golden Parachute and an undisclosed number of Goldman Sachs shares.

Peace –– The 2010 solid-plastic Dove Bar will be won by Bono –– Chaz Bono. The transgendered offspring of Cher, formerly known as Chastity, will achieve a nuclear disarmament treaty with Iran by convincing key government officials there to undergo sex change operations and then go fuck themselves.

10/20/09
---
Corpse Celebre
Heaven gained two sparkling new stars when Farrah Fawcett and Michael Jackson were both booked for a date at the Palace by that great talent agent in the sky. One can only imagine recently-deceased Vegas impressionist Danny Gans moonwalking to meet Michael at the Pearly Gates while warbling Billie Jean. Or the good-natured joshing between him and dead Fred Travalena as they trade breathy Jackoisms to the nervous cherubs while David Carradine hangs around and quips to Michael, "I'm still in the closet, too."

With fetching Farrah's poster hanging above his bed, St. Peter won't need Gabriel's trumpet nor Ed McMahon's booming "Heeere's Petey!" to get his little seraph to arise and stand at attention (even when Bea Arthur growls at him to take out the garbage.) And when Charley's Angel teams up with Marilyn Chambers behind the green door with the heavenly hosts it will take a barrel full of Billy Mays' OxiClean to wipe up the mess.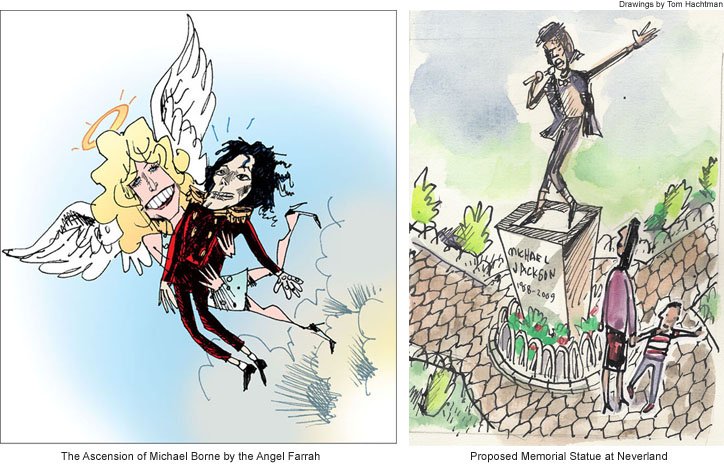 06/29/09

---
The Pest Is Yet to Come
Springtime in Washington, DC means a wide variety of annoying infestations as many insects awaken from their winter slumbers in small-town USA to once again crawl up and down the steps of the nation's Capitol, and slither, hum, and hop through the lush grass of the White House's South Lawn. Here is a brief guide to some of the most virulent nuisances that will vex the Commander-in-Chief this year.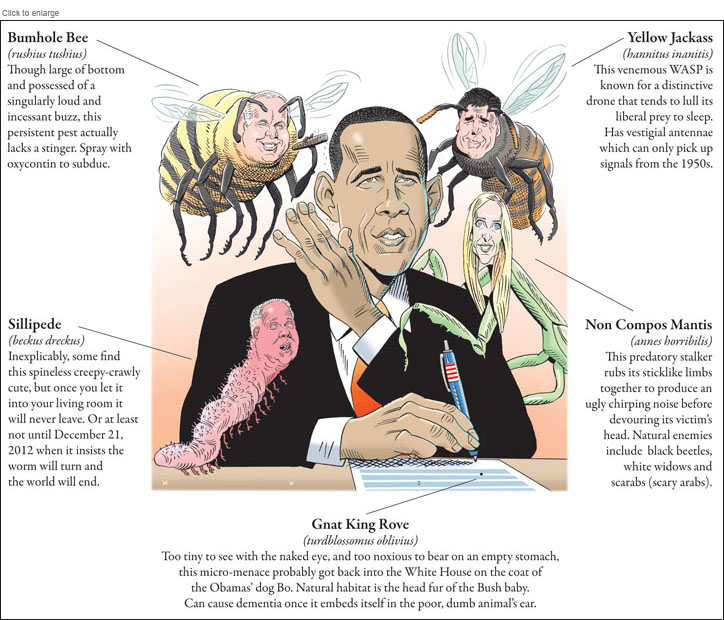 05/29/09

---
Sweet Home á la Obama
WASHINGTON, DC –– Sunday's We Are One (Annoying Bunch) Concert along the National Mall in Washington DC kicked off a three-day national celebration that will culminate in the installation of Barack Obama as the 44th President of the United States. An enthusiastic roster of showbiz stars who represented the wide range of the American experience stretching from the BET demographic to the VH1 demographic celebrated both the realization of Dr. King's dream of an America that transcends racial limitations and the expiration of Dr. Demento's nightmare which has been the last eight years of the Bush Presidency.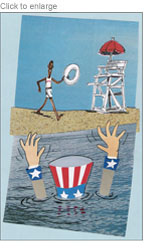 Some have noted (write to us for a list) that beneath the understandable pride and intense hoopla of the Obamboree lurks a worrisome undercurrent of euphoria, not unlike Alan Greenspan's "irrational exuberance"–– the meth-fueled ecstasy that led to the economy's crash-and-burn. Despite their idol's sober assessments designed to ratchet down expectations, some Obamaniacs in the crowd seemed disappointed that he had not moon-walked backwards the length of the reflecting pool to the Lincoln Memorial and then reanimated Abe's 20-ft.-tall statue to join him in break dancing to Stevie Wonder's Higher Ground.

Some of the fist-bumping and arm-waving that accompany Obama's public love fests suggest the desperate flailing of a drowning person –– the faith that he can rescue us all is touching, but one wouldn't bet what was left of one's 401(k) on it. The U.S. government can print a lot of money and shoot t-notes like t-shirts from air cannons into the economic crowd, but can it employ all of those laid off from jobs producing things that others don't really need, so that they will have enough cash in their pockets to buy the things that they don't really need?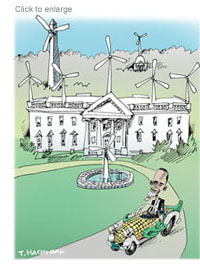 His constituents may turn hope into a four-letter word with their great expectations, but they're sure to transform agenda politics for the next four years. Women want equal pay, fewer Hillary jokes, and more dreaminess from O.
Environmentalists expect him to transform the White House into the Green House before the Potomac crests at the Capitol Dome. Human rights activists demand Gitmo be shut down, but only after a World Court war crimes trial sends Rumsfeld and Cheney there for a long, hot summer. Gay Rights proponents want to see same-sex marriage legalized in every state while the don't ask, don't tell doctrine be shot down in the military, and applied instead to divorce court proceedings.

College sports fans think Obama can pressure the NCAA into a playoff system and a ban on ego-enhancing supplements –– his hometown Chicago Cubs fans insist that he grant them World Series rings by presidential decree. All of his young supporters expect free ringtones, unlimited texting and a ban on purity rings –– the African American ones demand especially blingy Congressional Medals of Honor for Tupac and Biggie. Joe the Plumber wants another Ronald Reagan. Joe the Unemployed, another Franklin D. Roosevelt. Joe the Republican, another Jimmy Carter. Joe Sixpack, another case. Lotsa luck.
01/20/09