Holiday on Oys!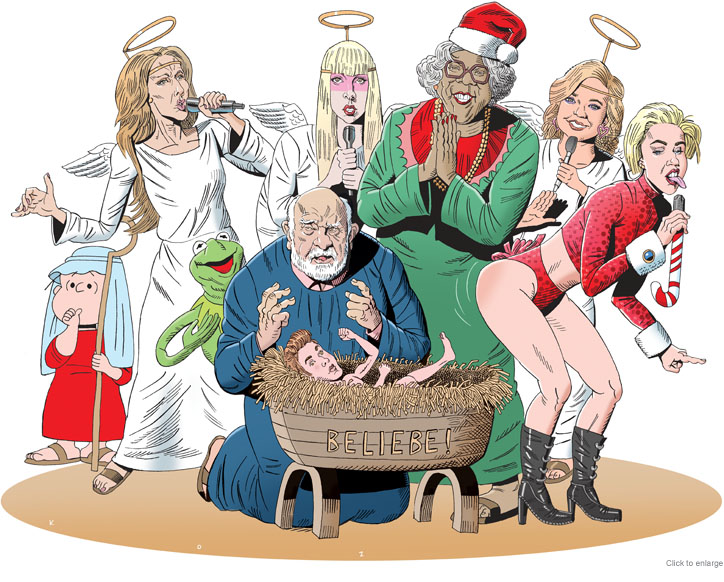 The ever-expanding Holiday Season, which now begins shortly after Labor Day, generates an economy all its own. This grueling stretch is only tangentially related to the religious observance of Christmas, regardless of what the Virgin-birthers at FOX say. It also subsumes Thanksgiving, Hanukkah, Kwanzaa, Festivus, Pearl Harbor Day, Humbug Day, Boxing Day and a variety of pagan winter festivals where revelers were compelled to give gifts under threat of human sacrifice. It's appropriate to refer to this sell-a-thon of a mutant season as X-mas in the Marvel-comics sense.
We've asked E. Basil St. Blaise, our Jolly (when the scotch is flowing) Old (don't dare ask his age) Elf (he insists he's over 5 foot 2, but that's in his Santa boots) to review some of the avalanche of seasonal fare burying our televisions and MP3 players this year. He's already jangled Hollywood's latest releases, including Tyler Perry's A Madea Christmas and slayed a selection of Holiday Albums. Here are some more Jack Frosty responses to X-mas Muzak:

Believe / Justin Bieber –– Believe it to Bieber.
Under the Influence: Holiday Edition / Straight No Chaser –– Nog nog joke.
Winter Loversland / Tamar Braxton –– Between the sleets.
Let It Snow / Jewel –– Flaky.
Sending You a Little Christmas / Johnny Mathis –– Johnny rackets.
And roasts of the would-be chestnuts on TV designed to make the whole family forget their credit card bills until after the New Year:

Feasting on the Road (Food Network) –– After Blitzen's hit by a car.
Holly, Jolly Grocery Games (Food Network) –– Bag it.
Festive Money-Saving Fixins (Food Network) –– Of your cat and dog.
All-Out American Christmas (HGTV) –– So now you can redecorate that empty closet.
Michael Bublé's 3rd Annual Christmas Special (NBC) –– I see three shits come sailing in.
Dr. Who Christmas Special 2013: The Time of the Doctor (BBC America) –– Gas Who.
Disney Parks Christmas Day Parade (ABC) –– Boobs in toyland.
The iHeartRadio Jingle Ball 2013 (CW) –– Miley amusing.
Home for the Holidays With Celine Dion (CBS) –– For low Celine fans.
Kelly Clarkson's Cautionary Christmas Music Tale (NBC) –– Alarm crock.
Lady Gaga & The Muppets Holiday Spectacular (ABC) –– Kooky monster.
Christmas in Conway (Hallmark) –– Conway twitty.
Christmas on the Bayou (Lifetime) –– Creole Saint Nick.
Finding Christmas (Hallmark) –– A lost Claus.
A Country Christmas Story (Lifetime) –– Hee-haw-ho-ho.
The Great Christmas Light Fight (ABC) –– What, child, is this?
Window Wonderland (Hallmark) –– Paneful.
Dear Secret Santa (Lifetime) –– Wish listless.
Let it Snow (Hallmark) –– A blizzard of clichés.
A Snow Globe Christmas (Lifetime) –– Not much shaking.
12/17/13
---
Meh and Superman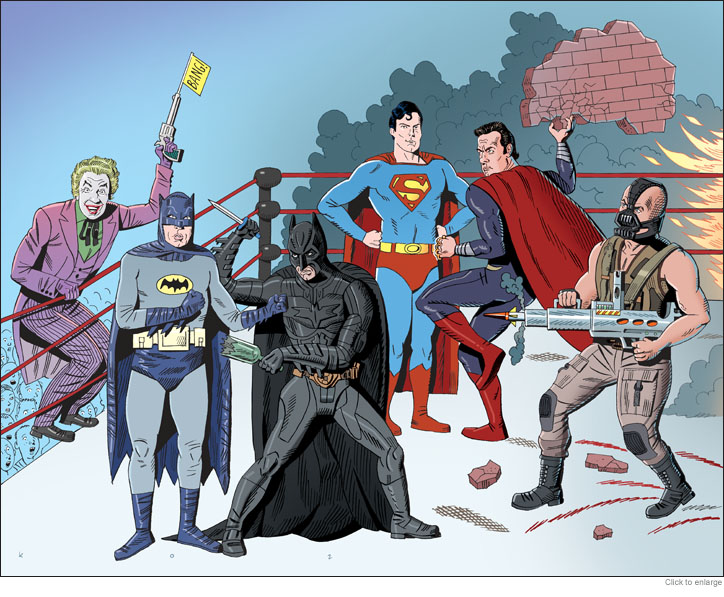 The comic book movie genre has featured more reboots than a 60s-themed drag dance-a-thon. Every few years popular characters apparently need to be reimagined for a new generation –– if one defines a generation as lasting five years. And with each do-over the vision grows darker and drearier –– the heroes more somber than super. As Batman morphed from West to Clooney to Bale, DC swooped from PC to AC/DC to BDSM.
Villains no longer have relatable goals, like wanting to steal priceless jewels or make the entire human race bow to their will. Instead they're bin Ladens on steroids or genetically-altered Dahmers. And the identity crises of the so-called good guys are so deep that these schizy souls rarely utter their own superheroic monikers. Under the aegis of Christopher Nolan, Bruce Wayne has been recast as semi-batshit crazy and Krypton's loveable lunk has been resurrected as a violence-prone Jesus with abs of steel. As Nolan's own Joker asked, "Why so serious?"
These musings made us realize that we may had been infected with a possibly fatal dose of nostalgia for the capes-and-pajamas flicks of the past. So we asked our Lex Luthor of Letters, arch-critic E. Basil St. Blaise, to save us by providing his acidic antidote.
Herewith he fixes his detractor beam on the genre as it evolved from simpler origins. He sets the Review-O-Ray to LIQUEFY. And he destroys it.
Superman and the Mole Men (1951) –- A dermatologist removes them.
Batman (1966) –– Pow! Bam! Flop!
Superman (1978) –– The Donner party.
Superman II (1980) –– Reeve gauche.
Swamp Thing (1982) –– Fen fen.
Superman III (1983) –– Pryor offense.
Supergirl (1984) –– Flight risk.
Howard the Duck (1986) –– No harm, no fowl.
Superman IV: The Quest for Peace (1987) –– Cape clod.
The Return of Swamp Thing (1989) –– Bloody, miry.
Batman (1989) –– Dick Burton.
The Punisher (1989) –– Painful.
Captain America (1990) –– Cap and trite.
Batman Returns (1992) –– My stomach.
The Fantastic Four (1994) –– What a revoltin' development.
Batman Forever (1995) –– Foul Kilmer.
Batman and Robin (1997) –– Nipple slip.
Blade (1998) –– All-day sucker.
X-Men (2000) –– Douche X machina.
Blade II (2002) –– Plasma sweet.
Spider-Man (2002) –– Stan Lee tools.
Daredevil (2003) –– Unsight training.
X2: X-Men United (2003) –– Magneato!
Hulk (2003) –– Gammapuss.
Hellboy (2004) –– Horn dog.
The Punisher (2004) –– Recap in yo ass.
Spider-Man 2 (2004) –– Doc ach!
Catwoman (2004) –– Hollow kitty.
Blade: Trinity (2004) –- Fang gorier.
6/27/13

---
Vanity Press Releases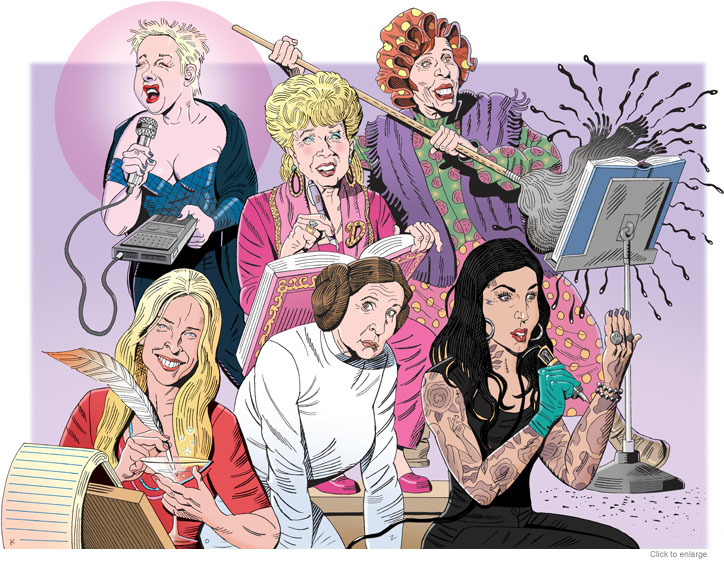 Desperate book publishers starved for sales are increasingly turning to anguished celebrities starved for attention. Especially ones that might have name recognition for the sector of an aging population that still bothers to invest in reading glasses.
Starry memoirists usually turn to this form of introspection after the mainstream press deems their lives no longer worthy of dissection. There's rarely anything novel about the navel-gazing in these ghosted tomes, but the publishers hope blatant advertisements for the self have longer shelf lives then their dated subjects.
Our critical polymath, E. Basil St. Blaise, the anti-Ebert, first licks, and then turns two thumbs down to riffle through the pages of this recent crop of eco- (think of the deforestation!) and ego-disasters. St. Blaise says, "These authors typically say that if their tale of pain and triumph can help a lone reader, their literary effort was worth it. I feel equally philanthropic if my review spares just one poor bastard from this tripe."
Sum It Up by Pat Summit –– In one word? Excruciating.
Unsinkable by Debbie Reynolds –– And I tried flushing it down twice.
Shockaholic by Carrie Fisher –– Reynolds rap.
Carrie and Me: A Mother-Daughter Love Story by Carol Burnett –– Carrie fissure.
I, Rhoda by Valerie Harper –– Rhoda rooter.
Lucky Me: My Life With -–– and Without –– My Mom, Shirley MacLaine by Sachi Parker –– Shirley, you jest.
Dear Cary: My Life with Cary Grant by Dyan Cannon –– Cannon fodder.
The Key Is Love: My Mother's Wisdom, A Daughter's Gratitude by Marie Osmond –– Latter-day stains.
Anyone Who Had a Heart: My Life and Music by Burt Bacharach –– What the world needs now?
Instant Mom by Nia Vardalos –– Just add water!
My Way by Paul Anka –– Drop Anka.
Mom & Me & Mom by Maya Angelou –– Mom/Me complex.
My Mother Was Nuts by Penny Marshall –– Penny anti.
Kicking and Dreaming: A Story of Heart, Soul, and Rock and Roll by Ann & Nancy Wilson –– Half-Hearted.
Cyndi Lauper: A Memoir by Cyndi Lauper –– She blop!
Go Big or Go Home: Taking Risks in Life, Love, and Tattooing by Kat Von D –– Tatty.
I Remember Me by Carl Reiner –– Glad he can remember anything.
Stories I Only Tell My Friends by Rob Lowe –– Lowe blows.
Lies that Chelsea Handler Told Me by Chelsea Handler –– Snake Handler.
4/15/13
---
Yen Up the Ying-Yang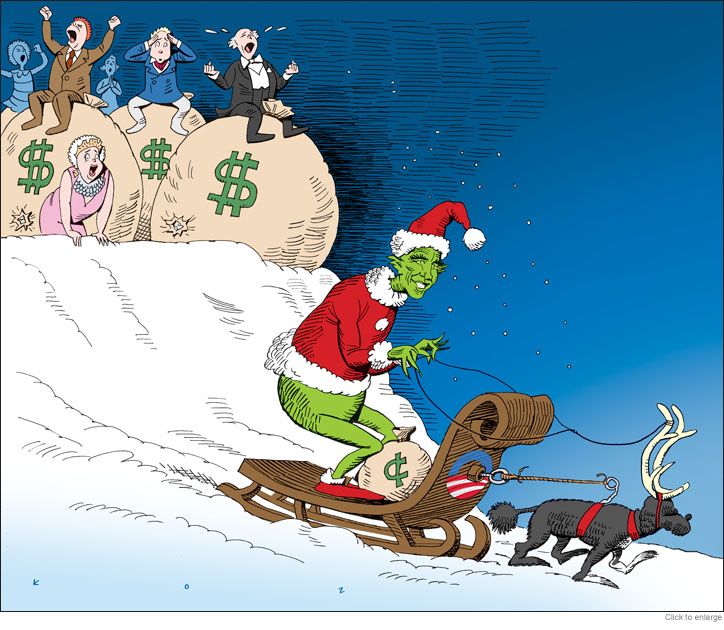 Despite widely-reported turmoil, the venerable Yuletide Trust has just released its 2012 Top 12 Wishes of Christmas List. The North Pole, Alaska-based uncharitable organization made headlines recently when ex-President Yul Tannenbaum was forced to step down amidst allegations of influence peddling and elf-abuse. Workers at S. Claus Industries, Mr. Tannenbaum's former employer, charged that he promised to trade several incriminating wishes of Prince Harry's for upgrades from the Naughty to Nice list for himself and family members. When rebuffed, he reportedly responded with several highly inappropriate yo-mama-is-so-short jokes.
Gift-swapping expert Holly Ann D'Ivie, author of Season of the Switch, will fill in for the disgraced XMaster of Ceremonies this year as the secret yearnings of the famous and infamous are shared with the public. As always, the sources of these seasonal tidbits are kept confidential by the Trust. When pressed on the issue, Ms. D'Ivie smiled coyly and quipped, "my lips are squeezed together tighter than Kim Kardashian's butt cheeks on Santa's lap."
So, gaze upon a falling star, like Lindsay Lohan, and wish away.

12) One Percenters: To make. On the takers.
11) John Boehner: Sequestration in a tanning booth and a box of tissues.
10) Wayne LaPierre: Semi-automatic rifles with armor-piercing BBs for every 1st-grader in America.
9) Bashar al-Assad: To not hear the names Saddam, Osama or Moammar uttered around the palace ever again!
8) E.L James: Fifty shades of grey and one pair with rose-colored lenses.
7) Kim Jong Un: To "launch his rocket" and celebrate Gangnam-style.
6) Callista Gingrich: To stop being asked if there are any Newt photos of her.
5) Tim Tebow: Leaving on a Jets plane.
4) Marco Rubio: A Koch and a smile.
3) The Rolling Stones: To gather no mas.
2) Donald Trump: Hair of the dog that bit him. The rabid dog.
1) The Mayans: A doomsday do-over.
12/22/12
---
Noel Doubt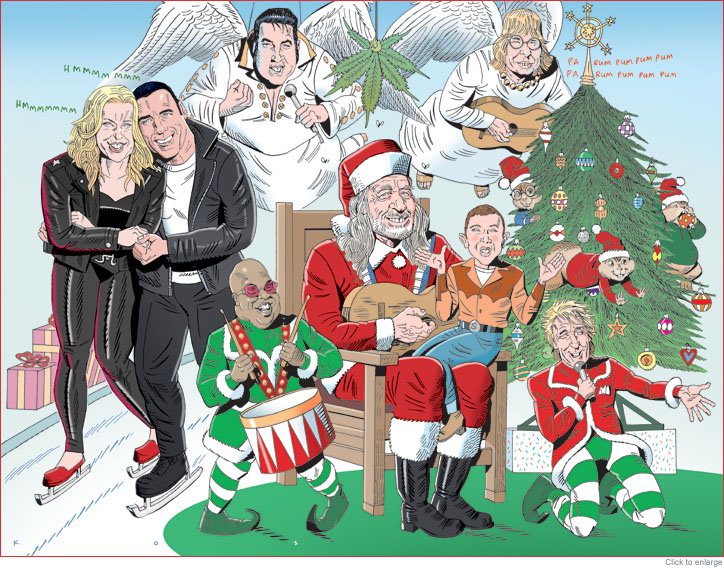 Each year the record industry unleashes an avalanche of "holiday" albums from their stables of artists and asses. Most of these will be stowed away in a manger marked "99¢", but we felt it our seasonal duty to review the top 2012 holly jolly jams.
Our resident Scrooge, E. Basil St. Blaise, fortified with a jug of extra-strength eggnog, gave these disks a spin. Read as he gives a goose to the musical spirits of Christmas Never-was, Christmas Has-been and Christmas Never-will-be.
James Taylor at Christmas / James Taylor –– Sweet baby Jesus!
Christmas with Scotty McCreery / Scotty McCreery –– Bum me out, Scotty.
Merry Christmas, Baby / Rod Stewart –– Do you think he's sucky?
Home for Christmas / Celtic Woman –– Irish ecch-o.
On The Winter's Night / Lady Antebellum –– Noel country for old men.
Cee Lo's Magic Moment / Cee Lo Green –– Green sleeps.
A Laurie Berkner Christmas / Laurie Berkner –– Eww Laurie.
Cheers, It's Christmas / Blake Shelton –– Ugh nog.
Disney Channel Holiday Playlist / Various –– It came upon a midnight Clearasil.
Chipmunks Christmas / Alvin & the Chipmunks –– Chased nuts roasting on an open fire.
What Christmas Means / KEM –– Manger crimes.
Christmas Times A-Coming / The Oak Ridge Boys –– 'N' I'm a-going.
Christmas in the Sand / Colbie Caillat –– Buried up to its chin.
Christmas Spirit / Richard Marx –– Carol Marx.
This Christmas / John Travolta & Olivia Newton-John –– His and her Johns.
The Classic Christmas Album / Willie Nelson –– Old Saint Nickel Bag.
The Classic Christmas Album / Luther Vandross –– The biggest Luther.
The Classic Christmas Album / Barry Manilow –– Merry Icks Mess.
The Classic Christmas Album / John Denver –– Angels we have heard when high.
The Classic Christmas Album / Kenny G –– Yuckety sax.
The Classic Christmas Album / Elvis Presley –– Return to Santa.
12/19/12
---
Bombed, James Bond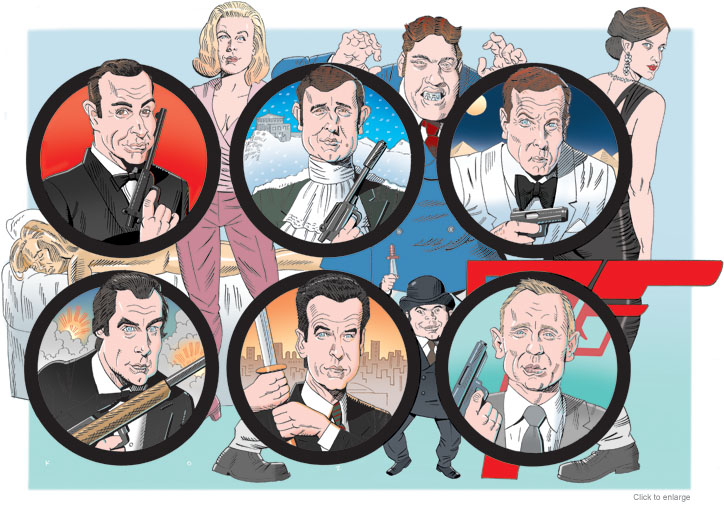 Bigger than the London Olympics. Bigger than the Queen's Diamond Jubilee. Bigger even than Prince Harry's naughty bits, it's the 50th Anniversary celebration of the movies that feature Britain's premier superspy, James Bond. From the first thwartings of world domination by the irresistably hirsute Sean Connery to the more recent derring-do of the huggably thuggish Daniel Craig, the world has thrilled to numerous cinematic versions of Ian Fleming's avatar of vodka-swilling, blood-spilling, jingoistic misogyny.
To commemorate the parade of steely-eyed, clench-jawed, cleft-chinned boys in the Bond who have inhabited the 007 role, we directed our own Dr. No of criticism, E. Basil St. Blaise, to open his dossier of reviews containing all 23 films in the series. There had been two rogue non-Eon Productions flicks that we thought were beneath criticism, but St. Blaise still gave them his Goldthumb down: Casino Royale ("Micro film.") and Never Say Never Again ("Say it! Say it!")
So flash back to a simpler time of hi-jacked nukes and unstoppable death rays. Of dastardly, but defeatable villains like Blofeld, Scaramanga, Largo, and Saddam. Of undeniably classy, though reliably slutty Bond Girls like Honey Ryder, Mary Goodnight, Holly Goodhead, and Lady Gaga. And enjoy the following reviews of the movies that left St. Blaise neither shaken nor stirred.
Dr. No (1962) –– No means no.
From Russia With Love (1963) –– Nyet flix.
Goldfinger (1964) –– Wussy galore.
Thunderball (1965) –– Lightningnut.
You Only Live Twice (1967) –– Bond sigh!
On Her Majesty's Secret Service (1969) –– George lazy be.
Diamonds are Forever (1971) –– Facet-ious.
Live and Let Die (1973) –– Moore is less.
The Man With the Golden Gun (1974) –– A Walther peepee.
The Spy Who Loved Me (1977) –– Secrete agent.
Moonraker (1979) –– Jaws dropping.
For Your Eyes Only (1981) –– If they're shut.
Octopussy (1983) –– Eight is not enough.
A View to a Kill (1985) –– Bail, Bond.
The Living Daylights (1987) –– Timidly Dalton.
Licence to Kill (1989) –– OyOy7.
GoldenEye (1995) –– Pierce pressure.
Tomorrow Never Dies (1997) –– Movies do.
The World Is Not Enough (1999) –– A low-yield Bond.
Die Another Day (2002) –– Reaches its expiration date.
Casino Royale (2006) –– Royale pain.
Quantum of Solace (2008) –– Quantum leaks.
Skyfall (2012) –– Craig lists.
11/19/2012
---
Puttin' on the Brits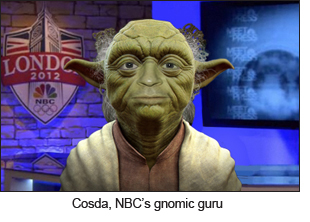 London, England –– The titillatingly-titled XXX Olympics have been surprisingly short on tingle for the non-jingoist as they backstroke, dribble, high jump, and sprint relentlessly on. The Nationalist Broadcasting Co.'s televised coverage lends the impression that the events might be taking place on a Hollywood backlot where a galaxy of endlessly empathetic American star athletes compete against a hissable guest cast of former and present socialist villains who can't slip, misstep or fall frequently enough.
The blah rah-rah footage makes one wonder if the quadrennial Summer Games might prove to be more fun and educational if they were tailored specifically to reflect the host country's cultural heritage. Rather than foreign viewers rooting blindly for their own athletes whilst being ignorant of the other competitors' customs and history, this approach might just give the spectator at home a real reason to hate their opponents. Such an exercise would be fruitless for the Winter Games –– they would retain their chilly Nordic pallor no matter where they were played.
To service the current interest on the debt incurred in mounting the 2004 Greek Games, the Athenians will have to sell off the Acropolis to the UAE this month. Wouldn't those Olympics have been far more exciting if they had included tax dodge ball, Euro hurling, and no-holes-barred, naked Greco-Roman wrestling? And in 2008, wouldn't the world have been forever indebted to the Chinese (more forever indebted, that is) if they had added events like the javelin throw at dissidents, the shot poet, freestyle waterboarding, and the 100,000 meter relay to the reeducation camp?
So this year it would have been appreciated if the British had introduced competitions that exploited some of their greatest natural resources –– gormlessness, eccentricity, pomposity, and toilet humor. Where was the Ministry of Silly-Walks hurdles? The Fred Scuttle Memorial broad diving competition for which the winner would gets to alternately chase and be chased by Misty May Treanor and a bevy of beach volleyball beauties accompanied by Yakety Sax? Why wasn't a dame from the Commonwealth allowed up from Down Under to put her shot balls in the name of the Queen?
And speaking of queens, why was England's Rocket Man not the Games' wacky mascot carrying the guttering torch like a candle in the wind? And why then would he not be afforded a medal for pummeling Material Girl Madge on the pommel horse? And in Her Majesty's Jubilee Year where was the Royal Family on the playing field, aside from a granddaughter prancing about in some equestrian event? The horsey we all wanted to see was Lady Camilla riding roughshod over barmy Prince Charlie in some hot-and-heavy hand-to-hand and hoof-to-mouth combat.
And since James Bond was seen parachuting into the Olympic Stadium with Her Royal Highness in the opening ceremonies, why didn't director Danny Boyle mastermind an 007-style extravaganza for our viewing pleasure? The field dynamited from below to reveal a neutron bomb that will detonate in five months. A hulking villain, who wears a mouthpiece that provides him with a pain-killing drug even as it renders his speech almost completely incomprehensible. A public execution of the last nuclear scientist who can disarm the device, and the villain's vow to save the city while he actually plans to plunge it into French Revolution-style anarchy before allowing it to be incinerated. The hero sent to rot in a prison at the bottom of a deep hole…oh, wait, that's all Christopher Nolan.
Rue Britannia!
8/9/12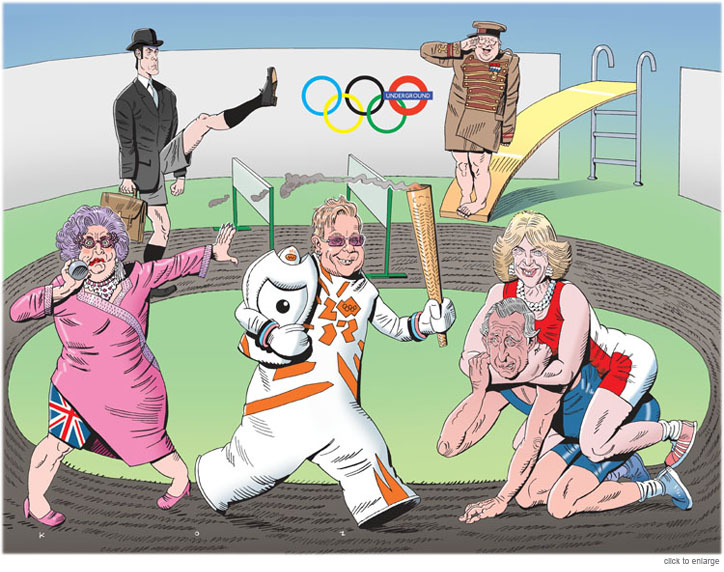 ---
Bitch and Tunnel Crowd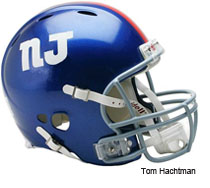 Secaucus, New Jersey –– Before the Big Game, the Garden State might well have begun to feel as if it were losing its mojo. After a decade or more of Jwowwing the nation with its sass and spunk, there was a creeping sensation, like a Herpes rash, that the days of New Jersey as badness personified, as a skeevier Sodom to Gotham's Gomorrah, were numbered.
Given its long history as New York's second banana, and as the New York mob's second Bonanno, it was the emergence of TV smash The Sopranos in 1999 that made America finally see the state as more than a cultural thrift shop jammed with smelly refineries and clogged highways –– it was also filled with lovable scumbags. Dozens of shows followed that enhanced the funky aura, including, the Real Housewives of New Jersey, Jerseylicious, Cake Boss, and, most indelibly, The Jersey Shore. Middle America's white kids, suckled on hip-hop, became infatuated with these rhythm-less crap stars. The rest of us loved to mock these mooks even as we secretly envied their shamelessness. It looked as though this Pox Romana would last a thousand years.
But the public is fickle –– just ask Paris Hilton, but phrase the question simply. By the time that the mayor of Hoboken refused to let The Jersey Shore shoot along the shores of the Hudson River, the writing was on the wall as clearly as a tat on a skank's tata. Cable networks began growing desperate –– MTV announced plans for AC/DC, a series set in Atlantic City where bisexual teens cruise the casinos and drunkenly bet on senatorial races in Washington. Bravo began talking of going grittier with Real Sluts of Camden and a spinoff, Top Clap. Oxygen expressed high hopes for a tonier Guido to the Modern Guidette. Food Networks' Italian Iced was to follow "a mob hit man with a sweet tooth and killer gelato recipes."
The fear grew that Jersey didn't have a patent on sleaze, that other states might also have fibrous, white cheeses and social diseases. Maybe packs of teen Scarfaces were prowling South Beach waiting to seduce our suburban youth with their medianoches and drug-fueled debauchery. Or meth-addled Swedes with attitude were staggering through the frozen wilds of Minnesota, and their pale, exposed bellies might make little Tyler and Madison forget The Situation's six-pack. It was looking as if the fabled bridge and tunnel might lead to nowhere.
But then came Superbowl XLVI. Big Blue bested the New England Patsies. And the bitch was back, in the black, bein' wack, smokin' crack, flashin' rack, 'n' talkin' smack like a Super PAC!
Sure, NY continued to lay claim to this football team, but no one really doubted that the squad that had played in the swamplands across the river since 1976, was really the Jersey Giants (New York could keep the Jets.) Pride oozed like extra virgin olive oil from the pores of Jersey's favorite sons and daughters. Governor Chris "Christine" Christie plotted to hijack the float carrying the victors through lower Manhattan's Canyon of Heroes to stage a parade in Newark's Canyon of Potholes. Former Gov. Jon Corzine dipped into MFL's "missing" $1.2 billion to erect a statue of QB Eli Manning in Trenton's State House. Judy Blume began novelizing the first season of VH1's My Big Friggin' Wedding.
Real housewife Teresa Giudice had her bubbies dyed blue. Ice-T painted Coco's booty blue. Snooki did whip-its until she was blue in the face.
Summit's Meryl Streep signed on to play Jersey City's Martha Stewart in Martha and Mothra. The Boss composed an anthem to the broken dreams and eternal hopes of Pauly D and his crew called Born to Rut. And America learned once again, that nothing really matters when you're in love with a Jersey Girl.
2/6/12