O Tannenbaum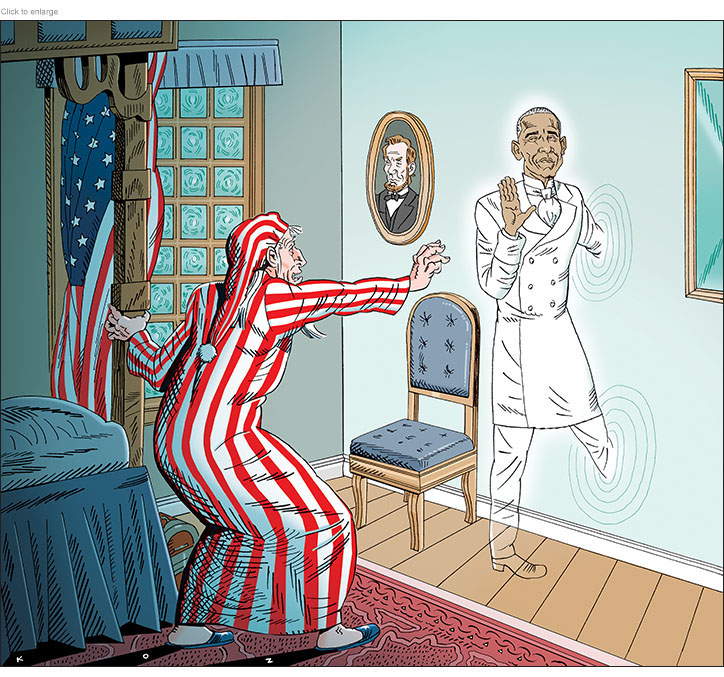 Holly Ann D'Ivie, who has just been appointed CEO of the Yuletide Trust after a long and bitter struggle with recently-incarcerated former exec Yul Tannenbaum, has released the 2016 Top 12 Wishes of Christmas List. The event was transmitted worldwide for free to anyone with a ham radio set from the Trust's opulent new offices on the outskirts of Omsk. The charitable organization explained that they had recently relocated to Siberia for several logistical reasons, including a welcome infusion of capital from local oligarchs, a talented pool of information technologists specializing in data extraction, and the lack of an extradition treaty with the United States.
A jubilant Ms. D'Ivie, whose cheeks were nearly as ruddy as Rudolph's nose, hoisted a tankard of a specially brewed eggnog-flavored Stoli to salute this year's crop of the no-longer-secret yens of celebritydom's bigshots. "There was a bumper crop of deep-seated desires and unscratched itches. We hack…er, tracked so many from Hillary Clinton she could've had her own dirty dozen." After several more healthy swigs, the self-described Gift Goddess, who refers to the art of decorating a package for the holidays as 'Presentation', announced that she'd written an inspiring new book on the role of Fate in that process, entitled Chance the Wrapper. "Here it is," she announced, displaying a copy to non-existent cameras.
After another healthy swig of 'cheer', Ms. D'Ivie did touch on the fate of her predecessor, Mr. Tannenbaum. "Yul'll be shpending the holidays in Alaska's Goose Creek Correctional Center, a bit south of our original offices in North Pole, but still 'colder than Mrs. Claus' left teat', to quote one of his favorite phrases. It's -23ºF here in beautiful Omshk as I speak, but ol' Yul doesn't have kind Mr. Blitzentshky's endangered reindeer furs to keep him warm. Or Mr. Blitzentshky. He'll have to rely on the kindness of some Yupik meth head to roasht his chestnuts."
"Too bad. I bet I can guess his Christmas wishes, the sonuvabitch, … a carton of Marlboros, a pack of condoms and a friggin'…" Sergei, Mr. Blitzentsky's 300-pound personal assistant, caught Ms. D'Ivie just before she slumped into the microphone. "And to all a good night…" were her last words before retiring to the boardroom to begin work on next year's inventory of hopes and dreams.
Mr. Tannenbaum, like the notorious Al Capone, had successfully eluded jail a number of times on a host of charges before his ultimate conviction on tax evasion. He'd falsely listed (a compulsion of his) 'belittling elves' as a deductible business expense.
12) Boris Johnson: An appointment at the hair salon to get a 'Donald'.
11) Merrick Garland: A judgeship on Dancing With the Stars.
10) Justin Trudeau: A Castro convertible.
9) Rodrigo Duterte: A book of narc-narc jokes.
8) Kellyanne Conway: Fresh supply of wing of bat and eye of Newt.
7) Mitt Romney: The right one back.
6) Angelina Jolie: A Pitt stop.
5) Melania Trump: A golden FLOTUS tiara.
4) Steve Bannon: A new Who song –– The Kids Are Alt-Right.
3) James Comey: A notepad and disappearing ink.
2) Democrats, liberals, LGBT, minorities, vertebrates: Four more years.
1) Michelle Obama: No more years.
12/22/16
---
Down Memory Lame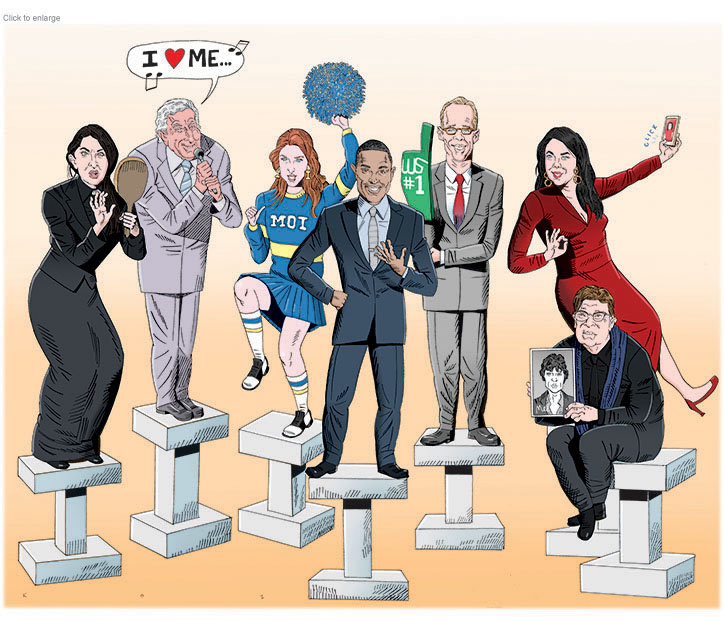 Celebrity memoirs are amongst the most forgettable of literary forms, yet they make for popular holiday gifts. Maybe it's because they offer the reader an imagined all-access (and excess) pass to the backstage (and back-stab) world of Fame. Or that they tend to be in the sweet spot of Secret Santa pricing and are easy to wrap.
E. Basil St. Blaise, our Proust of Pans –– the scent of Madeline Kahn's long-ago performances sparks his memory –– has deigned to stroll down the byways of tedious anecdote and sticky self-absorption to report which remembrances of things passé deserve to be recalled (in the Takata air bag sense.) Finding a hard copy of one of these under your tannenbaum should make you think of all the trees senselessly murdered. The e-version should spark aversion.
Born a Crime by Trevor Noah –– No, boring a crime.
Walk Through Walls by Marina Abramovic –– Sub Marina.
Scrappy Little Nobody by Anna Kendrick –– Scrap Little Nobody.
Tippi: A Memoir by Tippi Hedren –– On Tippi toast.
They're Playing Our Song by Carole Bayer Sager –– Carole Bayer sagger.
Testimony by Robbie Robertson –– Noise in The Band.
I Am Brian Wilson by Brian Wilson –– Pat sounds.
Surf City: The Jan and Dean Story by Dean Torrence –– Jan sessions.
Can I Say: Living Large, Cheating Death, and Drums, Drums, Drums by Travis Barker –– Corny Barker.
18 and Life on Skid Row by Sebastian Bach –– Yo, ham Bach.
Just Getting Started by Tony Bennett –– Bennett fit fraud.
The Princess Diarist by Carrie Fisher –– Anal Fisher.
Talking as Fast as I Can by Lauren Graham –– Graham gnash.
Lucky Bastard by Joe Buck –– Buck truth.
Where Am I Now by Mara Wilson –– The remainder table?
Zayn by Zayn –– Zayny.
Beneath the Surface: My Story by Michael Phelps –– Laps of judgment.
Between Two Worlds: Lessons from the Other Side by Tyler Henry –– If you'd like to strike a happy medium.
Going Off Script: How I Survived a Crazy Childhood, Cancer, and Clooney's 32 On-Screen Rejections by Giuliana Rancic –– Rancid.
Life in Motion: An Unlikely Ballerina Young Readers Edition by Misty Copeland –– Errant Copeland.
Being Jazz: My Life as a (Transgender) Teen by Jazz Jennings –– Crossover Jazz.
12/14/16
---
Support Hosed
Demagogues don't elect themselves. Trump is only one, presumably human, being. Over 60 million supposedly sentient ones, overwhelmingly white, and mostly male (not as mostly as you'd suspect) voted him into office. That is the inexplicable tragedy of this election and where all the blame lies. Trump was utterly exposed during the campaign, there was no way not to see him for who and what he is, and still that many Americans said 'I'm With Him.'
The ultimate post mortem on this butchering of the body politic is going to look like the bloodiest outtake from Ash vs. the Evil Dead and take a stronger stomach then I have less than 48 hours out. But one bit of collateral damage to the medulla oblongata splattered over there worth noting is how this 'protest' vote has strengthened the bedrock GOP.
The party which imperfectly instituted social safety nets to protect the uneducated and economically at-risk were hysterically accused of 'abandonment' and punished at the polls. The party which never gave a shit about them, wrote the laws that exploited them mercilessly in the first place, and then tattered those safety nets was richly rewarded. Republicans control the White House, Congress and the majority of State Governorships and Legislatures. And all it took was the exploitation of class envy and fear of the other.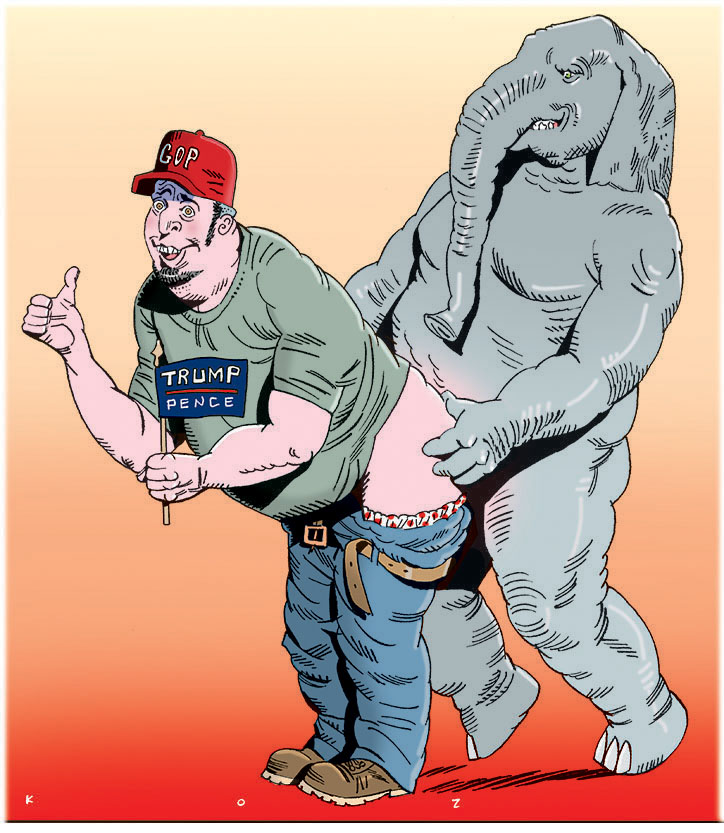 I didn't mean to cast aspersions on any couple's (human or beast) sexual practices with this admittedy vulgar drawing. I believe pretty much anything goes between consenting adults, but it does presuppose both partners actually know what act they're engaged in. And wouldn't condemn themselves to jail or Hell if they'd realized they'd performed it. I could have just as easily depicted a college-educated white male or a white, uneducated female (they went for Trump 2-to-1) on the receiving end, but oblivious Bubba seemed the right fit.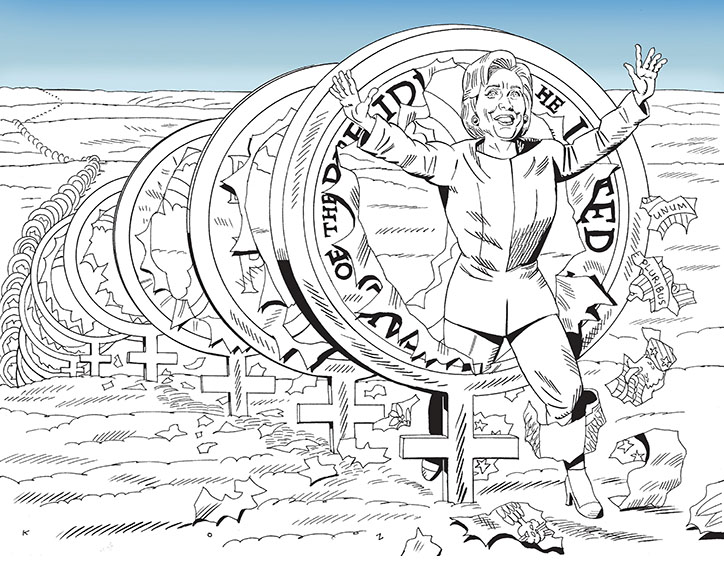 I began this drawing for the weekly Inxart.com package on Tuesday, November 8. I'd based a queasy hopefulness in a Clinton victory on the sky-high media predictions as of that morning. I'd hung my hat on the New York Times' online tracker for weeks even as wave after wave of worrisome reports (and diarrheal email leaks) trickled in. It was at 84% on Election Day, while others soared as high as 98%. That hat was doomed to destruction. So when choosing between the Clinton Clinches or Trump Triumphs artwork, the choice (as in the voting booth) seemed obvious.
I abandoned this at 8:10 pm as the results, like particularly bilious backwash, flowed in. The idea was to celebrate the first female president who had had to jump through a numberless procession of hoops, dating back to the passage of the 19th Amendment, to arrive at a late, but deeply satisfying moment of victory. I got as far as adding the blue sky.
Martin Kozlowski
11/10/16
---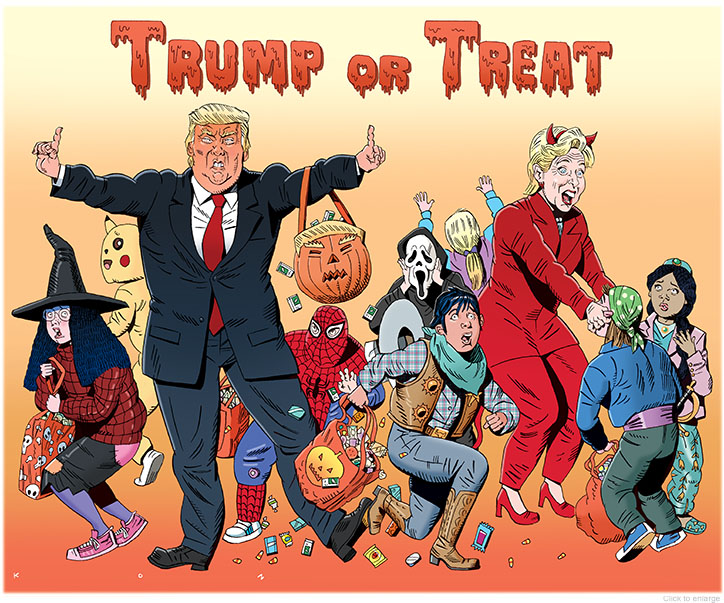 ---
Even though it's that time of year for our Mr. Sardonicus of criticism, E. Basil St. Blaise, to review a classic roster of cinematic chillers we couldn't help but acknowledge the absolutely terrifying horrowshow that we've been witnessing for the last 18+ months. Even the congenitally apolitical St. Blaise ('I won't vote unless sin taxes are on the ballot') has had to sit up and take notice of this presidential campaign. "Watching these two go at it did not make me think of Tracy and Hepburn or Bogie and Bacall –– uhn-uhn, think Godzilla vs. King Ghidorah ((1991) –– Where's Gidget?).
I mean it's like Pumpkinhead ((1988) –– Oh…my…gourd!) was on a double-bill with The Killer Shrews ((1959) –– You'll Shrew the day.) And who didn't wonder who 'Double Bill' was on? I don't know what I'll be cuing up on my VCR come Novemebr 9th –– The Vengence of She ((1968) –– She whiz.) or Armageddon ((1998) –– Fanfare for the comet man.)!"
To help us put the real-world wierdness out of our minds (which is where we might well end up), St. Blaise provides some stinker shock with his ghoulish notices. First he salutes George A. Romero, godless Father of the Undead, for his ground-breaking (how else would they get out?) zombie series.
Night of the Living Dead (1968) –– Four corpse meal.
Dawn of the Dead (1978) –– A gnaw-brainer.
Day of the Dead (1985) –– Bite pates.
Return of the Living Dead (1985) –– Bone appetit.
Land of the Dead (2005) –– Pittsburgh squealers.
Diary of the Dead (2007) ––'Dire Diary…'
Survival of the Dead (2009) –– Seizure Romero.

And here's a tribute to Bs-Master Roger Corman, famously frugal producer and director, who celebrated his 90th birthday on April 5. All hail his low-Price Poepourri and parade of Cormaniacs!
Attack of the Crab Monsters (1957) –– On the toilet.
A Bucket of Blood (1958) –– Psychochronic.
The Wasp Woman (1959) –– Went to Vassar.
Attack of the Giant Leeches (1960) –– Sweat sucks.
The Little Shop of Horrors (1960) –– Gone according to plant.
House of Usher (1960) –– Usher nonsense.
The Pit and the Pendulum (1961) –– Sways and mean.
Premature Burial (1962) –– Embalm scare.
Tales of Terror (1962) –– Omnibust.
Tower of London (1962) –– Rot in jail.
The Raven (1963) –– Minor bird.
The Terror (1963) –– Terror infirma.
The Haunted Palace (1963) –– Chateau of a doubt.
X: The Man With X-Ray Eyes (1963) –– Looky, loo.
Masque of the Red Death (1964) –– Masque suicide.
The Tomb of Ligeia (1964) –– Grave dicker.
Death Race 2000 (1975) –– Warped speed.
Piranha (1978) –– Fright fish.
10/27/16
---
TOM HACHTMAN'S DOUBLETAKES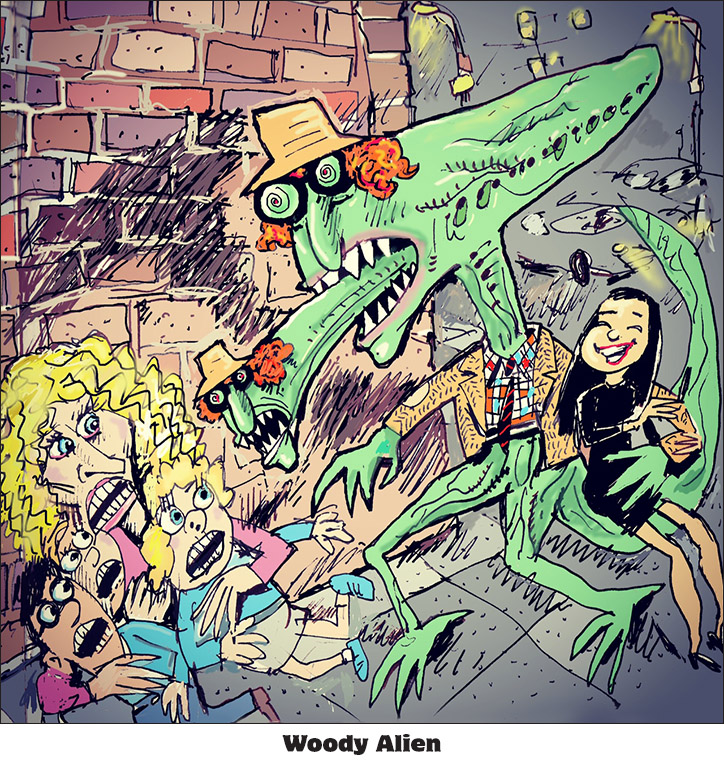 ---
Hope Springs Infernal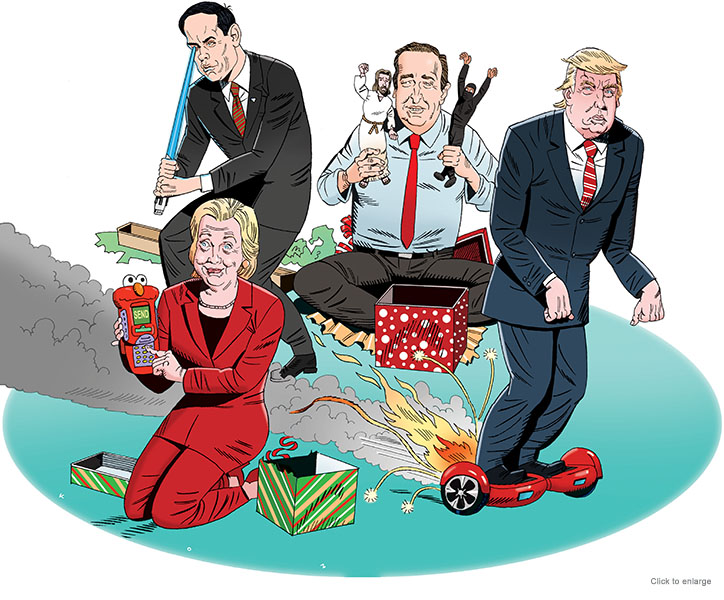 At 12 am, December 25th, Holly Ann D'Ivie, acting CEO of the Yuletide Trust, released the 2015 Top 12 Wishes of Christmas List after two years of silent nights. Ms. D'Ivie had no explanation for the North Pole, Alaska-based "charity's" inactivity, though outside observers suspect that counter-suits against the Trust by disgraced ex-Xmaster Mind Yul Tannenbaum, may have overwhelmed their already limited resources.
Mr. Tannenbaum, who is currently awaiting sentencing on convictions stemming from charges of fraud, libel and reindeer-tampering, is suing for defamation of character based on an interview in which Ms. D'Ivie referred to the former president as "crooked", "mean", "predatory", and "basically Scrooge with a strap-on." Mr. Tannenbaum is seeking a public apology, damages of $1,000,000,000 and the return of his lucky elf foot (rumored to have been removed from intern Teeny Tiny Tim as punishment for indolence.)
Hoping to put the legal nightmare of "our Sepp Blatter" behind her, Ms. D'Ivie contacted interested journalists worldwide via Skype to announce the Dishy Dozen. Wearing a rakishly-cocked Santa cap, the noticeably florid Guru of Gifting somewhat unsteadily read the list of the secret desires of the famous and infamous. Slurring only slightly –– she did repeat what sounded like Bruges several times before realizing she meant Caitlyn Jenner –– she carefully enumerated the cravings. When journalists pointed out that she'd concluded with thirteen entries, she smiled broadly and declared it a 'bakersh dozhen.'
When pressed on the source of these leaked longings, Ms. D'Ivie was characteristically noncommittal. She did, however, allude to "a Moshcow connection" and coyly asked, "You wanna White Chrishtmas? Let it Snowden."

13) Donald Trump: A wall hanging. Of an immigrant.
12) Rest of the Republican candidates: Trump roast.
11) Megyn Kelly: Trump bleeding from 'wherever.'
10) Steve Harvey: A much-needed vacation in the Phillipians.
9) Caitlyn Jenner: His and Hers monogrammed towel.
8) Vladimir Putin: Daesh cam.
7) Bernie Sanders: Supporter between 16 and 60.
6) Prince George: Hush… Hush, Sweet Charlotte on Blu-ray.
5) Amy Schumer: Toy Trainwreck.
4) Tom Brady: Inflated Christmas balls.
3) Ronda Roussey: Her two front teeth.
2) Hillary Clinton: White House with picket fence.
1) Martin Shkreli: El Chapo's old cell.
12/28/15
---
Jingle Bell Rot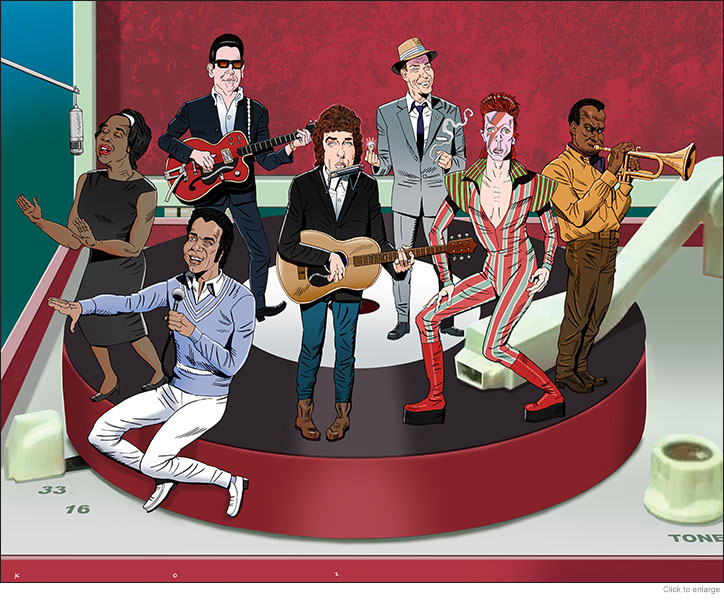 Have a music lover on your gift list and don't know what to get him or her this Holiday Season? Want to share the limitless joys of rhythm, melody, harmony? Too dense to purchase a gift card?
Just in the St. Nick of time we've persuaded our jowly old elf, E. Basil St. Blaise, to come in from the cold (this December that means under 50ºF) and review some of the pricey boxed sets aimed at boomers who treasure 'classic' artists. If you're Secret Santa to a hipster vinyl junkie, or a nostalgic completist who needs to own their idol's every sonic discharge, no matter where it emanates from, here's the place to start.
Five Years 1969-1973 / David Bowie –– Bowie naff.
Miles Davis At Newport 1955-1975: The Bootleg Series Vol. 4 / Miles Davis –– Kind of blew.
The Best Of The Cutting Edge 1965 - 1966: The Bootleg Series Vol. 12 / Bob Dylan –– Bob fussy.
RCA Victor and T-Neck Album Masters (1959-1983) / The Isley Brothers –– Half the funk.
Coming Thru To You The Live Recordings 1970 - 2004 / Arthur Lee & Love –– Love's labored lust.
The Singles / Johnny Mathis –– Johnny rotten.
Roy Orbison 'The MGM Years' / Roy Orbison –– For Crying out loud.
A Voice On Air (1935-1955) / Frank Sinatra –– Comedy of airers.
REMTV / R.E.M. –– R.E.M. Sleep.
Live At The Fillmore East October 4th & 5th, 1968 / Sly and the Family Stone –– And stoned.
The Ties That Bind: The River Collection / Bruce Springsteen –– Jersey noise.
Faith And Grace: A Family Journey 1953-1976 / The Staple Singers –– Unstable singers.
Complete Matrix Tapes / The Velvet Underground –– Matrix real loaded.
The Legendary Live Tapes: 1978-1981 / Weather Report –– Heavy Weather.
If your giftee's a Tinny Tim, tune deaf and free of taste, you can get out the snow shovel and dig right into the annual sludge pile of Xmas muzak.
Adore / Chris Tomlin –– A snore.
Christmas / Frank Sinatra –– The ghost of Christmas pissed.
Today Is Christmas / LeAnn Rimes –– Rimes with 'hit.'
It's A Holiday Soul Party / Sharon Jones & the Dap-Kings –– Soul drain.
Rockin' Rudolph / Brian Setzer Orchestra –– Mire Rudolph.
Once Again It's Christmas / Kenny Rogers –– No men for old country.
Braxton Family Christmas / The Braxtons –– Toni-deaf Braxton.
Kylie Christmas / Kylie Minogue –– Kylie unlikely.
Christmas with Friends / India.Arie & Joe Sample –– Yule and me.
MercyMe, It's Christmas / MercyMe –– Heave ho ho.
The Classic Christmas Album / Sarah McLachlan –– Ear muff.
A Very Swingin' Basie Christmas / The Count Basie Orchestra –– Clipped swing.
12/20/15
---
Field of Screams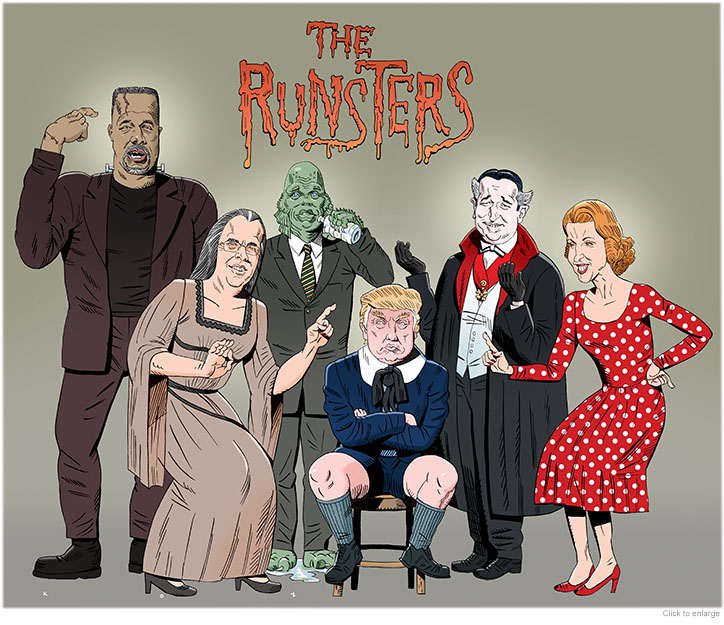 We've roused our Dr. Caligari of Criticism, E. Basil St. Blaise, to trick out some treats for your Halloween pleasure. He was hiding under the covers after witnessing the most chilling televisual terror he had ever experienced –– the Republican Presidential Debates. They reminded him of the freakish family feuds of the horrifyingly lame 60s' series, The Munsters ((1964) –– 'Cheesy.')
For his sanity, and yours, we offer these wretched reviews as relief, beginning with a wooden-stake salute to recently-departed horror icon, Christopher Lee (1922-2015). This is the Hammer Dracula series (though he mecifully missed The Brides), ascending chronologically even as they descended qualitatively.
Horror of Dracula (1958) –– Clot hopper.
The Brides of Dracula (1960) –– Drac queens.
Dracula: Prince of Darkness (1966) –– Royal pain.
Dracula Has Risen From the Grave (1968) –– Disinter rested.
Taste the Blood of Dracula (1970) –– Vampire blue cross.
Scars of Dracula (1970) –– Blood Count.
Dracula A.D. 1972 (1972) –– Fang male.
The Satanic Rites of Dracula (1973) –– Loses heart.
And a nod to Wes, the Craven lunatic (1939-2015).
The Last House on the Left (1972) –– Home slice.
The Hills Have Eyes (1977) –– Kith of death.
Swamp Thing (1982) –– Marsh rover.
The Hills Have Eyes Part II (1984) –– Peer pressure.
A Nightmare on Elm Street (1984) –– Stupor duper.
The Serpent and the Rainbow (1988) –– Haiti crime.
Shocker (1989) –– Low voltage.
The People Under the Stairs (1991) –– Step family.
New Nightmare (1994) –– Freddy offender.
Vampire in Brooklyn (1995) –– Red hook.
Scream (1996) –– Screecher feature.
Scream 2, 3, 4 (1997-2011) –– Scream cheese.
Music of the Heart –– A nightmare on M. Streep.
10/27/15
---
Wassailing You?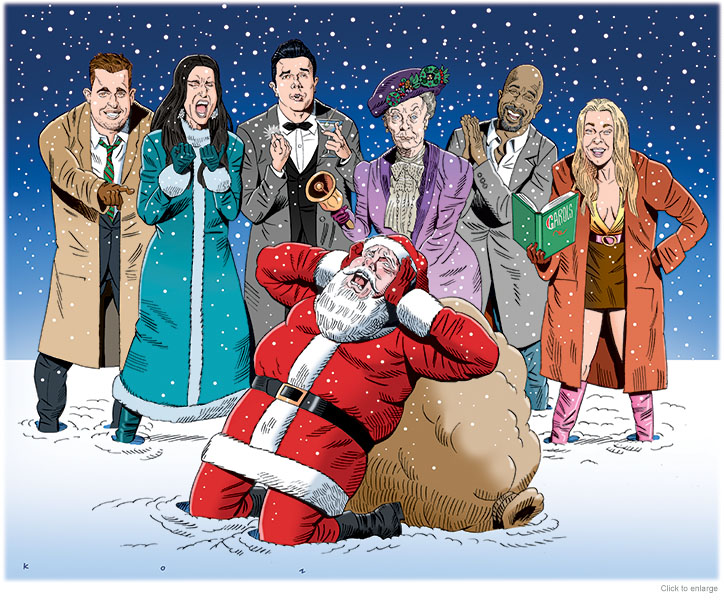 Feeling tired? Ticked? Tetchy? The Holiday Season has descended like an avalanche on Everest and left us buried up to our mufflers in tech toys, tannenbaums, tinsel and tired tunes.
To put the fa back in your lala we've asked our Frosty the Showman, E. Basil St. Blaise, to remove his ganja-laced corn cob pipe and put aside the eggnog martini so that he might review the latest crop of Christmessy albums. The frigid fraud may seem to have a carrot for a nose, a lump of coal for a heart and a baby zucchini down there, but when he turns up the heat it's everyone else that melts.
That's Christmas to Me / The Pentatonix –– Pentatonix stale.
Talkin' Christmas / Blind Boys of Alabama & Taj Mahal –– Eyes Capades.
Christmas at Downton Abbey / Various –– 8 maids a-milking.
Holiday / Earth, Wind & Fire –– But mostly wind.
Holiday for Swing! / Seth McFarlane –– Swingnut.
Holiday Wishes / Idina Menzel –– Menzel cases.
Home for the Holdays / Darius Rucker –– Hootie kidding?
ICON: Amy Grant Christmas / Amy Grant –– Appall Grant.
The Spirit Of Christmas / Michael W. Smith –– Seasonal Infective Disorder.
One Christmas: Chapter One / LeAnn Rimes –– Ballbusta Rimes.
The 25th of December / Dave Koz & Friends –– The gassy noel.
A Michael Feinstein Christmas / Michael Feinstein –– Grate American Songbook.
30/40 / Mannheim Steamroller –– Flat.
And if you thought you could escape the din with fur-lined, noise-reduction ear muffs, just feast your eyes on the holiday ham on display on that new 60" flat screen TV you just bought (the one you might be able to pay off by the time next football season rolls around.) You'll understand why the yule log gets such good ratings when it's in competition with this:
Secret Santa (Discovery) –– Dependent Claus.
Michael Bublé's Christmas in New York (NBC) –– Boob plays.
Elf: Buddy's Musical Christmas (NBC) –– Santa's little helpless.
Toy Story That Time Forgot (ABC) –– Time's right.
How Murray Saved Christmas (NBC) –– Murray prankster.
Christmas in Rockefeller Center (NBC) –– 50 Rock bottom.
Grumpy Cat's Worst Christmas Ever (Lifetime) –– Puss in boost.
Santa Under Wraps (Hallmark) –– Gift trap.
The Santa Con (Lifetime) –– Ol' St. Trick.
The Tree That Saved Christmas (Up) –– O Tannenbomb.
The Christmas Shepherd (Hallmark) –– Bleating hearts.
An En Vogue Christmas (Lifetime) –– En Vogue: their right to remain silent.
Debbie Macomber's Mr. Miracle (Hallmark) –– Miracle whipped.
I Love Lucy Christmas Special (CBS) –– Jangle Ball.
12/14/14
---
Screamed Corn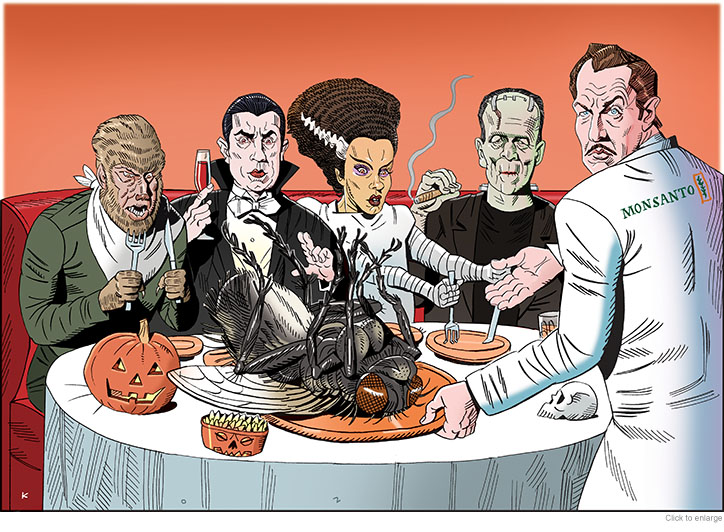 It's Halloween, the Season of the Witch, so we've enlisted our Hobglobin of Little Minds, E. Basil St. Blaise, to fix his crawling eye (we've recommended an ophthalmologist) on the best of classic horror films. Largely the spawn of Universal Pictures, these creatures of discomfit reigned in terror during the 30s and 40s in what was the Golden Age of Horrorwood (in Karloffornia as Forrest J. Ackerman of Famous Monsters of Filmland might say.)
So before you pull up a comfortable tombstone and curl up in the fetal postion in front of your TV to be shocked by the black & white cinemadness, first read our bloodthirsty Count Critica on these creaky crawlers, because he really knows what sucks.
Dracula (1931) –- High blood pleasure.
Dracula's Daughter (1936) –– The princess bite.
House of Dracula (1943) –– It's undead construction.
Frankenstein (1931) –– Sewing beast.
Bride of Frankenstein (1935) –– Monster match.
Son of Frankenstein (1939) –– Ygormaniac.
Ghost of Frankenstein (1942) –– Ghost writher.
Frankenstein Meets the Wolfman (1943) –– On JDate.
House of Frankenstein (1944) –– Lab corpse.
The Wolfman (1941) –– Chases his own tale.
The Werewolf of London (1935) –– Moon ripper.
She-Wolf of London (1946) –– Kind of a bitch.
The Invisible Man (1933) –– Utterly transparent.
The Invisible Man Returns (1940) –– Nobody notices.
The Invisible Woman (1940) –– Not much of a looker.
Invisible Agent (1942) –– Just try to get him on the phone.
The Invisible Man's Revenge (1944) –– Wedgies.
The Mummy (1932) –– Nile biter.
The Mummy's Hand (1940) –– Of human bandage.
The Mummy's Tomb (1942) –– Crypt off.
The Mummy's Ghost (1944) –– Gangsta wrapper.
The Mummy's Curse (1944) –– 'A remake with Brendan Fraser.'
Phantom of the Opera (1943) –– Mess of soprano.
Dr. Jekyll and Mr. Hyde (1931) –– Schiz of death.
White Zombie (1932) –– No-no shuffle.
Island of Lost Souls (1932) –– Moreau less.
The Black Cat (1934) –– A Poe excuse.
The Raven (1935) –– Nevermore? You promise?
Mark of the Vampire (1935) –– He signs in blood.
Mad Love (1935) –– Maybe the first dozen issues.

10/31/14
---
Levant on the Edge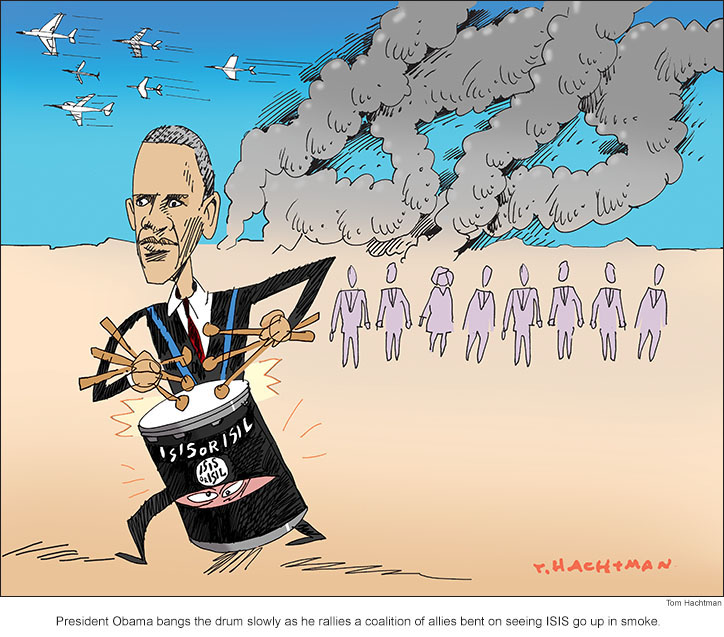 In a speech to the nation on September 10th, President Obama vowed, "Our objective is clear: We will degrade, and ultimately destroy, ISIL through a comprehensive and sustained counter-terrorism strategy." The American people responded with apprehension (another war?), qualified support (no troops on the ground, right?) and some puzzlement (ISIL?) Even as Obama scours the globe to convene a Coalition of the Still Willing to militarily destroy the terrorist threat, it is clear the degradation has already begun.
Whether out of respect for the post-metal band or the Marvel Comics heroine, Obama refuses to use the commonly accepted acronym ISIS (Islamic State of Iraq and Syria) for the enemy, instead opting for the more obscure ISIL which substitutes the Levant for Syria. Perhaps the idea of Syria under the control of a bloodthirsty madman seems merely redundant, whereas Americans might get worked up once they learn that the militants' vision for the Levant includes a caliphate encompassing Lebanon, Israel, Palestine, Jordan and Cyprus. Despite his resistance to ISIS, Obama has sanctioned the NSA to establish an anti-extremist office of propaganda code-named USUS (United States Under Siege.)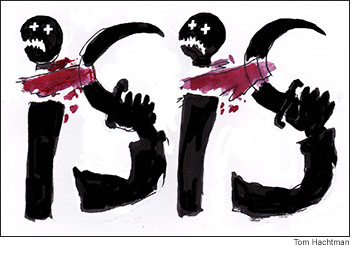 The primary goals of USUS are to counter ISIL's painfully effective digital campaign and to convey to a wary public the sheer awfulness of the foe. ISIL…aw, gee, that takes so long to type, let's just refer to them with the initials they prefer, IS which stands for Islamic State. So, IS…damn, the terrorists win again…, which seems to have some branding issues of its own, needs to be portrayed as the evilest of evil-doers if citizens and potential allies are to be convinced that they must be ushered through the Gates of Hell.
The fact that their cameramen cut off more heads than Dad snapping candids on vacation has done a lot of USUS's work for it. But it'll still be a slog to portray them as the worst ever in a region with more gratuitous decapitations than Tim Burton's Sleepy Hollow. A decade ago, ISIL's spiritual forefather, al Qaeda in Iraq's Abu Musab al-Zarqawi made his bones by beheading Americans on tape (before the U.S. deposited two 500-pound guided bombs on his noggin) and the practice seems as depressingly common with his heirs as the donning of ski masks and the planting of IEDs. Even our allies, the Saudi royals, will routinely separate their subjects from their crowns for crimes as esoteric as apostasy and "sorcery."
USUS bigwigs have launched their Smirch and Destroy mission and are already debating whether a 'good cop' or 'bad cop' tack will be more effective. There are those who want to approach Islamic extremism as an illness and try to cure it. They want to stay positive, challenging any sufferer of Allah Lunacy Syndrome to an ice bucket challenge. They hope the bracing reality of the freezing water will cool the fanatic's fevered brow and wash away angry thoughts. If not, the soakee has to pay $10 to the JDL, identify and challenge two more brothers in arms to the challenge and agree to be sent to a headshrinker rather than a headhunter.
Others at USUS don't believe ALS is a treatable disease, and instead advocate a full media assault on the enemy. They want to produce more mock recruitment videos like Welcome to the 'Islamic State' land, that exploit the zealot's finely-tuned sense of irony to convince him IS is so not cool. They want to mercilessly dis the group on social media, systematically friending and unfriendling them so that they know how it feels to be bullied. They're hiring PhotoShoperatives to digitally photobomb their gruesome recruitment videos by editing Disney characters into the backgrounds. A webisode of a comedic webseries based on Funny or Die, called Die, will star Glenne Headly and Lena Headey reenacting an IS decapitation while drunk. Another will have Zach Gallifanakis interviewing and insulting Will Ferrell as Abu Bakr al-Baghdadi in Between Two Fatwas.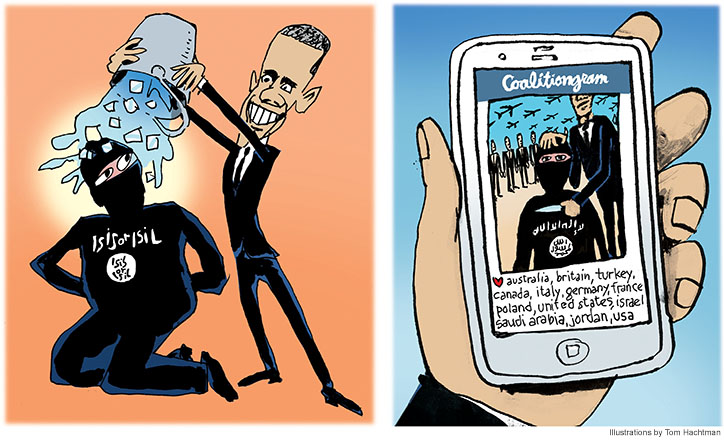 9/12/14