RYAN'S HYPE
Week of 03/17/17
Actual headlines from the internets. You Google 'em.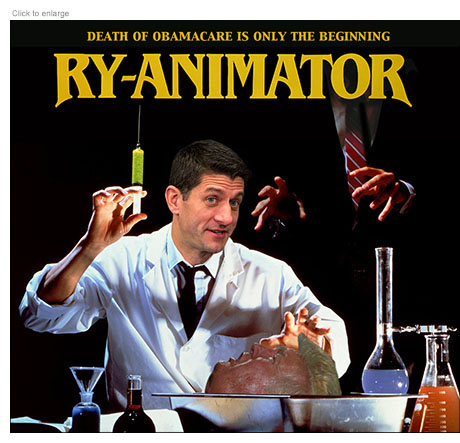 Ryan Clings to Core of GOP Health Bill as Opposition Mounts
–– Like lifesaver, which is only pill covered for poor.
What to eat to beat a hangover
–– St. Patty melt.
Trump's 'Irish proverb' claimed by Nigerian poet
–– Proverbial fuck-up.
Paul Ryan weighs in on the Trumpcare vs. Ryancare debate
–– Idontcare.
Hillary Says She's 'Ready To Come Out Of The Woods' In Ironic St. Patrick's Day Speech
–– In latest slang for kick Ambien.
Meet the New Monopoly Tokens: A Rubber Ducky, a T-rex and a Penguin
–– Also HUD Secretary Carson's new staff.
Trump budget chief defends aid cuts for children, elderly
–– Can't suppress evil cackle.
Ryan Braun gripes about spring training: 'We don't get paid by the hour'
–– Brains or Braun?
Fired US attorney Preet Bharara said to have been investigating HHS secretary Tom Price
–– Paid the Price.
Secret Service laptop containing Trump Tower evacuation and floor plans stolen
–– From top-secret Keystone Kops division.
Angela Merkel Asked President Trump to Shake Hands. He Appeared to Ignore Her
–– He's also Germanphobe.
Donald Trump Says He And Angela Merkel 'Have Something In Common' On Wiretapping
–– It's only way either wants to hear other's voice every again.
Trump stands by wiretapping claim during Merkel visit
–– Which is embarrased to be seen with him.
Trump on wiretapping: Talk to Fox News
–– 'They're in charge.'
House intel chairman: No evidence of wiretapping claim
–– 'Oh wait, Judge Napolitano is coming on Fox and Friends…'
Honey Nut Cheerios Bee Goes Missing To Highlight Vanishing Bee ColoniesHoney Nut Cheerios Bee Goes Missing To Highlight Vanishing Bee Colonies
–– Buzz-worthy?
These are the 138 stores JCPenney is shutting down
–– Penney dreadful.
Former Trump campaign chief Paul Manafort wanted for questioning in Ukraine corruption case
–– Crimea doesn't pay?
Russian Spy Ship Spotted 20 Miles Off the Coast of Georgia Near U.S. Navy Base
–– Threaten to make it Soviet Republic again.
'Power Rangers' TV Actor Admits Killing Roommate; Faces 6 Years Behind Bars
–– Like any prison could hold him.
Macomb County transgendered teen's mom transitions to a man
–– So new daughter can have old clothes.
Ryan Murphy has a new FX show, and it's almost time to rename FX "The Ryan Murphy Channel"
–– Or how about FUX?
Brute turns himself in for savage beating of man who offered to pay for meal
–– Et too, brute?
Starbucks bomber: Indonesian Isis commander in Syria accidentally blows himself up
–– Triple shot espresso combusted.

Heather Mack, Convicted of 'Suitcase Murder' of Mom, Turns 2-Year-Old Daughter Over to a Guardian from Bali Prison
–– Citing 'my baggage.'
When Trump said 'CIA was hacked', he may have revealed classified information, says Adam Schiff
–– On bright side, it wasn't overt lie.
Jennifer Lopez and Alex Rodriguez step out for date night in Miami
–– Hitting new J-Lo.
A porn actress, a bogus doc and a butt implant gone bad — it's a Miami crime story
–– And Chapter One of Melania's forthcoming autobiography.
Ancient pharaoh statue dug up from Cairo mud is not Ramses II but a different king
–– Amengunk I.
Fox News Poll: 34% of Voters Favor GOP Health Care Plan
–– Those with current scripts for medical marijuana.
Trump and Ryan: Health Bill May Test Marriage of Convenience
–– After pap smear.
Tillerson: Use of pre-emptive force an option with N. Korea
–– Kim: 'Is what I've been saying!'
White House apologizes to British government over spying claims
–– But not to U.S.
What America would look like under the Trump budget
–– You saw Mad Max: Fury Road?
Burger sells for $10,000 in Dubai
–– At Sheik Shack.
Trump Budget Is 'Heavy Lift,' Even for G.O.P. Congress
–– Which is full of dumbbells.
Why Steve King Keeps Winning
–– Have you been to Iowa?
An Army general says an ally used a $3 million Patriot missile to shoot down a $200 drone
–– 'Ha ha, imagine any sane country wasting that kind of money on unnecessary weapons?'
Donald Trump Walks Back Obama Claim On Tucker Carlson's Show: "Wiretap Covers A Lot Of Different Things"
–– "Wires. Taps."
President Trump pivots on wiretapping accusation, brushes aside tax leak
–– Sits on it, rotates.
Okla. Senator, and Trump Supporter, Caught in Motel Room with Teenage Boy: Authorities
–– Measuring his hands.
McDonald's tweets, deletes message to Trump: 'You're disgusting'
–– Like Giga Big Mac.
Vladimir Putin Character Cut From Luc Besson's Russian Thriller
–– Removed all topless scenes.
James Woods Sued for $3 Million by Woman Falsely Identified as Nazi Trump Supporter
–– Due to redundancy?
Forgotten weed stash donated to Goodwill
–– Lucky girl got grass skirt.
Sen. Paul proposes insurance through the NRA
–– Plenty of free shots.
Trump administration open to making some Medicaid recipients work, pay premiums
–– Only sickest ones.
Florida Poised to Strengthen 'Stand Your Ground' Defense
–– Just not enough unjustified shootings.
DOJ: 2 Russian spies indicted in Yahoo hack
–– And offered co-presidency of company.
Ed Whitlock, Oldest Marathoner to Break Four Hours, Dies at 86
–– Broke six feet.
Disney Says It Won't Edit 'Beauty and the Beast' for Malaysian Censors
–– In their cut LeFou may lay Gaston.
'This Is Us' star Sterling K. Brown: 'Jack died the way that he lived'
–– As fictional TV character.
Conservative news site sole media outlet on Tillerson Asia trip
–– Tease for the Tillerson.
Man in critical condition after chicken joint assault
–– Hit with deep-fried leg.
White House: Kellyanne Conway was joking when she talked about microwave surveillance
–– But did try taking selfie with blender.
White House: Microwave is 'not a sound way of surveilling someone'
–– So they're budgeting $100 mil to buy them for CIA.
White House says it doesn't matter if Trump told Bharara he would stay on
–– Everyone knows word's worth shit.
An investigation of air quotes, mostly used to discredit the other side's words, not your own, as per Sean Spicer
–– "An investigation".
Rep. Quigley on White House defense of Trump's wiretapping allegations: 'I don't even know where the satire begins'
–– When does it end?
ICE agents make arrests at courthouses, sparking backlash from prosecutors and attorneys
–– Now that's cold.
The White House thought CBO estimates would show GOP health-care bill would cause millions more to lose insurance
–– Which is WH goal.
'Failing career': President goes after Snoop Dogg for shooting Trump clown in music video
–– Dogg pound.
Trump to announce do-over on fuel economy rules for automakers
–– Go suck on a tailpipe.
Ivanka Trump brand will shut down jewelry line
–– Choker.
Senator rips top Marine over nude photo scandal
–– Dressed him down.
Outrage after Brazil football team signs goalkeeper convicted of killing girlfriend
–– In sudden death.
Mark Cuban calls Trump 'the Zoolander president,' won't rule out running
–– Because America needs its Hansel.
Parliament backs Brexit bill as Scotland bids to break away
–– Scotchit.
Christian mom cancels $6,000 Disneyland trip over 'Beauty and the Beast' gay character
–– Talk about queer behavior.
Donald Trump Jr tells Dallas Republicans' fundraiser he has zero contact with his father
–– Even when in same room, like always.
Malaysia says Kim Jong Nam's body has been embalmed
––Will be returned to Kim Jong Un for trophy case.
New York attorney general: Tillerson used 'Wayne Tracker' email at Exxon to discuss climate
–– Was originally 'Wayne Danger'.
Conway denies suggesting wider surveillance of Trump
–– After suggesting wider surveillance of Trump.
Oranges target of Turkish anger in Netherlands row
–– Squeeze play.
For Solace and Solidarity in the Trump Age, Liberals Turn the TV Back On
–– And relight bong.
24 Million Will Lose Insurance, Analysis of G.O.P. Bill Says
–– Secretary Price: 'But think of the Social Security savings when mortality rate skyrockets.'

OMB director: The CBO is 'terrible at counting coverage'
–– 'They said 15 million would have Obamacare, but it's only 10, so they're calculation of how many were uninsured was low by a third. Only 24 million –– dream on!'
Donald Trump Blames Press For Pushback On GOP Healthcare Plan
–– 'Idiots that voted for me couldn't figure it out on their own.'
'The Big Bang Theory' Spinoff 'Young Sheldon' Officially Ordered at CBS
–– For those who don't get nerd sex jokes.
Top students more likely to smoke pot, drink alcohol, study says
–– Accounts for high scores.
Spicer: Trump didn't mean wiretapping when he tweeted about wiretapping
–– We mean fucking liar when writing about fucking liar.
Why the CIA uses board games to train its agents
–– Instructed to never say die.
Trump sets expectations on GOP health plan: 'It's going to take a little while to get there'
–– There being history's scrap heap.
MTV Movie Awards won't just honor movies anymore
-– TV to be lavished with faintest of praise.
Putting 'America First,' Trump said to plan lighter foreign travel than predecessors
–– Maybe disinvitations have something to do with that.
Kellyanne Conway on Surveillance Comments: "I'm Not Inspector Gadget"
–– Absolutely nothing under her hat.
Steve King Says Civilization Can't Be Restored With 'Somebody Else's Babies'
–– 'But chain gangs can be.'
Steve King: Blacks and Hispanics 'will be fighting each other' before overtaking whites in population
–– King's I Halve a Dream speech.
Iraqi general says 30 percent of west Mosul recaptured from Islamic State
–– Can't get to second base.
Hunters deployed to kill radioactive wild boars as residents return to homes in Fukushima nuclear disaster zone
–– Easy to track because they glow in dark.
Trump looking to Sarah Huckabee Sanders in tough moments
–– Like if he can't finish dessert.
Man pictured 'humping' Fearless Girl statue unveiled on Wall Street for International Women's Day
–– Inspires macaroni sculpture Feckless Bro.
Lawsuit alleges that NFL teams gave painkillers recklessly
–– Made players sore.
Kremlin spokesman: 'Russia is being demonized'
–– 'And she like it!'
McCain calls on Trump to clarify wiretapping claim
–– Like asking goldfish to explain Theory of Relativity.
During his political rise, Stephen K. Bannon was a man with no fixed address
–– Or moral code.
Steve Bannon's Vacated Florida Home Allegedly Had a Bathroom Destroyed by Acid
–– Which might explain missing neighborhood children.
Arnold Schwarzenegger Shoots Down U.S. Senate Run
–– With grenade launcher left over from Predator.
What Happens When You Fight a 'Deep State' That Doesn't Exist
–– Yer looking at it.
Trump aide Boris Epshteyn arrested in 2014 for sucker punching man in bar parking lot: Smoking Gun
–– Ep shteyns are hardest to remove.
Trump administration teams up with Big Pharma to block drug pricing transparency
–– Even own antipsychotics?
Assad: US military forces in Syria are 'invaders'
–– Lisping tough.
Dan Rather: 'We are a deeply divided country'
–– News flash.
Trump's Twitter frenzy on wiretapping came after an aide placed an explosive Breitbart story in his reading pile
–– Atop Bazooka Joe comics, Gent magazine, TV Guide.
Fox News Host to Mexican-Born Journalist Jorge Ramos: 'You're Whiter Than I Am'
–– Pillsbury Doughboy isn't whiter than Tucker Carlson.
Kentucky Man Who Scalped His Ex-Girlfriend Tells Sentencing Judge 'I Don't Need a Lecture'
–– 'Barber school, maybe.'
US Attorney Bharara fired in standoff with Trump
–– Wasn't Preety.
---
DIP STATE
Week of 03/10/17
Actual headlines from the internets. You Google 'em.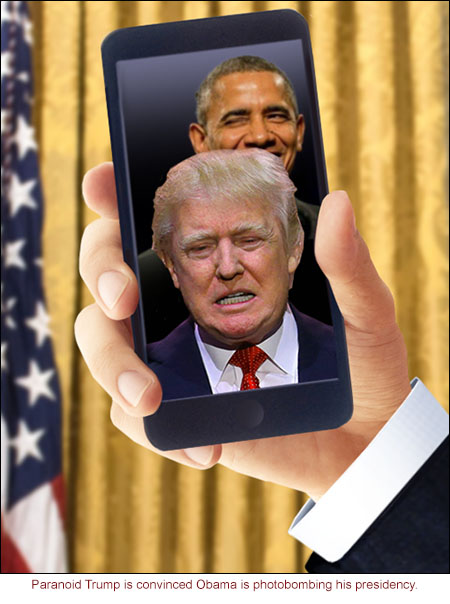 Schiff: I haven't seen any evidence Obama admin wiretapped Trump
–– But didn't examine President's EEG.
Uber CEO Travis Kalanick: I need to 'grow up'
–– Uber obvious.
Pastor Arrested for Chopping Up Teen Kept Counseling Kids for 23 Years
–– Cutting class.
South African becomes first person to cross the Atlantic on a paddleboard
–– Caught wave in Antigua which carried him back to Morocco.
Humanity might have received a signal from aliens that it isn't checking, says Harvard professor
–– Or could be another robocall.
Twitter has a field day with Sean Spicer's upside-down flag pin
–– Stands on head to fix problem.
Farmer, 83, weeps as jury clears him of GBH after he was taken to court for shooting suspected thief on his property
–– Geriatric Bodily Harm.
Mediterranean cruise mystery: Did Apple consultant use suitcase to throw wife's body overboard?
–– Investigators interrogate Siri.
Hindus condemn CNN presenter who ate human brain during documentary on sect
–– Without dipping sauce.
Donald Trump-Russia dossier: Sex act claims are 'absolutely true', claims Democrat congresswoman
–– In a Trumpian sense.
FBI Investigating `Odd` Computer Link Between Russian Bank, Trump Organization: Sources
–– `Odd` because both used PIN LOCKHERUP16.
Sean Hannity pushes conspiracy theory that CIA hacked Democrats, framed Russia
–– To defeat Clinton, impeach Trump, discredit Pence, Ryan, McConnell, the Cabinet and install Kiefer Sutherland as President.
Seattle synagogue vandalized with Holocaust denial graffiti
–– Believe it or Nazi.
Trump transition knew of Flynn's pro-Turkey lobbying before White House appointment
–– 'Sure, that's what we called promoting our candidate.'
Ukraine lawyer seeks probe of alleged hacked texts of Manafort's daughter
–– How about his sexts to Putin?
Trump administration dismisses 46 US attorneys
–– Rescuing their reputations.
Vitaly Mutko, Russia's Deputy Premier, Is Barred From FIFA Leadership
–– Putin's butt boy not corrupt enough.
Little-noticed House Republican bill would let employers demand workers' genetic test results
–– Workers suggest daily stool samples on boss' desk.
Pan, Moon of Saturn, Looks Like a Cosmic Ravioli (or Maybe a Walnut)
–– Or Neil Armstrong's left nut.
From blockbusters to art-house muse, is Kristen Stewart the best actress of her generation?
–– Then God help her generation.
Congress Warns Donald Trump: Stop Deleting Your Tweets
–– Because future generations will not believe shit you wrote.
Mom Busted in Alleged Attack on Woman, 71, With Victim's Own Cane for Saying Her Child Needs Manners
–– Providing child valuable lesson on how to treat rude people.
Gatorpalooza: Hundreds of Alligators Photographed Congregating at Watering Hole
–– Tipping the scales.
Spicer repeats 'I'm not aware' 10 times at briefing
–– His only truthful statements.
Judge who asked woman why she couldn't keep knees together resigns
–– Why couldn't he keep lips together?
Pope signals he's open to married Catholic men becoming priests
–– Gives chastity belt.
NASA finds lunar spacecraft that vanished 8 years ago
–– In moon's cheeks.
Passenger causes plane to divert after he's charged $12 for a blanket
–– Linus Van Pelt removed by authorities.
No. 1 Amazon bestseller: 266 blank pages on why to vote Democrat
–– Book Trump voter could read.
Under the sea! Daring Tiffany Trump goes snorkeling with SHARKS during her Belize vacation, before posing for a sweet snap in the sea with longtime beau Ross Mechanic
–– Reminded her of family dinners with dad.
Casey Anthony insists OJ Simpson is INNOCENT as 'America's most hated mother' compares her own case to his saying they both suffered from 'distorted facts'
–– Finally has character witness he deserves.
South Korean Stores Feel China's Wrath as U.S. Missile System Is Deployed
–– Seoul crushing.
South Korea Removes President Park Geun-hye
–– Park and wreck.
Indonesia's Sentencing of 'Son of God' Adds to Alarm Over Crackdown
–– Doubt religious convictions.
Miami lawyer's pants burst into flame during closing arguments of arson trial
–– Briefs aired.
Has Syria's Dictator Assad Suffered a Stroke?
–– Of good luck that Trump was elected?
U.S. Consumer Comfort Just Reached Its Highest Level in a Decade
–– Trump comfort at all-time low.
Rhino shot dead at Paris zoo by poachers who cut horn off with chainsaw
–– Wasn't a keeper.
Risperdal: Johnson & Johnson lawsuits spike from men who 'grew breasts' using antipsychotic drug
–– Didn't boobs make them nuttier?
EPA chief: Carbon dioxide not 'primary contributor' to climate change
–– Could be methane emanating from his gaping maw.
There is a retail bubble -- and it's bursting
–– Bubble, bath and beyond.
Staples to close 70 more stores
–– That was sleazy.
Fox News still hounded by sexual harassment allegations
–– Fox and its hounds.
Neanderthals may have self-medicated long before pills, study shows
–– Knocking back Homotinis.
Disney CEO Bob Iger Defends Participation on Donald Trump Panel
–– Cites long history with Goofy and Dopey.
Mayor of Paterson, N.J., Is Indicted in Corruption Inquiry
–– Honoring cherished tradition.
Christie on indicted Paterson mayor: 'I don't get involved in that stuff'
–– "Kickbacks too small.'
In China, Trump Wins a Trove of New Trademarks
–– Including 'Bye American.'
97-year-old twins leave world as they entered it: together
–– Crawling back into mother's corpse.
Jenna Dewan Tatum Reveals Channing Convinced Her to Get a Lob: 'He's Wanted Me to Go Short for a Long Time'
–– In latest slang for lobotomy.
George W. Bush Says Prince Harry Really Is Prince Charming
–– Breaks news to Laura, pair renting love nest in trendy Soho.
U.S. general says Russia deployed land-based cruise missile
–– Trump: 'Look, it might've violated a treaty, but it was a terrific missile –– not too big, but very manly.'
Monica Crowley breaks silence on plagiarism claims
–– 'This too shall pass, and you can quote me on that.'
Trump Tweets Support for International Women's Day, Says He Has "Tremendous Respect" for Women
–– 'Why I always offer three-finger salute down there.'
Obama irked and exasperated in response to Trump's wiretapping claims, sources say
–– Bewitched, bothered, bewildered.
For Trump and Netanyahu, a Budding Symbiotic Relationship
–– Remora attached to remoron.
Lord Heseltine is sacked after Brexit rebellion and admits 'I'll be dismissed as a funny old fart but I won't change'
–– Whiffed.
Donald Trump is probably in love with me, says Arnold Schwarzenegger
–– Practices Conanism.
Tim Kaine's son arrested after allegedly disrupting pro-Trump rally
–– Kaine mutiny.
Kim Jong Nam's son appears for first time since his father's murder
–– Cries 'Uncle'?
Who is Kim Han-Sol, son of slain Kim Jong-nam and heir to North Korean regime?
–– Um, yes?
Nike has a new product for Muslim women: The 'Pro Hijab'
–– An epic veil.
Nunes on wiretapping: Trump's new to politics
–– And Nunes apparently new to defending pathological liar.
Wikileaks claims to reveal how CIA hacks TVs and phones all over the world
–– Instead of paying for Netflix.
Panama ex-dictator Noriega is critical after brain surgeries
–– And he used to be so complimentary.
Clinton reflects: 'Life hands all of us setbacks'
–– And sometimes we share them with tens of millions of people.
Republican healthcare plan has a big tax break for insurance execs' pay
–– As long as their bank accounts are healthy.
GOP tries to discredit agency reviewing its health care bill
–– Refers to as Congressonal Bunco Office.
HHS doctor publicly comes out against GOP's health care bill
–– Thump care.
AARP comes out against House GOP health care bill
–– Blame it on American Association of Retarded Persons.
The GOP's Obamacare replacement bill: Dead on arrival?
–– Won't even need death panel.
Trump to conservative leaders: If this plan fails, I'll blame Democrats
–– 'Why wait: it's Democrats' fault. Sad.'
Steve Jobs thought the Genius Bar should be called 'Geek Bar' at first
–– Or 'Nerd Center'.
Planned Parenthood rejects Trump proposal to stop abortion services
–– Panned Parenthood.
Mark Levin on Trump wiretapping claims: 'We're talking about police state tactics'
–– 'Because hysterical inappropriate hyperbole is all we understand.'
Chaffetz: Low-income Americans will have to choose health care over iPhones
–– They eat iPhones?
Kelly: DHS is considering separating undocumented children from their parents at the border
–– Before or after they affix electronic tags?
White House plagiarizes ExxonMobil in an attempt to herald the oil giant
–– Can you plagiarize equal partner?
ESPN Expects to Lay Off More Talent in Cost-Cutting Move
–– If they can find any.
David Letterman Says Donald Trump 'Can Lie About Anything'
–– Yes, but can he tell truth about anything?
Ben Carson: Slaves Were Immigrants Who Came Here And Worked Really Hard 'For Less'
–– But had fabulous pension plans.
Sean Spicer hasn't held an on-camera formal press briefing in over a week
–– Um, 'Thanks'?
Robert Osborne, Turner Classic Movies host and film expert, has died
–– Osborne yesterday.
GM to cut another 1,100 jobs
–– Will tell Trump they're all illegals.
Putin spokesman: American 'hysteria' hurting relations
–– Oooo, hope it isn't hurting feelings, too.
Republicans will finally let public see their Obamacare plan
–– If it promises not to laugh.
Why FX's 'Feud' Used the C-Word in Its Premiere
–– Actor muffed line.
Trump Advisor Roger Stone Launches Vulgar Twitter Tirade, Admits Back Channel To Assange During Clinton Leaks
–– Julian's ass, angel.
Jeff Sessions is a victim of the new McCarthyism
–– Yeah, remember when they forced Cabinet Member who lied to Congress to recuse self in investigation in which he's implicated?
Steve Bannon in 2013: Joseph McCarthy was right in crusade against Communist infiltration
–– Says man who claimed, 'I'm a Leninist.'
Chuck Schumer says Trump's wiretapping tweets show 'the president is in trouble'
–– In latest slang for insane.
Where fake news goes to die
–– Trump's head.
A massive Mexico-US raw sewage spill is under investigation
–– Trump demands wall in Pacific.
Russia's take on Trump: Glee gives way to frustration
–– Buyer's remorsky.
76 women set sail for Antarctica
–– In latest deportations.
White House Spokeswoman Walks Back Trump Wiretapping Claims
–– As you would idiot child playing on freeway.
Trump Aides Address His Wiretap Claims: 'That's Above My Pay Grade'
–– Unless he's paid in hens' teeth and ground unicorn horn.
Kelly on Trump's wiretap accusation: 'He's got his reasons'
–– Brain tumor?
Comey Asks Justice Dept. to Reject Trump's Wiretapping Claim
–– Sessions: 'What next? Tell 'im the truth 'bout voter fraud? Inauguration crowds? His hair?'
Ex-CIA director on wiretap claim: Trump apparently 'forgot that he was president'
–– In first true moment of national unity.
Former Trump Adviser Carter Page Flip-Flops on Russia Meetings
–– Page turner.
Jenna Jameson's Shocking Alt-Right Transformation
–– Porn star swallows load.
Russian Lawmaker Wants 'Beauty and the Beast' Banned for 'Gay Moment'
–– Of booty and the beast.
DHS assessment: Individuals radicalized once in US
–– In jihood.
Trump, Offering No Evidence, Says Obama Tapped His Phones
–– 'We don't need no stinkin' evidence.'
Clapper: 'No such wiretap activity mounted' on Trump
–– Deserves round of applause.
---
RE: SESSIONS PROOF
Week of 03/03/17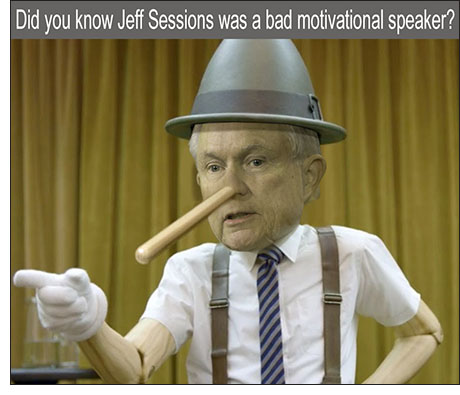 Sessions met with Russian envoy twice last year, encounters he later did not disclose
–– Routine Sessions.
Bush pokes fun at Cheney
–– He knows Dick.
Jeff Sessions controversy: Russia denies its US ambassador is a spy
–– Cast a wide nyet.

Nancy Pelosi: Jeff Sessions Lied Under Oath And Must Resign
–– Recalling a simpler, lawful time.
Grassley denies calls for Sessions to testify on Russian ambassador meetings
–– 'Lying under oath? No big whoop, bro.'

In Russia probe, Congress casts wide net – including first family
–– So do booby hatch attendants.
Dreamer Arrested After Speaking To Media Will Be Deported Without Hearing, Attorney Says
–– ICE insists she was treated humanely: 'No manacles, thumb screws or hood.'
France's Le Pen loses ground in poll after state employee comments
–– And in tenuous grip on reality.
Before Meeting With Muslim Constituents, GOP Lawmaker Asks If They Beat Their Wives
–– If they eat children an optional question.
Rene Preval, who led Haiti amid catastrophe, dies at 74
–– Which, sadly, could've been any stretch of 200-year history.
A Look At The Mysterious Hairy Blob That Washed Up In The Philippines
–– After Duterte has body wax.
El Salvador zoo in hot water over false hippo death account
–– Authorities find suicide note.
Lisa Kudrow Apparently Wasn't 'F**kable' Enough For One 'Friends' Guest Star
–– Friends without benefits.
Emma Watson's Boobs Prove Why We Still Need Feminism
–– They publish compelling treatise.
Alabama Theater Cancels 'Beauty and the Beast' Screenings Due to Gay Character
–– Owner unconcerned with implied bestiality.
Arkansas plans to execute 8 men over 10 days
–– Local March Madness event.
Will Trump use 'rustic' presidential getaway Camp David?
–– After deforestation, erection of gilded security wall.
Rust Belt voters made Trump president. Now they want jobs
–– Trump promises 'lots and lots of Rustoleum.'
Mike Pence on personal email use: 'No comparison' to Clinton
–– 'C'mon, I have testicles.'
Ready to engage: Patrick Stewart applying for US citizenship so he can 'fight' Trump
–– Maybe he can transport us out of here.
Colin Kaepernick Reportedly Will Stand for National Anthem Next Season
–– Weak at the knees.
G.O.P. Accused of Playing 'Hide-and-Seek' With Obamacare Replacement Bill
–– Game of 'find the rectal thermometer.'
Senate approves Trump's nominee for Interior
–– Zinke deficiency.
New Secretary of the Interior Ryan Zinke rides horse to first day at work
–– Fuck them both.
Pentagon looks at authorizing some raids without White House approval
–– Easier for Trump to pass buck.
Jennifer Lopez's Sexy Washing Machine Moves Will Change How You Look at Laundry Forever
–– You'll wanna front load.
Ben Carson Is Confirmed as HUD Secretary
–– Ba-rump-bump…
Senate confirms Perry for Energy secretary
–– Ching!
Subway Fires Back at 'Absolutely False' Allegations That Their Chicken Is Fake
–– 'Like Jared, we accept only the tenderest young chicken.'
Kellyanne Conway 'inadvertently' plugged Ivanka products: White House
–– Brain completely unaware what mouth was doing.
White House: Conway acted 'without nefarious motive' in Ivanka Trump plug
–– Criminal stupidity?
Trump's team nixed ethics course for White House staff
–– After testing at kindergarten level.
Mike Pence can't stop talking about Trump's 'broad shoulders'
–– Supporting empty head.
Trump Says 'Immigration Reform' Possible
–– Theoretically, so is licking own forehead.
Exclusive: Trump administration has found only $20 million in existing funds for wall - document
–– Consider asking Christo to put up barrier.
Melania Trump's $9,590 Sequined Skirt Suit Called 'Inappropriate' for Congress
–– Not sexual congress.
Jon Huntsman Is in Running to Be Russia Ambassador
–– Must first drink vodka Kool-aid.
Scientists may have found earliest evidence of life on Earth
–– In Steven Bannon's shorts.
Marissa Mayer loses cash bonus over security breaches
–– Pays up the Yahoo.
California plane crash survivor found in bedroom of home
–– Sleeping it off.

PwC accountants at center of 'envelopegate' won't be back to the Oscars
–– But they were sole source of entertainment.
How Trump pulled together his most presidential moment
–– He read speech he didn't write from teleprompter. Woohoo.
7-in-10 speech-watchers say Trump boosted optimism
–– Which explains gullibility that got him elected.
'Today, He Acted Like a Politician': Voters' Reactions to Trump's Speech
–– Years on TV provided minimal acting chops.
Democratic women wear white to Trump's address
–– In preparation for sacrifice to Moloch by Trump.
What really happened in that photo of Kellyanne Conway squatting on the Oval Office couch
–– Staff forgot pee pad for carpet.
Donald Trump Gave Himself an 'A+' for Effort for His First Month as President
–– That really is best he can do.
Penguin Random House lands book deal with Obamas
–– His working title: Free At Last, hers: Amen!
White House condemns 'racially motivated' attack on Indians
–– And if it happens again, will issue bland condemnation in less than week!
Trump: 'Nobody knew health care could be so complicated'
–– Or President so simple.
Trump: 'Nobody knew that healthcare could be so complicated'
–– Nobody here in dementia unit.
Bernie Sanders burst into laughter at Trump's claim that 'nobody knew healthcare would be this complicated'
–– And GOP plan mandates that's best medicine.
Trump: I will ask Congress for a $1 trillion infrastructure bill
–– They'll receive tons of best medicine.
Trump on generals in Yemen raid: They 'lost' Navy SEAL
–– Which takes brass balls.
Gun fired during French president's speech
–– During bullet point.
Hershey's bitter news: Cutting more than 2,000 jobs
–– With parting Kisses.
Van Jones on Trump: 'He became President of the United States in that moment, period'
–– No, sadly, it was still when 62 million idiots went to polls.
Samsung Boss Charged With Bribery, Other Corruption Offenses
–– Apple will not sue claiming he copied them.
North Korea executed 5 security officials, South Korea says
–– Made them hold arms out like wings, make sounds like crashing planes.
Pro-Trump town riled up after immigration officials arrest popular restaurant manager
–– Geniuses connect dot.
Stuffed toys leak millions of voice recordings from kids and parents
–– Julian Assange begins world's creepiest teddy bear collection.
Why Trump's Tuesday speech isn't a State of the Union address
–– He's not really a president.
Deputy al Qaeda leader killed In Syria
–– No wonder they're failing with this many deputies.
Trump: Obama's people possibly behind leaks
–– He thinks he hears them in walls.
SpaceX to fly two space tourists around the moon in 2018
–– Whether inside craft or not.
George W. Bush returns to the political scene
–– We'd still like to have beer with him –– a twelve-pack.
George W. Bush: Power is addictive
–– 'S'why m'administration was junkie.'
George W. Bush discovers his 'inner Rembrandt' in homage to veterans
–– Lives next door to 'inner outsider artist'.
In December, Sean Spicer said WH wouldn't ban media because that's the difference between a 'democracy' and a 'dictatorship'
–– So he did get through third grade.
Transgender boy wins girls' wrestling championship in Texas
–– Offers chest bump.
Judge Joseph Wapner of 'The People's Court' dead at 97
–– Remanded to lowest circuit.
'Warren Beatty Wants Academy President to 'Publicly Clarify' Oscar Snafu
–– Visual clarification already crystal clear.
Jimmy Kimmel Recaps Oscars Snafu: "Clyde Threw Bonnie Under the Bus!
–– Was she Dunaway with?
Trump: Oscars Best Picture Flub Occurred Because Show 'Focused So Hard' on Him
–– And was trying to emulate his 'fine-tuned machine.'
You had one job: Meet the firm behind the Oscars' biggest blunder
–– Production company for 2006 winner Crash?
Oscars' Second Snafu: In Memoriam Segment Showed Still-Alive Producer
–– Grim Reaper: 'Still, call me.'
Fallen SEAL's dad slams Trump
–– Flippers him off.
Trump to call for substantial increase in military spending, cuts to several federal agencies
–– To cover new gold lamé uniforms.
Is Donald Trump's legislative agenda a blank page?
–– Like mind?
How to effectively fact-check Donald Trump
–– Assume it's all bullshit.
Ben Stein: Media doing to Trump what it did to Nixon
–– Reported on him.
In new era, Jewish Republican group is loyal to Trump above all else
–– Tip of the kapo.
---
SPICER RACKED
Week of 02/24/17
Actual headlines from the internets. You Google 'em.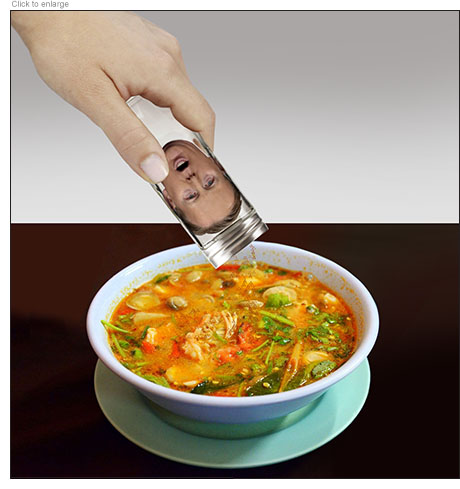 White House blocks news organizations from press briefing
–– WH staff begins wearing decoder rings.
State Department silent while other countries shape the message
–– Dumbstruck.
Sean Spicer: Donald Trump Has "Healthy Respect For Press" And "Deep Respect For 1st Amendment"
–– "And Eric and Don Jr.? They have boundless admiration for big game."
Bloomberg Scrubs White House Correspondents' Dinner Party As Donald Trump Vows To "Do Something" About Press
–– Doctors estimate Trump's skin now thinner than onion's.
Barack Obama Gets Rockstar Greeting in Surprise Appearance on N.Y.C. Sidewalk
–– Crowds try to get him to lead raid on Trump Tower.
Muhammad Ali's Son Detained for Hours at Florida Airport by Immigration
–– Serves him right keeping father's weird name.
Trump Pentagon names the enemy: It's ISIS, not ISIL
–– Daeshing nefarious Obama plan to shield enemy.
Polls: Support for Obamacare at all-time high
–– When they discover Republican alternative is free rabbits' feet.
BOEHNER: A repeal and replace of Obamacare is 'not going to happen'
–– They will keep revile.
Prosecutors question NYC mayor in federal probe
–– Concede nervy DeBlasio 'has some pair of Big Apples.'
Meet TV's First Non-Binary Gender Character: Asia Kate Dillon of Showtime's 'Billions'
–– Binary confusion.
Trump's deportation plan could cost taxpayers half a trillion dollars
–– Cheaper to force immigrants to listen to Trump, leave on own.
Trump Tells CPAC Reporters Shouldn't Be Allowed to Use Anonymous Sources
–– Unless unnamed voice is in own head.
'Doubt' Pulled From CBS Schedule
–– No Doubt.
Tech execs try listening tours of Trump voters
–– Wearing earbuds, music cranked to 11.
FBI refused White House request to knock down recent Trump-Russia stories
–– And demand they distribute 'satellite photos' record crowd at Inaugural.
Steve Bannon and Reince Priebus made a rare joint-appearance at CPAC to dispel notions they don't get along
–– Wearing BFF nipple rings.
Steve Bannon Wore Both His Collared Shirts to CPAC
–– Neck fat still got loose.
Steve Bannon says Trump's Cabinet of billionaires has been "selected for a reason . . . deconstruction"
–– Minus the 'con'.
Krauthammer: Bannon showed he was brains of operation
–– In biggest insult.

Rep. Louie Gohmert Invokes Gabby Giffords Getting Shot as Reason Not to Hold Town Hall
–– Bullet to his head would have no effect.
Mark Kelly: Gohmert 'shouldn't hide behind' my wife's attack to avoid town halls
–– Gohmert: 'I'd hide behind her skirt if they started shootin'.'
McMaster May Reorganize Trump's Foreign Policy Team Once Again
–– Or organize it.
Trump Israel ambassador pick bragged of removing two-state solution from GOP platform at November event
–– No sane diplomatic principle too safe.
Treasury seriously studying issuing 50-year or 100-year bonds: Mnuchin
–– No financial scheme too ludicrous.
Trump Rescinds Rules on Bathrooms for Transgender Students
–– No civil rights statute too compassionate.
The Anti-Vaccine Movement Gains a Friend in the White House
–– No scientific theory too crackpot.
Dismal Results From Vouchers Surprise Researchers as DeVos Era Begins
–– No educational policy too failed.
DeVos Questions If Schools Should Provide Free Lunch
–– Or mean-spirited.
Statue of Jesus Christ beheaded twice in two weeks
–– Regrowing head not a miracle?
Poll: Trump's approval rating continues to dip
–– As nation slowly awakes from coma.
This candidate is openly airing his sexual history on his campaign site
–– Expects rise in pole numbers.
Life expectancy to soar, except in US
–– Trump bump off.
Major European company says employee has gone missing with $100M
–– Still checking to see if he overslept at home.
Big banks rack up $6.4 billion in ATM and overdraft fees
–– Reward ATMs with new contracts, oil baths.
Models save teens who fell through ice while taking pictures on frozen pond
–– Of them?
Mariah Carey on Disastrous 'New Year's Rockin' Eve' Performance: "I Blame Everybody and I Blame Myself"
–– Let's God off hook.
Oscars Poll: 66 Percent of Trump Voters Turn Off Awards Shows When Speeches Get Political
–– Would be more if they knew how.
Kellyanne Conway sidelined from TV after Flynn debacle
–– Comedy Central series still in works.
Ronda Rousey Lands Acting Role
–– As punching bag.
Puppy Recovering After Overdosing On Owner's Heroin
–– Demands a little 'brown sugar' on his kibble.
67-Year-Old Woman Beat Boyfriend to Death with a Bat for 36 Hours, Police Allege
–– Talk about spring training.
Santorum: Anti-Semitic acts coming from Muslims
–– Like Trump voter Bubba bin Jones.
Iowa pig farmer to Sen. Grassley: You're going to create 'one great big death panel' by repealing Obamacare
–– 'And we're here to butcher 'n' dress them poor swine.'
Oscars Poll: Two-Thirds of Americans Don't Know Jimmy Kimmel Is Hosting
–– One-third don't care.
The Paris Agreement is bigger than Trump ... isn't it?
–– Paris bun is bigger than him.
Rock legend Eddie Van Halen helps bring music back to schools
–– Is that hot for teacher?
Kim Jong-nam Killing Was 'Terrorist Act' by North Korea, South Says
–– In latest Kim slang for 'family squabble.'
Assassins wiped toxin on Kim Jong Un's brother, police say
–– Extracted from dictator's brain.
Kim Jong Nam: More N. Koreans being sought; break-in attempt at morgue
–– Jong un wants body to stuff.
Montenegro: Russia involved in attempted coup
–– Becoming second biggest export after vodka.
Anne Frank Center: Anti-Semitism has 'infected' Trump administration
–– Trump: "Look, nobody likes the Frank kid more than me –– she's been getting lots of attention lately, but, c'mon, she's no doctor."
Hear How 'Moonlight' Got Its Sound: Violins, Chopped and Screwed
–– You can hear strings moaning.
Bao Bao bids adieu to Washington
–– Bao Baos out.
Marine Le Pen in Lebanon row after refusing to wear headscarf
–– Not even around neck attached to cedar?
Sutton goalkeeper's midgame pie sparks gambling probe
–– Not slang for a bit o' crumpet.
Pruitt tries to soothe worries at EPA
–– Sprays staffers with nerve gas.
Rick Ankiel Says He Drank Before Games, Talks Anxiety of Pitching
–– Ankiel biter.
Columbia University accidentally accepts, then rejects students
–– Admissions handled by PricewaterhouseCoopers.
Milo Yiannopoulos' book canceled by Simon & Schuster
–– Will publish conversion therapy handbook instead.
Milo Yiannopoulos Resigns From Breitbart News Amid Pedophilia Controversy
–– Didn't want to distract from perversions website promotes.
Trump has 3,643 websites that range from TrumpEmpire.com to TrumpFraud.org
–– To TrumpIfIHearThatNameAgainIWillScream.com.
Trump's aides don't want to admit the President is golfing
–– Neither does any pro.
Trump isn't adjusting well to life in the White House — he's reportedly experiencing 'cabin fever'
–– Like Jack Torrance at Overlook Hotel.
Chris Wallace to Reince Priebus: 'You Don't Get to Tell Us What to Do'
–– 'Rupert Murdoch after consulting with Steve Bannon does that.'
New York attorney general bids to become Trump's No. 1 enemy
–– Take a number.
When Retirement Comes With a Daily Dose of Cannabis
–– Having high old time.
Angelina Jolie cries as she speaks about 'difficult' split from Brad Pitt
–– Always auditioning.
Business owners stand by decision to fire workers who protested
–– In line for Presdential Medal for Freedom.
Vitaly Churkin, Russia's ambassador to UN, dies suddenly at 64
–– Nobody anywhere suspects foul play.
Joe Piscopo Considers Running for Governor of New Jersey. No Joke.
–– No, another Trump Era tragedy.
Ex-Davao Death Squad leader: Duterte ordered bombings
–– Oh, Du-terte rat!
Lewandowski: Trump's staff is letting him down
–– Not easy.
Priebus denies collusion between Trump campaign and Russian officials
–– 'It's more cohesion.'
Mattis disagrees with Trump's stance on media
–– Stance is shoe on neck.
Kraft Heinz pulls plug on massive Unilever bid
–– Still trying to get out ketchup stains.
Trump supporter: I salute a cardboard Trump
–– Metaphorically, they all do.
Hitler's phone, 'the most destructive 'weapon' of all time,' sold for $243,000
–– Does include rollover minutes.
Trump said a major incident happened in Sweden. Swedes don't know what he's talking about.
–– Join rest of world.
How a YouTube video about Sweden ignited the latest Trump furor
–– POTUS has own Foreign Relations Briefing channel.
White House defends Trump's Sweden comment
–– Sweden lowdown.
Riots erupt in Swedish capital
–– As predicted by Nostratrumpus.
A Worried Europe Finds Scant Reassurance on Trump's Plans
–– Scant be serious.
McCain: Dictators 'get started by suppressing free press'
–– Trump: 'I don't even bother with the papers they don't charge for.'
Graham: '2017 is going to be a year of kicking Russia in the ass in Congress'
–– 'Nice ass, BTW.'
Bill Gates warns the world to prep for bio-terrorism
–– Thanks, Bill, is there an app for that?
Vice President Pence visits former Nazi concentration camp
–– For inspiration.
Regis Philbin and Kelly Ripa don't talk
–– We wish they never had.
Tillerson presides over abrupt shakeup at State Department
–– With foreign leaders, shakedown.
'Golden Girls'-inspired café now open
–– Only serves fruits.
EPA criticizes EPA in news release hailing Pruitt's confirmation
–– New Director has long history of abusing self.
Ivanka Trump's perfume is a big winner on Amazon
–– Eau de Pain.
Pentagon officials: Russian actions a 'test of the new administration'
–– Will flunky pass?
Omar Abdel-Rahman, 1993 World Trade Center bombing plotter, dies
–– Remains to be blown to bits.
---
PRESSER COOKER
Week of 02/17/17
Actual headlines from the internets. You Google 'em.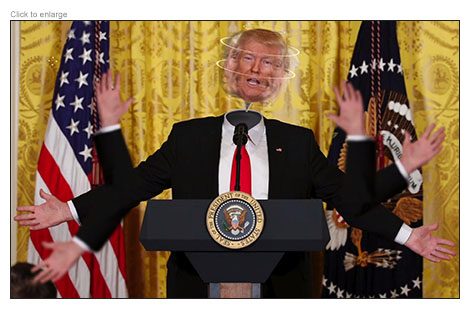 'I Inherited a Mess,' Trump Says, Defending His Performance
–– Referring to own genome.
Is It Time to Call Trump Mentally Ill?
–– Is it June 16, 2015?

Trump weighs mobilizing Nat Guard for immigration roundups
–– Instead of protecting King Cole.
Trump welcomes rival Marco Rubio for dinner
–– Will have him with fava beans, nice chianti.
Turkey says almost taken Syria's Bab, war monitor cites heavy toll
–– And nobody knows what it's talking about.
The Heartwarming Reason Michael Strahan Didn't Retire After the NFL: 'I Try to Be an Example of Hard Work' for My Kids
–– 'And they're thrilled I'm too busy for visitation dates.'
China grants Trump a trademark he's been seeking for a decade
–– For Unadulterated Bullshit.
Household debt is dangerously close to 2008 levels
–– Why we elected King of Debt.
Still Shadowed by Bridge Scandal, Christie May Find Sympathy at White House
–– Only if he wears foolscap.
Christie says Trump made him order the meatloaf at meal together
–– 'I'm telling you, the meatloaf is fabulous –– it's made from your balls.'

15 Great Stories That Have Nothing to Do With Politics
–– Not The Trump Times would be best-selling paper in America.
Sick of Trump? Hollywood Producer's Daughter Creates Filter for Social Media
–– Trumperdumper.
Florida Doctors May Discuss Guns With Patients, Court Rules
–– As they stick them up.
WWE Star George 'The Animal' Steele, Who Appeared in 'Ed Wood,' Dies at 79
–– Put down.
'American Idol' Relaunch Clears One Hurdle
–– Still facing Wall of Indifference.
As Leaks Multiply, Fears of a 'Deep State' in America
–– We're already up to our necks.
Trump Friend Suggests Reince Priebus Is in Over His Head
–– And some much deeper.
Jeff Sessions' team takes over Washington
–– There goes lunch.
Kraft Heinz Offers to Buy Unilever in $143 Billion Deal
–– Deal tasty as ketchup and mayo sandwich on white.
Hear Bob Dylan's Smoky Frank Sinatra Cover 'My One and Only Love'
–– Smoky Frank great with dijon mustard, kraut, ear plugs.
Why UPS trucks (almost) never turn left
–– Drivers are Alt-Right.
Trump returns to scorched-earth politics
–– Will be EPA's Pruitt to implement.
Darrelle Revis Charged After Alleged Altercation in Pittsburgh
–– Will defend self.
White House turmoil on Russia likely to follow Pence abroad
–– Like stink on shit.
18 WTF Moments From Trump's Unhinged Press Conference
–– 14. African-American reporter asked him about meeting with CBC, and he tried to figure why she worked for Canadian Broadcasting Corporation.
Trump asks African-American reporter to set up meeting with black lawmakers
–– 'All you people know each other, right?'
Black lawmakers dismayed by Trump's invite to black reporter
–– Hold that feeling.
Harward says no to national security adviser role
–– Qualifying him as excellent candidate for job.
Russian fighter jets 'buzz' US warship in Black Sea, photos show
–– Mooning aimed directly at Trump.
Trump says his administration "is running like a fine-tuned machine"
–– Pressure cooker bomb.
Trump says no to filling out March Madness bracket for ESPN
–– For him its Every Month Madness.
Disney has cut ties with YouTube star PewDiePie over 'anti-Semitic videos'
–– JewDiePie.
Flynn, fired once by a president, now removed by Trump
–– Showing amazing consistency for one so erratic.
New Papers Reveal Obama State Dept Knew Benghazi Attack Not Caused by Protests
–– Yes, this dated February 15, 2017.
Media Outlets Beat Lawsuit for Naming Wrong Rapper Who Cut Off His Penis
–– Plaintiff couldn't beat off.
Republicans explore curbing the Endangered Species Act
–– If they follow extincts.
Netanyahu, Trump rekindle US-Israel bond as Mideast tensions loom
–– Should be able to burn it down.
White House Upheaval Complicates Netanyahu Visit
–– Makes 68 years of Mideast tensions look good.
Melania Trump Welcomes Israel's Benjamin Netanyahu in Her First Official White House Appearance
–– Expects release after 48 hour detention.
Trump backs off two-state framework for Israeli-Palestinian deal
–– Was too high to count.
New dads risk depression too, study says
–– If they get load of ugly brats.
Trump: Crimea was 'taken' by Russia
–– Biting hand that twitter feeds him.
Report: Pence Was Kept in the Dark on DOJ's Flynn Warning for 11 Days
–– Has no light switch in own ass.
Top Trump aide says White House has 'enormous evidence' of voter fraud
–– Dead-eye ass-burger Miller keeps pointing to own head.
Krauthammer On Flynn: We Can Not Have Intel Agencies Eavesdrop On Americans And Leak To Press
–– Unless they're Democrats.
Sen. Rand Paul: 'It Makes No Sense' For Republicans To Investigate Republicans
–– 'I mean, 'equal justice under law' is freakin' nuts!'
Matt Lauer vs. Kellyanne Conway on Flynn Resignation: "Your Explanation Doesn't Make Any Sense"
–– This administration can make Matt Lauer seem like journalist.
Santana Says Beyoncé Lost Album Of The Year Because She's 'Not A Singer'
–– Oy, eh, c'mon, wha?
Kim Jong Un's half-brother killed by two women, South Korea says
–– With Jong Un doos.
Behind the scenes: Flynn revelations scramble White House
–– Cracked eggs already whipped up.
Celebrity chef's deal to end legal battle with Trump is still on the table
–– With side of crow.
Moby Claims He Has Intel on Trump Administration and Russia
–– Moby has dick.
'Star Wars': Jimmy Vee Takes Over as R2-D2
–– R2-D2 V2.
NY Times reporter apologizes for calling First Lady Melania Trump 'a hooker'
–– When you're doing it for a few bil you deserve to be called 'courtesan.'
Ethics Watchdog Denounces Conway's Endorsement of Ivanka Trump Products
–– Posts nasty, one-star reviews on Amazon.
Trump Campaign Aides Had Repeated Contacts With Russian Intelligence
–– As you do with mentor.
Jeff Sessions Resists Pressure to Remove Himself in Russia Inquiries
–– Says 'Nyet!'.
Flynn resignation: Fox, Breitbart focus on leaks
–– Enough about Russian hookers, already!
Lower Back Ache? Be Active and Wait It Out, New Guidelines Say
–– Universal prescription in Republican health plan.
Sharp Rise Reported in Older Americans' Use of Multiple Psychotropic Drugs
–– Another theory to explain Trump election.
Conway: Trump has 'full confidence' in Flynn
–– Latest slang for Psych!
Michael Flynn Resigns as National Security Adviser
–– Out like Flynn.
We've never seen anything like Trump's rough treatment of his White House staff
–– Django Unchained maybe.
Wife and stepson of Ku Klux Klan imperal wizard Frank Ancona charged with murder after he was 'shot in the head while asleep' and dumped by river
–– After stealing 'i' from Imperial.
Trump's patio situation room after NK missile launch raises security questions
–– He has nothing to hide, but hairline.
Playboy: Nude photos are back
–– But only of Hef.
Is racism why Adele beat Beyoncé at the Grammys?
–– Or color-blind lack of taste?
A Hot Dog Is Not a Sandwich. A Burrito Is.
–– Racism?
Pakistani court issues nationwide ban on Valentine's Day
–– Heartless!
This weekend, Trump navigated a foreign crisis from Mar-a-Lago patio
–– Replacing Japanese PM's divot on 16.
Tzvetan Todorov, Literary Theorist and Historian of Evil, Dies at 77
–– Just when perfect subject elected in U.S.
Miles Cahn, Co-Founder of Coach Handbags, Dies at 95
–– Guess how he gets to Hell.
Woman Pleads Guilty to Robbing Bank While Babysitting 2 Children
–– They drove getaway carriage.
Trump undertakes most ambitious regulatory rollback since Reagan
–– Win one for the Gypper.
Leader of Lebanon's Hezbollah calls Trump an 'idiot'
–– Finally, a basis for consensus.
Riots outside Paris after police claim an officer's alleged rape of a black man was an accident
–– Cop thought he was placing baton in partner's ass.
Tom Arnold: Clinton begged me to release tape of Trump's racist rant
–– In recent hallucination.
United flight delayed after plainclothes pilot's rant
–– Uniformally disturbing.
Mexicans march against Trump: 'Bad hombre for the whole world'
–– El Bandito Naranja.
Man booed after 'death panel' comment
–– Didn't get nostalgia vote.
Newspaper apologizes after mistaking Alec Baldwin for President Trump
–– To Baldwin.
Andrew Sullivan says journalists should be talking about Trump's mental health
–– President doing pretty good job of it.
Family accuses cremation company of running "the ultimate scam" in Colorado
––That really burns.
J.K. Rowling blasts Trump defender Piers Morgan in Twitter battle
–– He Who Must Not Be Believed.
Canadian man who beheaded bus passenger granted total freedom
–– But asked to keep off double deckers.
Canadian man missing for five years found barefoot in the Amazon
–– Foot was attached to searcher.
More Women in Their 60s and 70s Are Having 'Way Too Much Fun' to Retire
–– Food, health insurance 'a hoot.'
Donald Trump's Asia pivot
–– In latest slang for collapse.
Overdose cases spike in Louisville: 52 calls in 32 hours
–– Trump sinking in.
An architecture tour of Pyongyang
–– 10 minutes on a tricycle.
Disney parks are getting pricier
–– Anything to escape reality.
Donald Trump shook the Japanese Prime Minister's hand for 19 seconds
–– Abe handled sushi for hours to get off stink.
Spicer Disputes Report Staffers Teased Him With Super Soakers After McCarthy 'SNL' Sketch
–– Did hire Russian hookers who offered to soak him.
---
BAN ON THE RUN
Week of 02/10/17
Actual headlines from the internets. You Google 'em.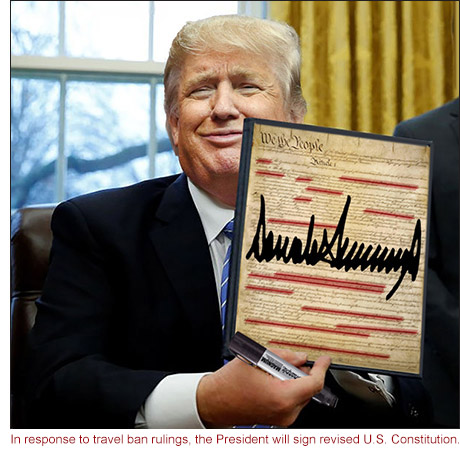 'SEE YOU IN COURT': Defiant Trump rails against appeals court ruling that slapped down his travel ban
–– Generally losing appeal.
Trump says he's sleeping 4-5 hours a night
–– America 1-2.
Threats against judges in immigration ban cases leads to increased security
–– Syrian refugees already slipping in, joining Alt-Right, threatening American lives.
White House: Nothing's off the table with travel ban
–– Everything's under the table.
Trump: New action coming on security next week
–– Just as soon as we don't have enough time to review it.
Utah Congressman's Town Hall Erupts with Protestors Demanding Trump Investigation
–– He Chaffetzed at suggestion.
Neil Gorsuch's Criticism Wasn't Aimed at Trump, Aides Say in Reversal
–– Was referring to comments of President's Evil Twin.
Brands all over the world are praying that Trump attacks them
–– Trump dump bump.
National security adviser Flynn discussed sanctions with Russian ambassador, despite denials, officials say
–– Error Flynn.
Pence unaware if Flynn discussed sanctions with Russian ambassador
–– Even funnier, Flynn claims he's unaware.
Trump meets Abe: A $268 billion relationship under strain
–– Memo to Trump: No, not pronounced like Lincoln.
How Melania Trump may entertain Abe
–– Just opening mouth should amuse.
Sessions confirmed as U.S. attorney general after battle with Democrats
–– Jam Sessions failed.
Treasury Nominee Vows No Tax Cut for Rich. Math Says the Opposite.
–– Read my lapse.
President Xi Jinping of China, Stung by Trump's Taiwan Call, Is Said to Shun Talks
–– Fit of Peking.
Trump, Changing Course on Taiwan, Gives China an Upper Hand
–– The art of the dull.
What's the food like in Salt Bae's Abu Dhabi restaurant?
–– Surprisingly bland.
Texas Rangers join search for Tom Brady's missing jersey
–– Suspect Hole-in-the-Sleeve Gang.
Bob Costas Ends 24-Year Run as NBC's Prime-Time Olympics Host
–– Will be new Jiminy Cricket greeter at Disney World.
8 Ways You're Showering Wrong
–– 3. We mean you, Trump, in Moscow.
Steve Bannon Believes The Apocalypse Is Coming And War Is Inevitable
–– 'Just give us some time.'
Leah Remini Says John Travolta's High-Ranking Position in Scientology Includes Right to Murder
–– Trump considers converting.
Donald Trump 'complained hand towels on Air Force One are not soft enough'
–– And 'way too big.'
'Come after me': Pennsylvania pol goes off on 'gibbon' Trump in profanity-laced Facebook post
–– He should keep eyes on trees.
Donald Trump launches Twitter tirade against New York Times after embarrassing White House revelations
–– White House leaks like Russian hooker.
Donald Trump escalates John McCain feud: The "loser . . . doesn't know how to win anymore"
–– At 80 with bum arms, Trump thinks bodyguards could take him
Trump Calls Hearing on Immigration Ban 'Disgraceful'
–– Running out of insults three syllables or less.
Trump falsely accuses senator of misrepresenting Gorsuch criticism
–– Do we see pattern developing here?
Boris Johnson has given up his U.S. citizenship
–– Can actually say he got better of deal.
Wall Street is getting worried about Trump
–– Pulls rolled-up $100 bill from nose, tries to focus on CNN.
UTA Cancels Oscar Party to Protest Donald Trump's Travel Ban
–– As much fun as UTI.
Mitch McConnell Sees 'High Level of Satisfaction' With Trump Administration
–– Got wife, Labor Secretary Chao, out of house.
US says it killed bin Laden-era al Qaeda leader in Syria
–– Died of old age.
Trump labor nominee said 40% of his workers were once undocumented
–– Including boob bronzers on Carl Jr.'s commercials.
'Hidden Figures' Director Reveals Startling Backstory: "My Dad Was in the Mob, and My Mom Was a Nun"
–– Prepping Sister Act 3: Dirty Habits.
Ohio coroner's office running out of room because of overdose deaths
–– Stiff competition.
@POTUS retweets Trump blasting Nordstrom
–– Threatens to invade Scandinavia.
Nordstrom shares briefly drop after Trump tweets daughter Ivanka was treated 'unfairly'
–– Nordstrom racked.
Kellyanne Conway: Go buy Ivanka's stuff
–– Will conduct all future briefings on QVC.
White House: Kellyanne Conway 'counseled' for plugging Ivanka Trump line
–– Whole damned staff needs 'counseling.'
Kellyanne Conway unrepentant for Ivanka Trump plug
–– Is there anyone in WH who doesn't want to get fired?
Couple at Center of Upcoming Boston Marathon Bombing Romance Film to Divorce
–– Reach finish line in record time.
Trump gives America's 'poorest white town' hope
–– That it can hang onto title.
The Seal Whisperers and the Seals Who Love Them
–– Blow in their ears, they'll follow you anywhere.
Border officers find nearly 2 tons of weed camouflaged as limes
–– Enjoy some bitchin' Rickeys.
She felt a 'crawling sensation.' Doctors found a live cockroach in her skull.
–– After removal, she asked if too late to change Presidential vote.
Many Americans don't know Obamacare and the Affordable Care Act are the same, exact thing
–– And won't pay for proctologist visit for migraine.
Irwin Corey, Comedian and 'Foremost Authority,' Dies at 102
–– And Kellyanne Conway speechwriter.
Donald Trump 'regrets hiring Press Secretary Sean Spicer'
–– After finding out Irwin Corey too ill.
Sean Spicer cites Atlanta terror attack that never happened
–– Desperately trying to impress boss.
Ex-Lover: We Poisoned a Dog, Then Killed Her Husband
–– 'On our two first dates, sigh.'
President Trump jokes about destroying a politician's career
–– If he can call himself a 'politician'.
Kellyanne Conway Defends White House's Credibility
–– And explains how Ponzi had no 'Scheme.'
In 2012 interviews, Steve Bannon compared protesters on the left to the Nazi Brownshirts
–– As opposed to Alt-Right Brownshorts.
Charlie Rose to Undergo Heart Surgery, Take Break From 'CBS This Morning'
–– Doctors hope he'll shut up long enough to administer oxygen.
'Battlestar Galactica' actor Richard Hatch dies
–– Down the Hatch.
Beloved therapy dog needs help of his own
–– Been given therapy ferret.
Yemen Withdraws Permission for U.S. Antiterror Ground Missions
–– Even they don't want to be associated with Trump brand.
Senate GOP's effort to shut Warren up backfires
–– Sheep persisted.
Warren's male Senate colleagues read King letter uninterrupted
–– McConnell: 'It's not the words, it's that goldarn henhouse squawkin'.'
Melania Trump Says White House Could Mean Millions for Brand
–– Until consumers realize she means that Trump.
Rosie O'Donnell Wants to Play Steve Bannon on 'SNL'
–– Like busted fiddle.
Putin signs law reducing punishment for domestic battery
–– In preparation for Trump bitch-slap on first visit.
Betsy DeVos Ekes Out Confirmation As VP Casts First Tie-Breaker For Cabinet Post
–– Poison Pence let 'er.
Marco Rubio taking the heat for his Betsy DeVos vote, acceptance of campaign funds
–– Given F for Flunkie.
Protesters block Betsy DeVos from entering public school in Washington
–– Would've been first time in one.

Al Franken slams new Secretary of Education Betsy DeVos: 'The most incompetent Cabinet-level nominee I have ever seen'
–– 'Since Ben Carson and Rick Perry were in here.'
Donald Trump Is Not Welcome To Address Parliament, U.K. Speaker Declares
–– Reject Old Blight.
Christie Brinkley, 63, back in SI Swimsuit issue
–– On GILF trip.
China: Mattis' comments on the South China Sea are a 'mind-soothing pill' that have 'dispersed the clouds of war'
–– They're gonna need lots of Fentanyl in next four years.
Def. Sec. Fact Checks Media on 'Mad Dog' Nickname--Then Mattis Reveals His Real Marine Call Sign
–– Mattis of the Heart.
Hillary Clinton in New Video Statement: 'The Future Is Female'
–– Why we're hurtling into past.
George Orwell's '1984' Coming to Broadway
–– After disastrous DC tryout.
'Lost continent' found under Mauritius in the Indian Ocean
–– Some think it's gotten too big for Mauritius.
Trump Says Journalists 'Have Their Reasons' to Play Down Terror Threat
–– 'Dey just don't wike me, waaaah!'
Trump and Staff Rethink Tactics After Stumbles
–– Re?
Emiratis frolic in the snow as temperatures plummet in the UAE
–– Not exactly Hell, but freezing over.
Trump doesn't speak softly and carries a big stick
–– We have to trust him on size of stick.
Critic's Notebook: Watching '24: Legacy' in the Wake of Trump's Muslim Ban
–– Sucks even more suckily.
Donald Trump Says 'Negative Polls Are Fake News'
–– Puts finger in ears, repeats 'Nah, nah, nah…'
Executive Power Run Amok
–– By a schmuck.
Trump to Media: "I Call My Own Shots"
–– Should be hypos with horse tranqs.
Canadian parents convicted of taking daughter to marry Warren Jeffs receive mix of sympathy and scorn
–– Mutt and Jeffs.
This Is Not Trump's America: New Yorkers Come Together to Erase Swastikas on Subway
–– Right, it's New York.
David Cameron joins in with Arnold Schwarzenegger's Snapchat in jibe at Donald Trump
–– Lamest Cameron production with Arnold since True Lies.
President George H.W. Bush and wife Barbara perform coin toss before Super Bowl LI
–– Grim Reaper called heads.
Teens use e-cigarettes for 'dripping,' study says
–– In latest slang for idiot drooling.
Queen marks 65 years on British throne with Sapphire Jubilee
–– Subjects wish she would shit or get off.
DOJ's Emergency Stay Rejected as Donald Trump Attends Black-tie Gala with Melania
–– Court also rejected her restraining order.
Ivanka Trump and Jared Kushner 'stopped Donald Trump passing homophobic law'
–– Up for oustanding Daily Drama at GLAAD Media Awards.
Far-right hopeful: French election 'choice of civilization'
–– Le Pen pusher.
Australia: 7% of Catholic priests abused children, commission finds
–– 93% just watched.
The Bishop Eddie Long I knew: 3 revelations from a megachurch pastor's messy legacy
–– 2. Was Long and hard.
Michael Wolff says media is 'having a nervous breakdown' over Trump
–– While he has 4-hour erection.
Sanders on Trump: 'This guy is a fraud'
–– Bern notice.
Alleged Louvre attacker's father says son is not a terrorist
–– Just 'passionate art critic.'
Blind orangutan Aan, shot 104 times, undergoes surgery to restore sight
–– By aye-aye doctor.
'You don't belong here': Solicitor caught on camera in racist train rant against mother and child over first class seats
–– Completely off rails.
Bill Maher Exposes Tomi Lahren on 'Real Time'
–– Televising her naked stupidity indecent exposure.
Pence Responds on Whether Administration Should Repair Obamacare Instead of 'Repeal and Replace'
–– New policy: Repeal and Rename. (Thanks, L.K. Peterson)
'S.N.L.' Goes After Trump Again, With Melissa McCarthy as Sean Spicer
–– Drag in drag.
Sean Spicer says Melissa McCarthy could dial it back a bit
–– Master clown gives tip.
G.O.P. Hurries to Slash Oil and Gas Rules, Ending Industries' 8-Year Wait
–– Have been holding in massive, toxic dump.
Trump's F.D.A. Pick Could Undo Decades of Drug Safeguards
–– To be fair, citizens now in desperate need for new painkillers.
McConnell: Use of nuclear option is 'up to Democrats'
–– 'Don't make us come over there 'n whup ya!''
Space travel altered Kelly's chromosomes
–– Alien chest-buster interviewed.
Kremlin Demands Apology From Fox News After Bill O'Reilly Calls Vladimir Putin 'A Killer'
–– Even his request slays.
President Donald Trump Defends Vladimir Putin: 'Do You Think Our Country Is So Innocent?'
–– Yeah, why don't we poison political opponents before they're elected President?
Third Party Investigation Finds No Animal Injuries, Cruelty on Set of 'A Dog's Purpose'
–– Just whining bitches online.
Evangelical leader Jerry Falwell Jr. to lead education task force for Trump
–– Like fox heading hen task force.
New Yorker, Vanity Fair Pull Out of White House Correspondents Weekend Events
–– Dinner to be sponsored by Pravda, hosted by Yakov Smirnoff.
Iran Carries Out New Missile Tests After Trump Imposes Sanctions
–– Iranic.
Trump Slams 'So-Called' Judge on Travel as State Lifts Visa Ban
–– Harsh words from 'kinda president'.
After Trump attack, Lockheed Martin slashes F-35 cost
–– $6.1 bil terrific price for 57 jets noboby needs.
Trump's pick for Army secretary drops out
–– Bails without chute.
WH: President made final call on Yemen raid
–– Like Lady Liberty's pussy, has fingerprints all over it.
---
OFF TO THE RACISTS
Week of 02/03/17
Actual headlines from the internets. You Google 'em.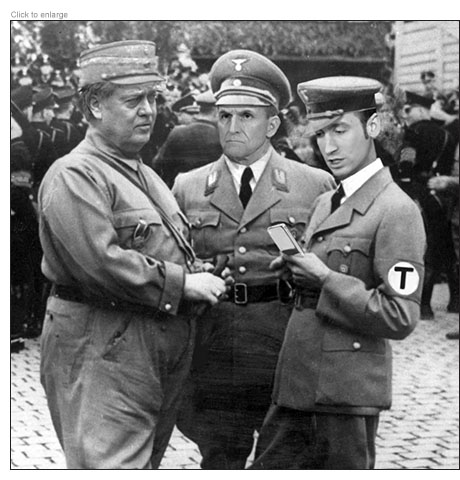 Nancy Pelosi Blasts Steve Bannon As A 'White Supremacist'
–– Doucheland über alles.
Breitbart editor starts scholarship for just white men
–– Fullwhite scholarship.
Seattle judge blocks Trump immigration order
–– Ban roll-off.
Nancy Pelosi Suggests Donald Trump Get His Mental Health Checked
–– Doctors fear hair will block instruments.
To commemorate Black History Month, Trump administration decrees that white supremacists can't be terrorists
–– Bannon, Miller give sighs of relief.
Donald Trump Is Pleased With The Jobs Report He Called Fake For Years
–– Gladly steals credit for accomplishment of 'worst President' in U.S. History.
Poll: Trump has highest disapproval rating of any new president
–– Trump: 'Dis approval is incredible!'
President Trump Smashes Record for Getting Majority of Americans to Disapprove of Him
–– Trump: 'See, I am Number 1!'
Why is Andrew Jackson's portrait in Trump's Oval Office?
–– Because White House didn't have one of George Lincoln Rockwell.
Stephen Miller: Trump Has 'Better Sense of the Pulse of the People' Than Any President Since Andrew Jackson
–– Even red savages and slaves.
White House Petition Site Broken Since Inauguration Weekend
–– Like White House itself.
Military botches release of video seized in Yemen raid
–– For sake of consistency.
Kellyanne Conway Admits 'Bowling Green Massacre' Error
–– Another bocce job.
GOP House votes to reject Obama administration stream protection rule
–– For slough of reasons.
Deutsche Bank fined for $10 billion Russian money-laundering scheme
–– Were also doing prostitute-stained sheets.
Eric Trump's business trip to Uruguay cost taxpayers $97,830 in hotel bills
–– Laundry bill astronomical like dad's, but he soiled sheets.
3 Trump Cabinet officials will still be receiving millions from corporate America
–– In revival of Grease.
Explosion at California Cheesecake Factory leaves questions
–– Is Toasted Marshmallow S'Mores Galore™ Cheesecake on special?
Kellyanne Conway: Media is 'inciting mob mentality if not mob violence' with their coverage
–– By accurately covering slob mentality.
How President Trump is bad for the gun industry
–– Don't worry, Left will start buying like crazy.
The White House cited the Quebec mosque attack to justify Trump's policies
–– Is he extening travel ban to Canada?
Over 100,000 Visas Have Been Revoked by Immigration Ban, Justice Dept. Reveals
–– Only crowd they're pretending is smaller.
Trump Begins Assault on Dodd-Frank Financial Regulations
–– GOP's side of deal with Devil.
Social Media Responds to Trump's Claim That Female Staff Should 'Dress Like Women'
–– No, male staff –– we need a chuckle.
Nordstrom to drop Ivanka Trump's clothing, accessories line
–– Send unsold rags to Syrian refugee camps.
Whither Melania Trump? 12 days without a public sighting
–– Can you blame her?
Melania's office is the loneliest place in the White House
–– If and when she's there.
Trump: I will destroy Johnson amendment
–– Has been furiously beating Johnson for days.
Trump wants to force you — the taxpayer — to pay for campaigning from the pulpit
–– Jesus spinning in grave.
Nine more killed in Ukraine as US presses Russia
–– Gently, from behind.
Trump's administration isn't very diverse. Photo ops make it glaringly obvious.
–– There's every shade of stupid.
North Korea sacks head of secret police amid signs of 'crack in elite'
–– Literally puts head in sack.
'El Chapo' lawyers say jail conditions are too strict in NYC
–– Awwwwwwwwww!
Charlie Sheen Wants Sean Spicer to 'Asphyxiate' With Ugly Tie
–– Actor's out to lynch.
Trump Supporter Fired Over Twitter Exchange With Patton Oswalt
–– Patton emerges.
Hill Republicans revolt over Trump's plans to build border wall
–– Proving they're almost as smart as Mexican pols.
John McCain basking in Trump tormentor role
–– Senate Trump's new Annoy Hilton.
North Korea accuses US, South Korea of plotting nuclear attack
–– Which would've sounded absurd 15 days ago.
SEAL Team 6 raid in Yemen raises questions
–– So Trump's team is incompetent on all fronts?
Faith Evans announces Notorious B.I.G. duets album
–– No Biggie.
Trump adviser cites non-existent 'massacre' defending ban
–– Of Constitution.
Trump to take steps rolling back financial regulations
–– Wants to make economy great again, like 2008.
Howard Stern: Trump wants to be loved, presidency will be 'detrimental' to his mental health
–– His mental health?!!
South Dakota GOP uses 'emergency' rules to repeal anti-corruption law
–– Approved by voters. Mount Rushmore Presidents silently weep.
WH: New or expanded settlements 'may not be helpful in achieving' peace
–– Whoa, that sounds weirdly 'diplomatic.'
Trump: Frederick Douglass 'is being recognized more and more'
–– 'I still couldn't pick him out of a police line-up, but generally.'
Gorsuch's "Fascism Forever Club" and "…the unconstitutional takes a little longer" Kissinger quote
–– Or 'things that impressed Trump.'
Jews hand Muslims keys to synagogue after Texas mosque burns
–– Allah carte.
Trump Uses National Prayer Breakfast to 'Pray for Arnold' Over 'Total Disaster' Apprentice Ratings
–– Satan: 'I'll see what I can do.'
Donald Trump's Longtime Doctor Says President Takes Hair-Growth Drug
–– Propecia side effects: Chills, cold sweats, confusion, dizziness. Wait, American public experiencing those.
Lawsuit Claims Profit Rights to Martin Scorsese's 'Silence' Were Fraudulently Transferred
–– All very hush-hush.
Open Letter to M. Night Shyamalan: 'Split' Perpetuates Stereotypes About People With Dissociative Identity Disorder
–– What do you expect from multi-hyphenate?
First Lady: I'll do it my way
— With other, actual dildo.
Steve Bannon Builds a New Node of Power in the White House
–– Is that what's growing on face?
Trump on immigration ban: 'Call it what you want'
–– How about 'most racist, ill-conceived, unconstitutional U.S. government policy of last 70 years?'
British Politicians to Debate Trump State Visit Following Online Petition
–– Talk about bodacious ta-tas.
Paul Ryan addresses Trump's travel ban: 'I think it's regrettable that there was confusion on the rollout'
–– No, clarity: you and he are bigots.
'Bad hombres': reports claim Trump threatened to send troops to Mexico
–– And those Feds from Narcos.
White House national security adviser: Iran is 'on notice'
–– No nukes for you!
No 'G'day, mate': On call with Australian prime minister, Trump badgers and brags
–– Keeps yelling, "down under what?!'
Trump urges Senate GOP to trigger 'nuclear option' on Gorsuch nomination
–– He'd have him go nuclear over lunch order.
U.S. Bacon Reserves Hit 50-Year Low
–– Pigs moved to safety of White House.
It's Goodbye 'Girls' as Lena Dunham, Cast, Execs Overshare in Show Oral History
–– Lots of oral to discuss.
Hillary Clinton to Reflect on Election Loss to Donald Trump in New Book
–– It Takes a Vicodin.
A Day Outside Trump's Palos Verdes Golf Club: Urine, Lipstick, Middle Fingers
–– Day spa special.
France's far-right leader Le Pen applauds Trump's travel ban
–– She's real fanatic.
Report finds chemicals in one-third of fast food packaging
–– Not a government report.
CEOs said Trump would change in office. They were wrong
–– The decay has accelerated.
Magic bullets: US Army pursues 'biodegradable' ammunition
–– Will rot like human corpses?
Republicans vote to suspend committee rules, advance Mnuchin, Price nominations
–– Gutless Old Party.
Trump Picks Neil Gorsuch, A Scalia Clone, For The Supreme Court
–– Maybe little less apelike.
Pelosi on Gorsuch: 'A very hostile appointment'
–– Judge dread.
Ted Cruz: 'Judge Gorsuch is a home run'
–– Foul bawl.
Fighting flares in eastern Ukraine
–– Flares appear to be winning.
Trump coaxes Rick Scott to run for prized Florida Senate seat
–– Lines trail with deer urine and oxy.
A 58-story skyscraper in San Francisco is tilting and sinking — but the city says it's safe to live in
–– Who doesn't want sunken living room?
Trump's first week: For many in Arizona, it doesn't get any better than this
–– Where last brain cells have melted in heat.
An Enormous Crack Just Opened Up In The Middle Of The Arizona Desert
–– Already polling first in Governor's race.
Video shows bishop punched while celebrating Mass in Newark
–– Tough crowd.
Warren Buffett's Daughter Susie Opens Up About Her Billionaire Dad: 'He Doesn't Care About Money'
–– Easy to overlook 11 bil.
Consumers lash out at Uber and turn to Lyft after Uber's immigration response
–– Provides competitor pick-me-up.
WH: No mention of Jews on Holocaust Remembrance Day because others were killed too
–– Like Hitler, doesn't want to pick favorites.
White House calls outrage over omitting Jews in Trump's statement on Holocaust 'pathetic'
–– Omitting Jews was whole point.
Poland puts detailed list of Auschwitz SS guards online
–– On JWipe.
Trump Hosts First Movie Screening in White House Theater Amid Protests
–– Triumph of the Will.
Do protesters understand Trump's 'extreme vetting'?
–– Have they never seen concentration camp movie?
MSNBC's Joe Scarborough slams Trump for saying Sally Yates 'betrayed' the Justice Department: 'That's what an autocrat would use'
–– Trump: 'I remember the autocrat in New York –– Horn and Hardart's, right?'
Even Richard Nixon's White House counsel thinks Trump is 'trashing the American presidency'
–– Nixon tweets 'Miss me yet?' from Hell.
Trump Fires Acting Attorney General For Refusing To Defend Immigration Order
–– Wanted to rip epaulettes off shoulders, break sword.
Watch Jeff Sessions urge the attorney general Trump just fired to resist a president's unlawful orders
–– His 'Never mind' edited out.
Trump's voter fraud expert registered in 3 states
–– It takes a thief.
Amid Turmoil in His Government, Trump Calls Democrats 'a Mess'
–– Issues executive order: 'I'm rubber, you're glue, whatever you say bounces off me, sticks to you!'
Samantha Bee is throwing her own party the same night as the White House Correspondents' Dinner
–– For Bee-listers.
Dubai's Unique Recipe for Hip-Hop
–– No booze, no sex, finger cymbals.
Cardinals fined, must give up draft picks after Astros hacking scandal
–– Could lose potential next Pope.
Dems hold up voting on some of Trump's Cabinet nominees
–– In impotent…er, impudent gesture.
Trump pledges to 'do a big number' on Dodd-Frank Wall Street reform
–– That number is 2.
Obama 'fundamentally disagrees' with Trump's immigration order
–– Because he's fundamentally sane.
Bannon Is Given Security Role Usually Held for Generals
–– Like Jack D. Ripper.
Former Obama adviser calls Trump decision on Nat Sec panel 'stone cold crazy'
–– Steve Austin stole 'Stone Cold' from Bannon.
Starbucks pledges to hire 10,000 refugees
–– Barredistas.
Trump: Travel ban working out very nicely
–– It's cat's meow –– when run over.
ACLU racks in $24.1 million in donations over weekend
–– Trump demands finder's fee.
Trump warns senators 'looking to start World War III'
–– 'That's my job!'
Lindsay Lohan Meets With Turkey's Erdogan
–– He asked for autograph, she for Wild Turkey.
Republicans Go Largely Silent As Trump Bars Refugees And Immigrants From U.S.
–– Mouths too full of Trump.
Iran to ban US citizens in response to Trump's immigration order
–– There goes Easter in Qom!
France, Germany Unite in Face of Trump Refugee Ban
–– He's uniting allies!
Refugees Detained at U.S. Airports; Trump Immigration Order Is Challenged
–– Mentally, like issuer.
There Have Been No Fatal Terror Attacks In The U.S. By Immigrants From The 7 Banned Muslim Countries
–– And no offers to build Trump properties.
Syrian Refugees Shocked, Sad as Trump Bans Them From the US
–– You don't want to live in this America.