IRAN UP THE FLAGPOLE
Week of 05/17/19
Actual headlines from the internets. You Google 'em.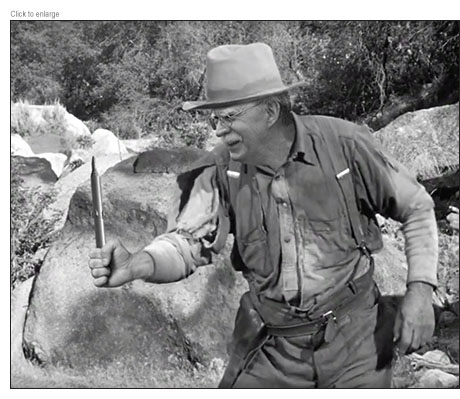 Critics accuse Trump administration of stoking Iran tensions
–– Ayatollah Khamania.
Yes, Roe really is in trouble
–– Wade and see.
Pictures showing Iranian paramilitaries loading attack boats with missiles are reportedly behind the US's sharp escalation of tensions with Tehran
–– Or fission poles?
U.S. House speaker: Congress has not approved war against Iran
–– Still waiting on OK for Iraq.
Trump administration's Iran threat claim disputed by foreign officials
–– Only conscious ones.
Trump Administration Has Little International Support for U.S.-Iran War
–– Netanyahu had to contact doctor for erection lasting more than 48 hours.
Trump reportedly pulled out of Obama's Iran nuclear deal without a backup plan
–– At least with Stormy Daniels he was thinking payoff.
The Best Way to Avert War With Iran? Fire John Bolton
–– Plus it would feel so good.
Grumpy Cat, the grouchy-faced furball that launched a thousand memes, is dead
–– Catnip abuse suspected.
Dennis Rodman accused of stealing 400-pound amethyst crystal in yoga studio heist
–– That downward dog!
KISS frontman Gene Simmons delivers briefing at Pentagon podium that has not seen a spokesperson in almost a year
–– Didn't make up.
Nancy Pelosi Won't Even Take A Position On Contempt, Let Alone Impeachment
–– Won't even say if she prefers bosc or d'anjou peaches.
I No Longer Believe House Democrats Will Uphold Their Constitutional Duty
–– I no longer believe House Democrats.
On-the-run ISIS leader is 'hiding out in eastern Afghanistan'
–– Busy, busy, busy.
HGTV 'Flip or Flop' Star Christina Anstead's Tangible Design Tips
–– And impalpable decorating hints.
FCC Wants Phone Companies To Start Blocking Robocalls By Default
–– Citizens want phone companies to Robocall Robocallers.
A Year After Cannes Splash Saudi Arabia Film Effort Subdued But Active
–– Still demanding final cut.
Chris Rock (yes, Chris Rock!) to reboot 'Saw' franchise and star with Jigsaw Killer
–– With Saudi backing?
Trump to follow sit-down with Hungarian autocrat by hosting Poland's nationalist president
–– Immortan Joe, Supreme Chancellor Palpatine scheduled next.
San Francisco bans facial recognition technology
–– Redeeming features.
Astrophysicist Joe Pesce discusses quantum computing experiment
–– Asks, "I'm funny how? I mean funny, like I'm a clown? I amuse you?"
Connecticut radio station rebrands itself 'Trump 103.3'
–– Or Shit FM.
CFPB Chief Says Education Department Is Blocking Student Loan Oversight
–– In interest of lenders.
Adam Lambert Gets His Groove Back With 1970s-Inspired 'New Eyes'
–– Was stashed in Freddie Mercury crypt.
CNN's Jim Acosta accused of being dishonest about Trump's asylum seekers remark
–– By us here at Fox News.
HUD's Ben Carson broke law with furniture order, GAO says
–– Hasn't table leg to stand on.
Judge confirms Trump associate gave feds Osama bin Laden's number
–– Told them to call for good time.
White House leaves open possibility of invoking Insurrection Act to remove migrants
–– Or reviving Extra-Terrestrial Exposure Law.
The Onion turned Joe Biden into a lovable meme. Now one writer is apologizing.
–– Yeah, like humanizing Hitler.
Robert Pattinson Is Close To Becoming Batman And Twitter Freaks
–– Bruce Wan.
Mick Jagger, 75, Shows Off Sick Dance Moves Just 6 Weeks After Heart Surgery
–– Of course they're sick, he just had surgery.
Trump Administration Cancels Nearly $1 Billion In California High Speed Rail Funding
–– Harsh training.
I.M. Pei, Master Architect Whose Buildings Dazzled the World, Dies at 102
–– Big Pei out.
Herman Wouk, Author of 'The Caine Mutiny' and 'The Winds of War,' Dies at 103
–– Wouk the dead.
Tom Petty's daughters say their late father's wife has illegitimately seized control of his estate
––And won't back down.
F-16 fighter jet crashes into warehouse in California
–– Of F-16 parts!
Grateful Dead drummer: We're disrupting nature's rhythms and killing our planet
–– Well, if you could keep damn beat.
The math is against Bill de Blasio 2020
–– So is the english, science, social studies.
De Blasio rounds out the Democratic presidential field (at least for now)
–– Provides fleshy bottom.
Stacey Abrams Says She Can Win 2020 Even If She Enters Race Months From Now
–– Might work better than Georgia strategy.
Elizabeth Warren's 'Hate-For-Profit' Label Might Just Stick to Fox News
–– Catchier than 'Fair and Balanced.'
Video: Phillies Fans Boo Bruce Willis After 1st Pitch Bounces to Aaron Nola
–– Who knew yahoos were film critics.
Report: College Board will introduce 'adversity score' for SAT test takers' social and economic backgrounds
–– Not 'urban curve' or 'uptown allowance.'
Hawksmoor restaurant accidentally serves diner wine worth nearly $6,000
–– Pees out same as $45 one.
Bob Hawke, former Australian prime minister, dead at 89
–– Hawke flew.
Trump Pardons Author of Flattering Biography of the President
–– Who was then accused of assault on history.
Alabama women worried new law means an immediate end to abortion flood clinics with calls
––
Pat Robertson says Alabama's abortion law is extreme and has "gone too far"
–– Senses fecal heartbeat.
The New Abortion Bills Are a Dare
–– Goad, fuck yourself.
Welcome to the World of Subprime Children
–– Sign entering Alabama.
Hershey's Redesigns Its Chocolate Bar for the First Time in Over 100 Years to Include Emojis
–– Eggplant treat test marketed in West Hollywood.
Fever could kill a third of China's pigs. That's almost as many as are farmed in the US and Europe
–– Entire National People's Congress spared.
Farmer amputates his leg with a pocket knife to save his own life
–– Left Swiss Army Knife with scalpel in barn.
Yasiel Puig Hosts 3rd Annual Poker Tournament at Harry Houdini Estate
–– Don't bet on his escaping slump.
Stan Lee's Former Business Manager Charged With Elder Abuse Against Late Icon
–– Stan Lee douchey.
Trump Companies Were in the Red. He's Reaped the Rewards Since
–– Lives in permanent Red State.
Trump Tower Is Now One of NYC's Least-Desirable Luxury Buildings
–– Was before most-detestable.
Lindsey Graham has sold his soul to Trump
–– Worth one free round at Mar-a-Lago golf course.
America just had its lowest number of births in 32 years, report finds
–– Time's Up, baby.
Monet's 'Haystacks' sells for $110.7M, setting an auction record
–– Makes bale.
Jeff Koons' $91M 'Rabbit' sculpture sets new auction record
–– Koons skins cap.
Why Black List Founder Franklin Leonard Is Over Inclusivity Panels
–– Choir can already repeat sermon word for word.
Tim Conway, Star of 'McHale's Navy' and 'The Carol Burnett Show,' Dies at 85
–– Drop Dorf.
Alyssa Milano: Why the time is now for a #SexStrike
–– #SexSpare, #SexSplit didn't score.
Death count in crossbow case rises as two more bodies found in Germany
–– Swiss authorities tracking William Tell's movements.
This is what Kamala Harris' stepchildren call her
–– Pushy.
Montana Gov. Steve Bullock announces presidential campaign
–– Never mind the Bullocks.
Cannes Film Festival Director: 'We're Not Giving Alain Delon the Nobel Peace Prize'
–– 'Yeah, he's not Bob Delon.'
Trump welcomes Hungary's far-right nationalist prime minister after past presidents shunned him
–– Orban decay.
The Best Green Salad in the World
–– And what's most exciting shade of off-white?
IPhone owners can sue Apple for monopolizing App Store, Supreme Court rules
–– Must rename App(no le) Store.
McConnell capitalizes on attack with 'Cocaine Mitch' shirts
–– Fans snorting 'em up.
Grim photos show filthy children as young as FOUR toiling for up to ten hours a day in mines, farms and factories across the US 100 years ago
–– From Mitch McConnell's personal collection.
George Conway goes on tweetstorm against Trump calling the president a 'malignant narcissist'
–– Does seem to be spreading.
Trump mocks Democrats for 'pathetically untrue' claim that US is in 'constitutional crisis'
–– Triumphantly false assertion.
Alexandria Ocasio-Cortez Says GOP Is Basically Dwight Schrute From 'The Office'
–– Schrute operators.
Why Dany's Big Twist Is So Disappointing to 'Game of Thrones' Fans
–– Sexist trolls doubt 'girl' could commit genocide.
'Game of Thrones' Has Become a Cynical Clusterf*ck
–– *SPOILER* for final episode's final scene.
More than 330,000 'Game of Thrones' fans sign petition begging HBO to remake season 8
–– Might as well write Red Witch to revive.
Silver King dies during London wrestling fight
–– Arya Stark suspected.
Shia LaBeouf, Mel Gibson Team for 'Rothchild' Satire
–– Gibson character responsible for all wars in world.
Doris Day, Hollywood's Favorite Girl Next Door, Dies at 97
–– In tomb next door.
Larry Kudlow Admits U.S. Will Pay Tariffs On Chinese Goods, Contradicting Trump
–– Statement of fact usually will.
Walmart says it will raise prices because of tariffs
–– Base pay.
Soon after Trump tweeted "China should not retaliate," the country announced new tariffs
–– Forgot to say 'Simon says.'
China slaps tariffs on $60 billion in U.S. imports as trade war between Beijing and Washington escalates
–– Trader jokes.
Trump playing "a game of chicken" on China trade, economists say
— And no bigger coward than him.
Lack of innovation is 'Achilles heel' for China's economy, Xi says
–– Thought it was more 'too-tight foot binding.'
Trump readies up to $20B more in aid to rescue farmers from trade war
–– Promises Chinese will pay for it.
Trump declares himself 'your all time favorite president' as new China tariffs take hold
–– 'You, the drooling moron with the head wound.'
Donald Trump had the best golf round of his life last month
–– And then swam Yangtze River.
Clement von Franckenstein, Actor in 'The American President,' Dies at 74
–– For now.
Kirsten Gillibrand is campaigning by living her best life. So why aren't voters responding?
–– Franken sense and demur.
YouTuber James Charles has lost almost 2 million subscribers since his feud with Tati Westbrook
–– Tata.
Boeing's 737 MAX Could Fly Again Soon, but Risk Would Remain, Analyst Says
–– Could crash again soon, too.
President Trump Insulted Pete Buttigieg With a 'Mad' Magazine Reference. Mayor Pete Might Be Too Young to Get It
–– Yes, Mad last published in April, 2019.
Alex Rodriguez went on an extreme water-only diet so he wouldn't 'look fat' at the Met Gala
–– Even wearing Depend underwear.
Ah, So That's What Bran Was Doing During The Battle Of Winterfell
–– Bran flakes.
Barr Jokes About Contempt To Pelosi's Face: 'Did You Bring Your Handcuffs?'
–– How about scrotal clamps?
Attorney General William Barr jokes contempt in first 100 days 'must be a record' during Rosenstein farewell
–– Obstruction a pisser.
Trump says campaign was 'conclusively spied on,' calls it 'treason'
–– No conclusion!
'Sports Illustrated' model Camille Kostek was told to adjust her measurements
–– C'mon! Only plus-size issue with her cover will be in male viewers' swim suits.
Vice President Pence to graduates: Be prepared to be ridiculed for being Christian
–– Not as much as for listening to me, but still.
'My Mother Called This Male Pattern of Behavior "Creative Incompetence"'
–– My father called this female pattern of behavior "Bitching"'.
The Marlins Are Sending Everyone to Spanish Class. Even Derek Jeter.
–– Now all can say 'Apestamos!'
The Harvard law professor representing Harvey Weinstein is being removed as a faculty dean
–– Guilty until proven innocent.
Alvin Sargent, Oscar-Winning Screenwriter of 'Julia' and 'Ordinary People,' Dies at 92
–– Sargent slaughter.
Smoke, Drink and Eat What You Want, Norway's Public Health Minister Says
–– Doesn't have Swedes' tooth.
Nxivm Trial: Sex Cult's 'Grandmaster' Was Seen as 'Some Kind of God'
–– According to defense attorney Mister Mxyzptlk.
Rudy Giuliani Cancels His Trip to Ukraine, Blaming Democrats' 'Spin'
–– Which cited 'morality', 'decency', 'law'.
Bob Marley lyrics that still hold true today (and probably always will)
–– So long as you're high.
Swarthmore college bans fraternities and sororities after allegations of racist, homophobic and misogynistic behavior
–– Might just need to ban students.
Chris Pine to Star in Black Ops Thriller 'Violence of Action'
–– Title by SEO.
---
LOSER FRIENDLY
Week of 05/10/19
Actual headlines from the internets. You Google 'em.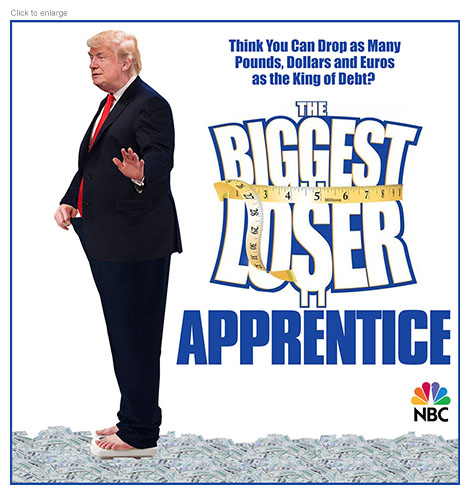 Decade in the Red: Trump Tax Figures Show Over $1 Billion in Business Losses
–– Scrooge McSchmuck.
Beto's Long History of Failing Upward
–– No Beto roses?
There Is No Way Donald Trump Actually Lost $1.17 Billion
–– Of own money he didn't have.
Pelosi Declares Nation Is in a 'Constitutional Crisis'
–– Downgraded from 'Apocalyse.'
Dow stages 450-point comeback, ends the day higher after Trump says China trade talks to continue
–– Stock market believes Donald Trump. Nuff said.
Fact checking Trump's claim John Kerry is in violation of the Logan Act
–– And Wolverine not happy.
With Trump tightening the trade screws, here's a look at what tariffs have done so far
–– Screwed trade.
President Donald Trump chooses Patrick Shanahan as next defense secretary
–– After he aced minionship.
Denver says no to 'magic mushrooms': Historic vote on psilocybin unlikely to pass
–– No back shroom deal.
Luke Perry's daughter says he was buried in a mushroom suit
–– Not in Denver.
Brexit news: UK's exit from EU has 30% chance of being cancelled, Donald Tusk says
–– Two turds –– Farage, Johnson –– still support.
Uber Stock Slides in Disappointing Trading Debut That Followed Muted I.P.O.
–– Uber ill is.
'We Wanted To Be Larger Than Life': Paul Stanley Of KISS On Almost 50 Years Of Rock
–– Ended up smaller than joke.
Unvaccinated teen gets chickenpox after lawsuit
–– We're not going to gloat… Cock-a-doodle-doo!
Texas House LGBTQ Caucus kills 'Save Chick-fil-A' bill it says would be discriminatory
–– After much breast-beating.
Penis Extensions Are 'Ineffective and Risky,' Study Finds
–– Long and short of it.
Prince Charles Misused Influence to Shield Cleric, Abuse Inquiry Reports
–– Dubbed, we kid thee not, Peter Ball.
Exclusive: Documents Detail Meetings Of Russians With Treasury, Federal Reserve
–– Get ready to ruble!
North Korea launches two short-range missiles, at same time as U.S. ICBM test
–– Fat Kim, Little Kim.
Trump's Love of Kim Creates a 'Destabilizing Situation' Among Allies
–– Especially when he's on top.
Trump Told Supporters Kim Jong Un Killed His Uncle and Displayed His Head
–– 'What's not to love.'
Trump Accuses Mueller of Being "in Love with James Comey" in Latest Incoherent Rant
–– "He's kind of his Jong un.'
Comey: 'The FBI doesn't spy. The FBI investigates'
–– You say tomato, I say illegal phone tap.
FBI chief: No evidence of illegal spying on Trump campaign
–– Sting Wray.
Iran's move to stop complying with parts of nuclear deal could result in agreement unraveling, says expert
–– By Shi'a force of will.
U.S. Helped 12,587 Syrian Refugees in 2016. In 2018, 62. Now What, in 2019?
–– Yes, Now What!
Saudi Arabia Quietly Trying to Salvage Its Plan to Build a Film Industry
–– Should buy out Killer Films.
Turkey's Redo of Elections Is the 'Last Fig Leaf' of Democracy
–– Stuffed with goat cheese.
Party City is facing a helium shortage. It's also closing 45 stores
–– Can't float loan.
I'm 63. She's 22. Here's What Most People Get Wrong About Our Marriage.
–– She married me for body!
'Batwoman' Teaser Shows Lesbian Superhero Guarding Over Gotham City
–– Especially 'downtown.'
George Clooney Says Motorcycle Accident Used Up His 'Nine Lives'
–– So Hollywood cats get 10?
El Chapo's attorney asks a judge to intervene over 'cruel and unusual' prison conditions
–– Shouldn't beat him like a mule?
Ayesha Curry addresses reaction to her 'Red Table Talk' confession: 'I am human'
–– Had there been doubts?
Renee Zellweger stars as Judy Garland in upcoming biopic 'JUDY'
–– You've been warned.
Anne Hathaway Broke Down In Tears Because She Was So Happy To Meet RuPaul
–– And his gown was so much more fabulous than hers.
Trump 'very surprised' about subpoena for son Donald Trump Jr
–– Expresses subpoenas envy.
Lara Trump on Don Jr. subpoena: This is harassment of our family
–– Discussing her ass.
Cashier brings newborn to work since her son is too young for childcare: 'Parents will have to find creative solutions'
–– He's napping in $20 till.
85% Of Americans Haven't Changed Their Minds About Donald Trump Since 2016
–– Nor sheets.
Deputy Attorney General Rosenstein says farewell; Senate set to confirm his replacement
–– America hopes door hits him on way out.
Chelsea Manning Was Just Released From Jail. Here's What Happens Next
–– Endless tedious interviews, editorials, books.
Trump says Bolton doing a good job but has to temper him
–– Due to distemper.
Ex-GOP Lawmaker Shreds Trump Jr. Defenders: 'Embarrassing Level Of Sycophancy'
–– Not that most sycophancy inspires pride.
Top Dems Now Have Access to All But Two Full, Seven Partial Lines of Mueller's Obstruction Report
–– Nine hard to comprehend, thirteen inelegantly worded.
White House Asked McGahn to Declare Trump Never Obstructed Justice
–– Which is um, er, y'know, obstruction.
Judge Napolitano: Barr's 'Foolish Attempt' to Sanitize Mueller Report Was 'Dumb and Insulting'
–– From dumb insulter.
House Judiciary Committee Holds Attorney General William Barr in Contempt
–– Like most Americans.
Alex Trebek admits he was 'writhing in pain' between 'Jeopardy' tapings amid pancreatic cancer battle
–– What's TMI, Alex?
Charlie Munger: Democrats hate Trump 'so much that they're against him even when he's right'
–– Hate Munger.
Guns N' Roses is taking a Colorado brewery to court over Guns 'N' Rosé ale
–– And FTD over Axl Roses.
Jim Fowler, who hosted 'Wild Kingdom' series, is dead at 89
–– No evidence of Fowler play.
Sears has a new logo. It looks a whole lot like Airbnb's
–– Maybe they should rent space in empty stores to tourists.
Measles Outbreak: Opposition to Vaccine Extends Well Beyond Ultra-Orthodox Jews in N.Y.
–– Not only fanatics.
Why Wendy's brought back 50¢ Frosties
–– Diabetes rates flat.
The Next President Should Not Be a Man
–– Current one isn't.
'Only in the Panhandle': Trump chuckles when audience member suggests shooting migrants
–– Panderhandling to crowd.
Castro calls Trump a 'grade-A idiot' over immigration comment at rally
–– Huckabee Sanders: 'President is grade-A+.'
More than 1,000 guns seized from a home in upscale neighborhood of LA
–– ARM interest rate shot up.
Why is bubonic plague still a thing?
–– Medieval nostalgia?
Don McLean Calls UCLA 'Morons' After Rescinding of Lifetime Achievement Award
–– Left with American Pie on face.
Ex-Giuliani Assistant '100% Confident' Prosecutor Rudy Would've Indicted Trump
–– 'If he didn't pay up.'
The meaning behind the royal baby's name Archie Harrison
–– Family always called dad Jughead.
Laura Dern Embraces the Messiness of Human Life
–– More squeamish about amphibious kind.
Justice Brett Kavanaugh says judges 'owe our allegiance to the Constitution'
–– Laughing as Alito hands him beer bong.
Thanks to DNA sleuths, a Jane Doe killed 37 years ago might finally get a headstone with her name on it
–– Jane D'oh.
Why Mnuchin Doesn't Want You to See Trump's Tax Returns
–– He's Buried Treasure Secretary.
Pompeo: Melting sea ice presents 'new opportunities for trade'
–– In rafts, life jackets.
Pete Buttigieg: God doesn't belong to a political party, but 'I can't imagine' God would be a Republican
–– Almighty on back nine at Pebble Beach: 'Judge not!'
Georgia's governor signs a controversial abortion bill into law
–– Fetus and butthead.
Additional actors, filmmakers boycott Georgia over new abortion law
–– Georgia off my mind.
New NRA president says Georgia congresswoman was elected because she's 'a minority female'
–– Official 'a minatory female.'
Clearer skin, fewer vitamins: How a vegan diet can change your body
–– More sneers, fewer dates.
Why some health enthusiasts are drinking ginger
–– Good for what ales them?
Will Gene-Edited Food Be Government Regulated?
–– Just Frankenberry cereal.
This Is the Succulent for Your Zodiac Sign
–– You sap.
Michelin chef Magnus Nilsson closes Sweden restaurant to spend more time with familyMichelin chef Magnus Nilsson closes Sweden restaurant to spend more time with family
–– Escapes pressure cooker.
Paul Lo Duca: '57 Chevy helped Billy Wagner get umpire Joe West to expand strike zone
–– Didn't take balls.
Nurse denied marathon world record -- because she wasn't wearing a skirt
–– Wins Guinness Record for Tiniest TimesUp Flap Ever.
New York Times: Former Trump inauguration official says she was 'thrown under the bus'
–– 'And poor people ride in that. Gross.'
'Lady and the Tramp' Will Revamp Problematic Siamese Cat Song, Feature New Music From Janelle Monae
–– Disney will then have Lena Waithe colorize, redub of Song of the South.
Busy Philipps' E! talk show has been canceled
–– Idle chat.
Utah woman tried to put boyfriend into 'eternal sleep' by giving him drain cleaner, police say
–– Wanted to pipe down.
Sunscreen enters bloodstream after just one day of use, study says
–– Good news for flayed sun worshippers.
Someone left a coffee cup in a 'Game of Thrones' shot
–– Joe Snow.
Trump warns presidency is being stolen amid Mueller angst
–– Talk about petty larceny.
Trump: 'Best horse did NOT win the Kentucky Derby'
–– Too bad cheater didn't have Electoral College.
Manager Alex Cora Won't Attend White House Ceremony
–– Almost enough to make you tolerate Red Sox.
Melania Trump celebrates one year of 'Be Best'
–– Be bust.
What 'Good' Dads Get Away With
–– Off with their heads! Yes, ones down there.
Men Invented 'Likability.' Guess Who Benefits.
–– Feminists perfecting 'hatability.' Guess who suffers.
Trump Criticizes Social Media Companies After Facebook Bans Far-Right Figures
–– Jonesing for his Infowars.
Lily Collins Believes the Ghosts of Ted Bundy's Victims Visited Her While Preparing for Movie
–– And pleaded, 'Don't do it!'
The Sheer Number Of Crimes Ted Bundy Actually Committed Is WILD
–– It's scragadelic, baby!
Ted Bundy Kidnapped And Murdered His Last Victim In The Middle Of A School Day
–– Finally, he's getting do credit.
'Winnie the Pooh' Disney Voice Star Jim Cummings Accused of Rape, Animal Abuse
–– Pooh: "He was always like, 'How about a small smackerel of honey? Oh, bother!"
Teen Mom 2 Loses Major Advertisers After Jenelle Evans' Husband David Eason Allegedly Shoots Dog
–– Gains Kibbles 'n Bullets, Dog Ciao.
5 Guns That Might Be Better Than A Glock
–– Not for Glocksuckers.
Grey Worm Actor Was Yelling 'Mike Pence!' While Filming Battle of Winterfell
–– Name of White Worm.
Biden: Trump, Republicans allowing Jim Crow to return
–– As the Jim Crow flies.
Russian Embassy: Trump Initiated Putin Call, And It Was 90 Minutes, Not 60
–– Who's counting during phone sex?
Russia's Putin scores eight goals in all-star hockey game
–– Not merely stars, but great actors.
Sanders pushes back against Biden's claim he's the 'most progressive' candidate in the Democratic field
–– Produces tie-dye bandana to prove it.
Trump debuts new nickname for Biden: 'SleepyCreepy Joe'
–– From 'LazyCrazy Don.'
Nancy Pelosi fears Trump won't leave White House if he loses 2020 election by small margin
–– Might be lured out with trail of cheeseburgers.
Nancy Pelosi: 'Trump is goading us to impeach him'
–– Goad to it!
Cinco de Mayo isn't Mexican Independence Day. It's also not about mayonnaise
–– Unless you're really wasted and use as sunblock.
---
BARR BRAWL
Week of 05/03/19
Actual headlines from the internets. You Google 'em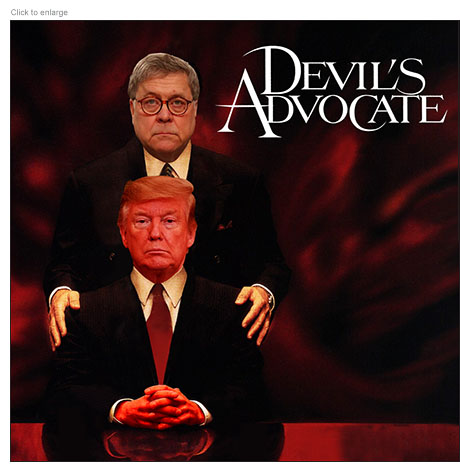 Mueller Objected to Barr's Description of Russia Investigation's Findings on Trump
–– Flunked Barr exam.
Why Baghdadi Risked a Video Appearance
–– So proud of ombré beard.
The House's 'chicken' hearing on the Mueller report was totally dumb
–– Plucky, though.
Nadler delivers ultimatum to Barr before holding AG in contempt
–– You don't have to wait for ultimatum.
Nancy Pelosi accuses Barr of lying to Congress: "That's a crime"
–– "Not that he'd know it."
Hillary Clinton blasts Lindsey Graham's opening statement at the Barr hearing: 'An absolute disgrace'
–– Kill o' Graham.
MSNBC Hosts Calls Lindsey Graham Trump's "Human Shield" During Barr Hearing
–– More "cod piece."
Barr Defends Handling of Mueller Report Against Withering Rebukes
–– Withering heights.
James Comey Explains Why William Barr and Others Let Trump 'Eat Their Souls'
–– Barr's tastes just like Double Quarter Pounder with Cheese.
Sen. Blackburn after Barr hearing: Democrats can't accept that Trump won and is serving well
–– As tool of Satan.
Roger Stone Judge Delays Ruling on Request to Unredact Mueller Report
–– Court needs to locate shit-load of Mr. Clean MagicEraser.
Trump, Putin discuss Mueller probe during call, White House says
–– Express regret they couldn't high-five through phone.
Trump Says He Discussed the 'Russian Hoax' in Phone Call With Putin
–– And 'Invasion of Crimea', 'Poisoning of Litvenenko', 'Pee pee Tape.'
Deputy Attorney General Rod Rosenstein resigns
–– Hands in yellow stripes.
Is Rod Rosenstein the hero of the Russia probe? Or the villain?
–– Or dupe?
Can Trump and Pelosi deliver something almost everyone wants and the US really needs?
–– Murder/suicide?
Trump says he leaned on God to survive Mueller probe
–– Sent Him threatening messages.
Kamala Harris responds to Trump calling her 'nasty'
–– By running off 2 million buttons with quote.
Trump calls report of FBI investigator meeting with campaign aide 'bigger than Watergate, but the reverse'
–– 'Like if Teddy Kennedy broke into Nixon's liquor cabinet.'
Trump staffers drank over $1,000 of liquor at Mar-a-Lago, and the White House picked up the tab
–– Will they pay to help us forget?
20 kg of meth accidentally shipped to elderly Australian couple
–– Last seen hoppin' like cranked roos.
Holy crap! Kentucky Derby winner's manure up for sale
–– Helps grow crapgrass.
Conway Basks in Trump Economy Data: 'It's (Still) the Economy, Stupid'
–– Apparently talking to self.
Kushner: 'Hands-on' Trump Helped Draft Middle East Peace Plan
–– 'Grabbed those Palestinian pussies.'
Trump Administration Moves To Roll Back Offshore Drilling Safety Regulations
–– Promise spills, thrills.
Trump announces 'conscience objection' rule for medical care is finalized
–– Pro-choice, for doctors only.
Laura Ingraham Calls Into Fox 'Hard News' Show, Bashes Her Colleague Chris Wallace
–– Wallace more semi-flaccid.
Kim Jong-nam: Vietnamese woman freed in murder case
–– Kimpossible!
'Poms' Star Jacki Weaver Responds to Anjelica Huston's 'Old-Lady Cheerleader Movie' Comments
–– Pop pom and circumstance.
Diane Keaton Says She's Been Single All Her Life Because She's An 'Oddball'
–– And has had more than the odd ball.
Debra Messing Denies Plastic Surgery as Fans Question Her New Look: 'Getting Tons of Facials'
–– In latest slang for whatever Hollywood dermatologists do with glands of endangered species, pumice, baby's blood.
Maine man used unsuspecting father as getaway driver for bank robbery, police say
–– Told him gunny sacks filled with lobsters.
Hillary Clinton: 'I'm living rent free inside of Donald Trump's brain'
–– Talk about doodley squat.
Trump Keeps Saying He 'Never Met' People He Clearly Knows. Here's Why
–– Hillary rearranging furniture in brain.
Babbel Pulls Ad From Tucker Carlson's Fox News Show Because It's 'So Repugnant'
–– Would like to see that translated into 50 languages.
Top executives at major opioid company found guilty of criminal racketeering
–– Will need something for their nerves.
Alexandria Ocasio-Cortez Becomes a Bona Fide Movie Star in Netflix's 'Knock Down the House'
–– A sort of Shrilly Temple.
Alexandria Ocasio-Cortez Shines Light On 'Sloppy' GOP Witnesses: 'It's Embarrassing'
–– Insists patriarchs tuck in shirts, straighten ties.
Ilhan Omar Blames U.S. Policy for Upheaval in Venezuela
–– Maduro's CIA asset?
Joe Biden, 76, says he has no plans to limit himself to one-term in the White House
–– Views as long-term care facility.
'View' hosts welcome Joe Biden with open arms, Meghan McCain brings him to tears
–– Open arms, protected scalps.
Joe and Jill Biden respond to women who say he made them uncomfortable
–– With warm flush.
Bernie Sanders draws sharp contrasts between himself and Joe Biden
–– Depends vs. Attends.
Biden Faces Conflict of Interest Questions That Are Being Promoted by Trump and Allies
–– And this 2,500-word NYT article.
O'Rourke signs 'No Fossil Fuel Money' pledge, returns donations
–– From Jurassic Park.
A looming problem has plagued Beyond Meat for years. Here's how the CEO says it plans to deal with demand as its rival Impossible Foods faces shortages.
–– Serve Nothing Burgers.
Sophie Turner Wore A Futuristic Spacesuit Before Marrying Joe Jonas
–– Every day?
Judge Overturns $128 Million 'Bones' Judgment in Huge Win for Fox
–– Broken 'Bones' cast.
Charlize Theron reveals she was hospitalized for 5 days because she 'laughed so hard' during 'Borat'
–– With busted gut?
Peter Mayhew, Chewbacca in 'Star Wars,' dies at 74
–– That's the way Wookie crumbles.
Kevin Costner's 'Let Him Go' Adds 'X-Men's' Booboo Stewart
–– Sounds like mistake.
Patricia Arquette Explores The 'Toxic Codependency' Of Munchausen By Proxy
–– Is she promoting Hulu series or doctoral thesis?
Man arrested for indecent images after turning his gravy-covered computer into Best Buy's Geek Squad
–– Spilled his 'gravy' all over it.
Visitor crosses barrier and falls 70 feet into the Kilauea volcano's crater
–– Pele well pleased.
'Scientology' cruise ship detained in St Lucia after discovery of measles
–– SSHole.
Family of Chinese student admitted to Stanford paid $6.5 million to Rick Singer, source says
–– IO-Yuan.
Tonnes of trash and human bodies recovered from Mount Everest
–– While practicing Olympics skeleton.
Woman Infected With Measles May Have Exposed 'Avengers: Endgame' Audience
–– In ultraslow version of Thanos plan.
Domino's employee assaults co-worker over 'Avengers: Endgame' spoiler, police say
–– Like Ironman's fatal attack on Thanos.
Girl trains pet bird to attack whoever she wants and isn't afraid to use her powers
–– Ask two blinded 'friends.'
How 'Boyz n the Hood' defined John Singleton's legacy
–– By being only decent film he made.
Stephen Moore expresses regret over 2016 comment about kicking the Obamas out of 'public housing'
–– DC scumlord.
Stephen Moore out of Fed contention
–– Fed to the wolves.
'Game of Thrones' looked really dark on Sunday, and we don't just mean the plot
–– Even dragons carrying flashlights.
'Game of Thrones' Cinematographer Defends Lighting Choices for Battle of Winterfell Episode
–– After emerging from mole hole.
A hospice patient's final request was to watch the Battle of Winterfell. The 'Game of Thrones' cast did her one better
–– Described scenes she couldn't see because they were too dark.
Incest in Game of Thrones - why Jon and Daenerys shouldn't have children
–– When they're coming into their own.
Ex-Dallas Cowboy Jeff Rohrer Lives With His Husband And Ex-Wife
–– Flanked by tight ends.
'Tuca & Bertie' Creator Wants Men to Hate-Watch Her New Netflix Animated Comedy
–– Can't they just hate-skip?
Soulja Boy sentenced to 240 days in jail for violating his probation
–– Brig deal.
Mayor of Baltimore resigns amid book scandal
–– Turns page.
PepsiCo sues Indian farmers over 'exclusive' potatoes
–– Chips are down.
Jamie Dimon: The US economy has been 'fundamentally anti-poor'
–– 'And ain't it beautiful?'
Chase told customers to stop splurging on coffee and cabs. You can imagine how that went
–– 'Or on water and cardboard shoes for you poor ones. Mwahahaha.'
Whistleblowers: Company at heart of 97,000% drug price hike bribed doctors to boost sales
–– Had to do something with obscene profits.
Woodstock 50 Canceled
–– Boomer bust.
Oliver North's Plan to Oust Wayne LaPierre at NRA Backfires, Now North Is Out as President
–– Face comically blackened by gunpowder.
Trump: 'My sick idea' to send migrants to sanctuary cities
–– Playing to debase.
Pompeo says Russia will still be meddling 'in 2050'
–– 'If we're lucky.'
Alphabet's first-quarter sales fall short of expectations
–– Simple as ABC.
Mark Zuckerberg Shows Off Invention He Created to Help His Wife Sleep Better: 'Being a Mom Is Hard'
–– Dubbed Fentanylizer.
Dead people 'will outnumber the living on Facebook', and it could be a problem
–– Ask Mark Zombieberg.
Maureen McCormick is not happy with anti-vaxers using 'Brady Bunch' clip for their cause
–– For their measley cause.
Mississippi state flag ordered out of New Jersey park overlooking Statue of Liberty
–– Won't Miss.
Harness-wearing whale was 'trained by Russian military,' researchers say
–– Ushankas dead giveaway.
Profitable Giants Like Amazon Pay $0 in Corporate Taxes. Some Voters Are Sick of It.
–– Not ones on their boards.
Trump: Jussie Smollett Case a 'Disgrace to Our Nation'
–– 'Sort of the me of dismissals.'
Look: New York Jets Joke About Signing Game of Thrones' Arya Stark as Free Agent
–– Plan to provide linemen with Valyrian blades.
New York Times says it is 'deeply sorry' for running anti-Semitic cartoon
–– In a pig's oy.
Why do so many Egyptian statues have broken noses?
–– Anti-Semitic cartoons.
Former Senator Richard Lugar dies
–– Lugar shot.
'This Is Spinal Tap' Band Reunites At TFF For Performance, Joined By Elvis Costello
–– This is slipped disc.
Olivia Wilde: 'You Have to Look Beyond Resume' to Make Casts More Diverse
–– 'And, sometimes, ability.'
Deripaska Didn't Receive Polling Data or Briefings: Spokeswoman
–– Sasha Huckersky Sandersov.
Arnold Schwarzenegger Celebrates Son Joseph Baena's College Graduation: 'I'm So Proud of You'
–– Praises self/maid man.
U.S. envoy signed North Korea document to pay for Warmbier's care - Bolton
–– IO-Un.
Former US-North Korea envoy says Trump approved plan to pay $2 million to free American student
–– Used to promising payments he'll never make.
Former U.S. deputy attorney general: If Trump was not president, he would be indicted
–– Rowdy Yates.
They wanted to explore a cave in Virginia. Now they're trapped
–– And have more time to poke around.