POWER DOWN
Week of 01/11/19
Actual headlines from the internets. You Google 'em.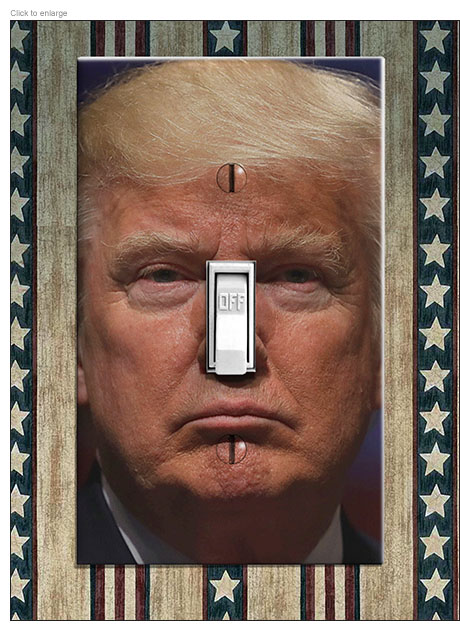 What Trump Could Learn From His Shutdown
–– In latest slang for 'won't.'
Trump calls border wall a 'medieval solution' that works
–– Serf City, USA.
Trump brought candy for congressional leaders, GOP House leader says
–– All-day suckers.
Trump walks out of shutdown meeting, calling talks 'total waste of time'
–– Let's door hit him on way out.
Trump loves to say 'bye-bye'
–– We would love to say 'bye-bye'.
Washington's Strong Economy, Financed by Taxpayers, Takes a Hit From Shutdown
–– Malled.
Shutdown stops federal government from paying its $5 million water bill to Washington DC
–– And everybody really needs shower during this.
President Trump cancels Davos trip because of government shutdown
–– Can still be butt of all jokes there.
As government shutdown drags on, where is Senator McConnell?
–– Withdrawn into shell.
Cher asks Nancy Pelosi to end government shutdown before Trump: 'PPL WILL STARVE'
–– Because she's PPL PRSN.
Some national park Joshua trees have been cut down during the government shutdown
–– Rangers need heat.
Twitter Goes Into A Frenzy After Donald Trump Names His Border Wall "Peaches"
–– "Peaches" and creamed.
Trump claims 'obviously' Mexico isn't going to write a check for a border wall
–– 'Like what pathetic loser would suggest that?'
Trump: I have 'absolute right' to declare emergency over border
–– Like Mad King George's to name dog Chief Regent.
Trump, Heading to the Border, Suggests He Will Declare an Emergency to Fund the Wall
–– Entire Administration going South.
1950s Western Predicted a Border Wall From a Fictional Con Man Named Trump
–– Appropriate as we're living in Twilight Zone.
White House asks Congress for $5.7 billion for 'steel barrier'
–– World's biggest chastity belt.
White House Considers Using Storm Aid Funds as a Way to Pay for the Border Wall
–– While insisting barrier will keep flood waters in Mexico.
Fox News Leads Coverage of Trump's Border Wall Speech With 8.2 Million Viewers
–– All rubbernecking car wreck.
Trump Jr. compares border wall to zoo fences
–– He, family should be in cage in Brownsville, TX.
Ana Navarro Blasts 'Entitled Little Brat' Donald Trump Jr.
–– Entitled to jail time.
Taxpayers will pay for wall, White House aide acknowledges
–– Why not just levy special tax on Mexican immigrants in US?
Rahm Emanuel: Trump's 'base will follow him... over a cliff' even if no border wall
–– Need wall at cliff.
Trump says China is 'more honorable than Chuck and Nancy'
–– And Number One Son.
Huawei executive arrested in Poland on spying charges
–– Fear he stole dumbphone design.
The 'Stable Genius' Just Rage-Tweeted a Misspelled Threat to Cut Funds for Fighting 'Forrest Fires'
–– EPA agents raid Gump barbecue.
Trump threatens to cut FEMA funding for California wildfires
–– Will instead extend gasoline credits to pyros.
Ivanka Trump shares a sweet message for husband Jared Kushner's birthday
–– Roses are red, violets are blue, Daddy's a thug, and so are you.
Former Trump Organization VP Spills Beans On Donald Trump's Awful Dealmaking Skills
–– Chickpees.
Nobody Is Moving Our Cheese: American Surplus Reaches Record High
–– System plugged up.
Should Hyping Edible Bugs Focus On The Experience Instead Of The Environment?
–– Or consumer's self-loathing?
Child porn leader stabbed to death during prison attack
–– Usually liked little pricks.
Piers Morgan shares hospital bed photo: "Bad news, I'm not dying"
–– Piers to be.
It's Final: Megyn Kelly and NBC Part Ways. And She Will Be Paid in Full.
–– Here's the chance for you and your family to get away, Megs. Far away for a long, long time. Far. Long.
Gwyneth Paltrow's ex-husband came along on her honeymoon
–– It got kinda Goopy.
2 Waffle House employees fired after filming themselves putting food on sleeping customer
–– Real eggheads.
Former LSU OL Matt Branch Lost Leg in Hunting Accident; Friend Says Dog Shot Him
–– Georgia Bulldog?
Wealth Is 'in the Wrong Hands,' Mayor Says, Pledging to Redistribute It
–– To other billionaire developers' mitts.
After the 'Surviving R. Kelly' Documentary, #MeToo Has Finally Returned to Black Girls
–– Ain't they lucky?
DJ admits to cold case murder after being linked through novel DNA technique, apologizes to victim's family in court
–– Dedicates Killing You Softly to her memory.
Texas Republicans defend county GOP leader as group pushes to oust him because he is Muslim
–– Givin' him the ol' Allah-oop.
Fiji Water girl literally steals Golden Globes spotlight: 'You've got to angle'
–– Refuses to return it.
Jamie Lee Curtis still looks miffed... days after slamming Fiji Water Girl for commercializing Golden Globes red carpet
–– Bottled-up rage.
NASA's asteroid probe snaps incredible shot of Earth from 71 million miles away
–– Photobombed by Fiji Water Girl.
A second mysterious repeating fast radio burst has been detected in space
–– ET cover of Welcome to the Jungle suspected.
Rick Santorum Praised Donald Trump's 'Softer Side' And Twitter Wasn't Having It
–– Top starting with head.
I'm Sorry My Nudes Make You Thirsty, But This Drink Is All Mine
–– For Maalox.
Kit Harington Says Final 'Game of Thrones' Season Left Cast 'F**king Sick' of It
–– Like us with hype for final season?
Jeff and MacKenzie Bezos Are Divorcing, Will Remain 'Cherished Friends'
–– In latest slangs for unwilling business partners.
Why the National Enquirer says it decided to investigate Jeff Bezos
–– Asked What Would Donald Do?
All the Hot Goss From the Reporting on the Bezos Divorce
–– Goss leak.
Paul Manafort's lawyers tried to redact a court filing but it didn't work. Oops.
–– You'd think they'd carry plenty of white-out.
Kellyanne Conway embarrasses CNN's Jim Acosta: 'You're such a smarta--'
–– Spoken like dumbc---.
Jenna Jameson leaves Twitter after anti-Semitic comments: 'I am being attacked for my faith'
–– Relax, boobalah.
Influencer says she was on a 'tapas and cocaine' diet to stay thin — here's why that's not healthy
–– Here, in headline.
Attorney General pick Barr expresses confidence in Mueller
–– Passes Barr exam?
Paris' first naked restaurant to close
–– Wee-wee non non.
Kevin Hart on apology: I'm done with it
–– Hart's not in it.
Sam Darnold "super pumped" about Adam Gase's arrival
–– All that pumping creates delay of game.
A woman is fined after bragging about poaching a deer to a game warden on a dating app
–– Doe!
Watch Warriors' Klay Thompson Drop 43 Points Despite Taking Only 4 Dribbles
–– Wore bib.
Heathrow Airport halts departures after drone sighting
–– Boris Johnson in lounge.
Lemon: This is Trump's 'dirty little secret'
–– How about all big filthy ones?
A man was found dead at Democratic donor Edward Buck's home. It's not the first time.
–– 'Bucking' trend.
AI technology can identify genetic diseases by looking at your face, study says
–– Which makes it sick.
Meteorologist fired after viewers claim he uttered racial slur on air
–– Experienced cold affront.
Al Roker defends the meteorologist who was fired for a racist slur
–– Warming trend in his neck of woods.
Activist wants Dollar Tree to sell stuff for more than $1
–– Change name to Buck and Change Wood.
Kendall Jenner fans feel punked
–– Now, now, you're just brainless losers.
Post Malone Asks Fans to Help Him Stay "Mentally Stable"
–– Too late.
King of Malaysia abdicates amid rumours of marriage to ex-Russian beauty queen
–– Maylaid.
Pete Davidson Is All Smiles at Basketball Game With Machine Gun Kelly
–– As grotesque media suicide watch continues.
Editorial Board Of Vermont Paper Begs Bernie Sanders Not To Run In 2020
–– Writing for us all.
Jada Pinkett Smith on R. Kelly's Music Spiking Since Airing of Docuseries: 'What Am I Missing?'
–– Dignity, smarts.
Brian Garfield, Prolific Author of 'Death Wish,' Dies at 79
–– Got his.
Trump claims Syria withdrawal plan hasn't changed
–– Because it isn't plan.
Bolton attempts to clarify US' next step in Syria, troops could stay for a while: report
–– Asks Siri, "Uh, what next?"
Fox News Host Brian Kilmeade Calls Christian Bale's Golden Globes Speech a "Real Insult"
–– Mission accomplished.
This Pic of Lady Gaga Lounging Topless in Bed With Cereal and Her Golden Globe Is a Full Mood
–– As old people pretending to be young people might say.
Sacha Baron Cohen Brings Wife Isla Fisher as Golden Globes Date After Asking Sarah Palin
–– And Track had date with Department of Corrections.
Jim Carrey Can't Stop Gushing Over New Girlfriend Ginger Gonzaga on 2019 Golden Globes Red Carpet (Exclusive)
–– Insists she'll make it to Final Four.
Bryan Singer Makes Himself a Part of Bohemian Rhapsody's Golden Globes Win on Instagram
–– Fired up.
Ryan Seacrest slammed for wearing Time's Up bracelet at the Golden Globes
–– At least it wasn't cock ring.
Melissa McCarthy Gave Out 30 Ham And Cheese Sandwiches At The 2019 Golden Globes
–– Of 40 she brought.
Alfonso Cuarón defends 'Roma,' Netflix after film's success is questioned at the Golden Globes
–– Foul à Roma?
Asteroid that killed the dinosaurs caused a mile-high tsunami around the Earth
–– Video at 11.
Kevin Spacey appears at courthouse to face sex assault charges
–– For groping under wood.
Swiping chicken tenders left on Alabama highway is a crime, officials say
–– Especially if still in bird.
Donald Trump Called a 'Motherf***er' for Second Time in 3 Days, This Time by Canada's First Woman Prime Minister
–– Do they know something about Trump family we don't?
The greatest trick Donald Trump ever pulled
–– Let's see, what hasn't he pulled out of butt?
Alexandria Ocasio-Cortez Has An Epic 4-Word Clapback To Joe Lieberman's Slam
–– "So is Joe Mama."
Ocasio-Cortez: 'No question' Trump is a racist
–– His black lies matter.
'Betrayed' Factory Boss Turns On Trump, Says Plant May Move To Mexico
–– Will return MAGA Forever friendship ring.
More coal-fired power plants have closed under Trump than in Obama's first term
–– Blown out their ash.
'The Rider' Wins Best Picture from National Society of Film Critics Awards
–– 4 people who saw it 'ecstatic.'
Japan sushi tycoon pays record tuna price
–– To tuna $3 mil.
Ireland criminalizes emotional abuse with new domestic violence law
–– Names whiskey as accomplice.
---
SHIT AND NANCY
Week of 01/04/19
Actual headlines from the internets. You Google 'em.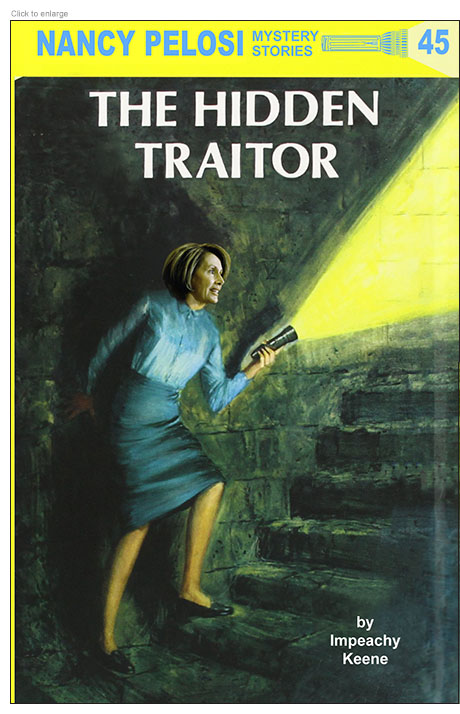 Nancy Pelosi Elected Speaker Of The House
–– More Blabber, but still.
Nancy Pelosi: "We're not doing a wall"
– Trump would, with hole in it.
Pelosi will 'cut your head off and you won't even know you're bleeding,' daughter says
–– Apparently studied with Saudis.
Trump confirms he said he could keep shutdown going for months or years
–– May never get it up again.
Trump told lawmakers he prefers word 'strike' to government shutdown, sources say
–– He's like Samuel Gompers of White Supremacists.
Mulvaney eggs Trump on in shutdown fight
–– Mostly on face.
Government Shutdown Leaves Workers Reeling: 'We Seem to Be Pawns'
–– Of mad King.
Congressman proposes eliminating Electoral College, preventing presidents from pardoning themselves
–– Even when entire presidency has been metaphorical belch?
Dem Rep. Rashida Tlaib faces backlash for profanity-laced Trump impeachment vow
–– No veiled threats from her.
What I Learn From Watching Others Watch Movies on the Plane
–– I'm a creep.
Big Bang Theory's Jim Parsons Says It Was the 'Right Time' to End the Show: 'We Chewed All the Meat Off This Bone'
–– Gesturing below own belt.
Ellen DeGeneres Faces Backlash After Defending Kevin Hart During Interview
–– Gay lady down.
Woodstock 50th Anniversary Festival Planned at Bethel Woods Site
–– For rockingest Depends ad ever.
Former 'American Idol' host defends driving Uber
–– Over Ryan Seacrest.
The Queen Reportedly "Reached Her Limit" With the Drama Between Kate Middleton and Meghan Markle
–– Six of Guinness.
US national debt reaches a new high under Trump
–– America's debt beat dad.
NBC News Veteran Leaves Network, Says Media Have Become 'Prisoners of Donald Trump'
–– In SuperNewsmax facilty.
Prosecutors Drop Domestic Violence Case Against Reuben Foster
–– Muff perfectly-thrown bomb.
"I Was Petrified of the Monster": Johnny Depp, Amber Heard Legal Documents Shed New Light on Dual Abuse Accounts
–– While admiring commitment to role.
Nat Geo Pulls Neil deGrasse Tyson's 'StarTalk' Amid Misconduct Allegations
–– Acted like Big Dicker.
Queen Guitarist (And Astrophysicist) Brian May On His Work With NASA and His New Song About Ultima Thule
–– Wee Wittle Rock You.
Kanye West declares he will perform in MAGA hat 'from now on': 'Just so in 2019 you know where I stand'
–– In metaphorical pool of own urine.
Apple Plunged 10% in Hours and the Firm Still Doesn't Know the Root Issue
–– Rotten Apples?
Here's Tim Cook's plan to get more people to upgrade their iPhones and turn Apple revenue around
–– Electric shocks sent through Apple Watch.
White House Predicts 'Heck of a Lot' of Companies Sharing Apple Pain
–– Rest loving it.
Trump Says He 'Would Have Been a Good General' While Feuding With Generals
–– Like Generals Confusion, Anesthesia.
Trump gives new Pentagon chief a taste of his world view
–– Tastes like chicken.
CNN's Brian Stelter ponders censoring Trump with a '10 minute delay' during live events
–– Needs 10 hour minimum.
Ocasio-Cortez suggests 70% tax for wealthy to fund climate change plan
–– Add knee to groin and it's a deal.
Ocasio-Cortez Slams McCaskill After She Calls Her a "Thing," "Shiny New Object"
–– She's not that bright.
A video of Ocasio-Cortez dancing in college leaked to smear her. Instead, the Internet finds it adorable.
–– Especially Elaine Benes.
Rep. Alexandria Ocasio-Cortez Is Booed in Congress and Trolled for College Dance Video
–– Must be doing something right.
Ilhan Omar Is Poised to Be the First Muslim Woman to Wear a Hijab in Congress Tomorrow
–– Should keep her day hijab.
Special-ed teacher arrested for throwing New Year's Eve party and letting kids drink alcohol and smoke pot
–– Isn't that special?
Woman Discovers Drunk Guy Sleeping With Her 150-Pound Mastiff
–– He likes it doggy-style.
McConnell asks new Democratic House if it will choose "policymaking or presidential harassment"
–– Be greedy, choose both!
Man attacks McDonald's employee over a straw
–– That sucks.
Trump's Freewheeling and Fact-Free Cabinet Meeting
–– A double album.
New Year, New Globes: "Co-Dependent" Hosts Sandra Oh and Andy Samberg Preview a "Crazy-Pants" Show
–– Should get crazy pans.
Trump describes his Christmas: "I was all by myself in the White House"
–– Groping stockings hung by chimney with great care.
How 'Sorry to Bother You' Shaped a New Film Genre
–– Wacksploitation.
Netflix Warns Against #BirdBoxChallenge
–– #BirdBrainChallenge.
Are Animals Getting Better at Acting?
–– Or are they all just CG Julliard graduates?
How Chadwick Boseman Embodies Black Male Dignity
–– According to publicist.
Netflix Pulls Episode of Hasan Minhaj's Comedy Show After Legal Threat From Saudi Arabia
–– Nixy Minhaj.
Tiffany Haddish Bombs on New Year's Eve, Fans Walk Out of Comedy Show
–– Tiffany baddish.
PETA responds to Tiffany Haddish's vow to wear fur till 'police stop killing black people'
–– Or she starts slaying audiences.
House Republicans quietly end probe into allegations of FBI bias in Clinton, Trump investigations
–– Weep silently they couldn't smear her further.
Australian man screaming at spider 'why don't you die?' triggers full police response
–– While strangling with dental floss.
Trump's 'CALM DOWN AND ENJOY THE RIDE' Message Triggers Twitter Freak-Out
–– Same message NASA gave Challenger.
McConnell insists he has "no particular role" in ending standoff
–– Smells burnt toast, asks 'where am I?'
GOP senator floats three options for ending shutdown
–– See 'em before we flush.
Smithsonian museums, National Zoo close doors due to shutdown
–– Animals: 'Whatta relief!'
Joshua Tree National Park to close campgrounds amid shutdown due to overflowing toilets
–– Yucka!
How Iran made ice cream 2,000 years ago
–– No-fatwa.
Cleveland Clinic fires resident after online threat to give Jews 'wrong meds' surfaces
–– Semite-lethal.
Bob Einstein, a.k.a. Super Dave Osborne and Larry David Pal, Dies at 76
–– Was Pal Indian character?
WWE Hall of Famer 'Mean' Gene Okerlund Dies at Age 76
–– Down for count.
Daryl Dragon, of the Captain and Tennille Pop Duo, Dies at 76
–– Cap's off.
Don Lusk, Animator on 'Pinocchio,' 'Fantasia' and Charlie Brown Specials, Dies at 105
–– Out of Lusk.
Harry Reid: Trump is 'amoral' and 'the worst president we've ever had'
–– Reid, you loud and clear.
Romney says Trump hasn't 'risen to the mantle' of presidency in Washington Post op-ed
–– Aced 'mental.'
'A Pumping Conspiracy': Why Workers Smuggled Breast Pumps Into Prison
–– Can be used for huffing?
Box Office: Clint Eastwood's 'The Mule' Packs Powerful Holiday Punch
–– Not kick?
Wielding Rocks and Knives, Arizonans Attack Self-Driving Cars
–– Automanic transmission.
Is There Any Humane Way to Kill a Mouse?
–– Asks Mickey.
US military tweets, deletes New Year's Eve message about dropping bombs
–– Dropping balls.
New Year's revelers in Times Square should pack a poncho
–– Christina Aguilera sprays as she sings.
The Nude Manicure Is This Wedding Season's Most Unexpected Beauty Staple
–– Sensual nail-biting extra.
China's Xi pledges to continue reforms, open markets
–– Hack enemies, steal secrets, destroy press, jail critics.
Kevin Spacey Photographed Smiling, Wearing 'Retired Since 2017' Hat After Sexual Assault Charge
–– And 'Perv Since 1986' T-Shirt.
North Korea's 'Hotel of Doom,' world's tallest empty hotel, lights up with state propaganda
–– Trump Organization negotiating for naming rights.
Kamala Harris, Elizabeth Warren and Other Democrats Shift Into High Gear for 2020
–– First.
Trump Rags On Elizabeth Warren's Native American Heritage In Wordless Tweet
–– Like %100 Naive American.
Elizabeth Warren drinking a beer on Instagram Live gets mixed reactions
–– Worried supporters fix selves Boilermakers.
Elizabeth Warren's "Likability" Is Already the Dumbest Debate of 2020
–– In incredibly stiff competition.
'That's a Bunch of Bulls***' Lindsey Graham Explodes on CNN Anchor
–– Left 'Graham cracker' on chair.
A new Associated Press poll shows that President Trump has a high job approval rating among veterans
–– With CTE.
Tomi Lahren: "Left hates that our troops love Trump"
–– Prefer non-morons protect country.
Saddam Hussein's daughter publishes last message before his death
–– "Gak!"from gallows.
To understand culture in 2018, you must understand Ariana Grande and Pete Davidson
–– Lede from Western Civilization's obit.
Comcast Voice-Remote Rejects "Dick Van Dyke" Search: "I Cannot Handle That Type of Language"
–– Surprisingly did search for Schlong ibn Muffdiver.
Scarlett Johansson says trying to stop people making deepfake porn videos of her is a 'lost cause'
–– Blown effort.
Sara Foster Can't Stop Roasting Bikini-Clad "Mom" Katharine McPhee
–– She's already pretty hot.
Trump's own pick for attorney general once doubted need for border barrier
–– So he's not completely insane, big deal.
'Hold fast': Defense Secretary Jim Mattis departs with a new message, but no fanfare
–– 'When feds come to take you away.'
Trump says he 'essentially' fired Mattis (who actually resigned in protest)
–– With 23 months straight heckling.
Iran's Revolutionary Guards plan to upgrade speed boats with stealth technology
–– With extra-quiet oars.
Retired Gen. David Petraeus Says He Wouldn't Serve in the Trump Administration
–– 'My name's not Betraeus.'
Pete Davidson claims Louis C.K. tried to get him fired from 'SNL' for smoking pot
–– In blunt remarks.
C.K. Stirs Outrage With Jokes About Parkland Shooting Survivors, Gender Identity Issues
–– With personal 'swizzle stick'.
Rob Schneider Defends Louis C.K, Kevin Hart: "Jokes Are Words You F---ing Moron C---s"
–– "I hear."
Kelly, on His Way Out, Says Administration Long Ago Abandoned Idea of Concrete Wall
–– Except certain cemental case.
Trump points to 'wall' built around Obama's DC home during fight for border wall funding
–– And brick in own head.
Man marries computer-generated hologram
––– Yes, in Japan, duh.
Sinaloa Cartel hands out Christmas presents to local villagers
–– Snow for everybody.
Michael Palin Becomes First Monty Python to Receive Knighthood
–– Got down on Ni.
One day before New Year's Eve, Utah will implement the strictest DUI law in the country
–– Adopting Missionary position.
Social Worker Led Frugal Life To Leave Nearly $11 Million To Children's Charities
–– Trump: 'America needs more losers like this.'
Trump blames child border deaths on Democrats
–– Deluding refugees America's still land of freedom.