Booking the Cooks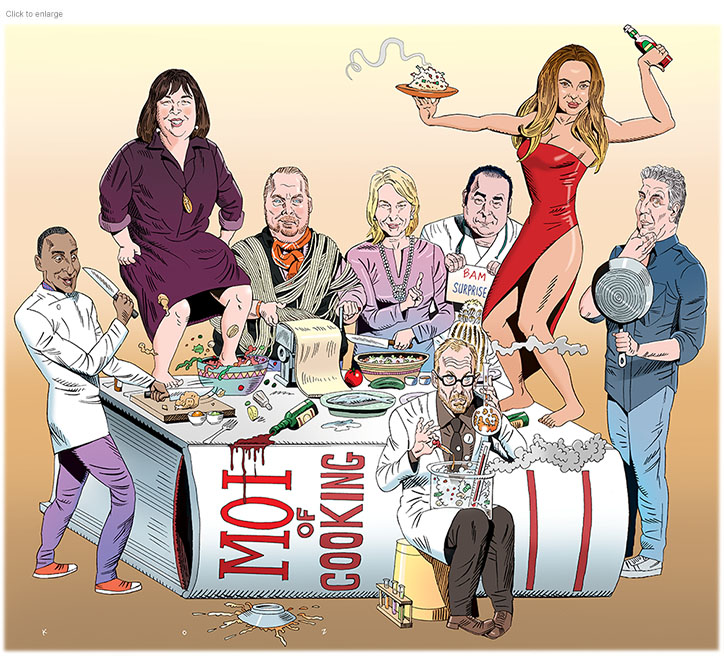 E. Basil St. Blaise, our Escoffier of critically seared pans, sampled several recent celebrity cookbooks to deliver the following distasteful menu. The sheer glut of these volumes makes one wonder how many chefs' d'oeuvres does the home cook really need? How many of these weighty tomes with their food-porn spreads and over-seasoned prose can a kitchen cupboard even bear?
And in the Age of Trump, who wants fancy recipes and elaborate preparations when you feel the desperate urge to eat your stress? Only the fastest, greasiest, cheesiest, sloppiest comfort food will do. Farm to table? More like microwave to mush.
Appetites: A Cookbook by Anthony Bourdain –– Pots unknown.
Cooking for Jeffrey: A Barefoot Contessa Cookbook by Ina Garten –– Ina Garten de veto.
Alton Brown: EveryDayCook by Alton Brown –– Hash Brownie.
Meathead: The Science of Great Barbecue and Grilling by Meathead Goldwyn –– Grate expectations.
Mario Batali--Big American Cookbook: 250 Favorite Recipes from Across the USA by Mario Batali –– Batali wacker.
The Red Rooster Cookbook: The Story of Food and Hustle in Harlem by Marcus Samuelsson –– When the cock croaks.
Damn Delicious: 100 Super Easy, Super Fast Recipes by Chungah Rhee –– Rheegurgitation.
Cravings: Recipes for All the Food You Want to Eat by Chrissy Teigen –– Chrissy hind.
The Seasoned Life: Food, Family, Faith, and the Joy of Eating Well by Ayesha Curry –– Dim Curry.
Essential Emeril: Favorite Recipes and Hard-Won Wisdom from My Life in the Kitchen by Emeril LaGasse –– Emeril shitty.
Martha Stewart's Appetizers: 200 Recipes for Dips, Spreads, Snacks, Small Plates, and Other Delicious Hors d'Oeuvres, Plus 30 Cocktails by Martha Stewart –– Non starters.
Jacques Pépin Heart & Soul in the Kitchen by Jacques Pépin –– Pépin seared.
James Beard's All-American Eats: Recipes and Stories from Our Best-Loved Local Restaurants by The James Beard Foundation –– Stir crazy.
02/01/17