Utterly Predictable

Illustrated by Tom Hachtman
The little-known Bureau of Prevision, a division of the State Department's Office of Budget and Planning is tasked with foretelling events in the United States. In the course of identifying major geo-political trends the 'crystal ballers' at Previz end up foreseeing a wide range of events in all aspects of American Life.
Director Sybil Merwin, nicknamed the Oracle of Philadelphia, has held the post since '89 (she was appointed by President Benjamin Harrison), and she still takes pride in her department's work. "I see our mission as being above politics, we merely part the mists of time, peer deeply, moan, and discern the shape of things to come no matter the consequences. Look, it doesn't matter if the entrails we spill and inspect come from an elephant or a donkey. 'Que sera, que sera,' as they say. Though, actually, the future is ours to see."
Here are the Top 10 predictions from their 2019 Seer's Catalogue. Reports that the Trump Administration redacted all mentions of environmental catastrophe, economic collapse, and civil war have not been confirmed.
1. Foreign Affairs: Kinda Saudi Investigation
At the request of the White House, Saudi Crown Prince bin Salman will conduct a 'definitive' investigation into the disappeance of dissident journalist Jamal Khashoggi. Agents will not merely comb the premises of the Saudi Embassy in Istanbul, where the professional bad-mouther was purported to have visited (says the Turks!), but they will also poke around the homes and offices of foreign media outlets in Riyadh and the capitals of Arab allies.
They will, incredibly, find Khashoggi's left ear at NBC News in Dubai, the second knuckle of his right index finger at the New York Times Bureau in Cairo, and his sacrum at the apartment of the Washington Post's correspondent in Bahrain. Shockingly, the DNA of CNN newsman Jim Acosta will be found on all of the recovered body parts. Arrests will ensue.

2. Business: Plugging Away
President Trump will greatly expand the merchandising arm of the Executive Branch and launch an online co-venture between the Trump Organization and the White House. The e-commerce site will be spearheaded by the narrow-skulled Eric Trump and be called prezents.gov. The other white Trump says the site will offer a "fun and unexpected selection of unique collectionables for the White House nerd in all of us. But no hunting stuff, even though me and Donny argued for it. And no, we won't accept Bitcoin. But you'll still totally love it."
Featured items in 2019 will include:
1) Navy-blue Donald J. Trump cashmere Snuggie with detachable, over-sized red tie
2) Deluxe Pima Peepee Sheets Bed Set
3) Rocket Man Personal Vibrator
4) MAGA Hat with Plastic Turd on Brim (autographed)
5) Giant Red 'Nuclear Button' for Your Desk
6) 'A Very Stable Genius' novelty socks
7) Inflatable 'I Heart Trump' do-it-yourself stent
8) Tiny Plastic Doll Hands with 3 oz. tube of baby oil
9) Germaphobe Joy Buzzer with Fun Mini Taser
10) 'The Base' adult coloring book
11) Poseable 'Trump Acting Like Typical President' Action Figure
12) The anal plug pictured below
3. Transportation: Branson's MO
Virgin Galactic will send customers who have paid up to $250,000 into space. It has now been confirmed that the substellar tourists traveling in state-of-the-art rockets, will themselves be fueled by some absolutely mind-bending hash Chairman Richard Branson copped from Rolling Stones' guitarist Keith Richards while on vacation in the British Virgin Islands. The hallucinogen will allow them to imagine that they are aboard the Millenium Falcon approaching Tatooine at 0.5 past light speed rather than orbiting the earth like John Glenn did in 1962.
Elon Musk's Los Angeles Loop Tunnel which purports to propel drivers at 150 miles per hour will employ comparable psychotropics to convince commuters they are on the Indianapolis Motor Speedway rather than putting along a claustrophobic one-mile HOV lane.

4. Sports: Taking a Knee
President Trump will escalate his war against unpatriotic NFL players by appearing at the half-time show at Super Bowl LIII in Atlanta, Georgia. He will be escorted by the Cleveland Browns canine mascot Chomps and the US Marine Corps Marching Band playing Elton John's The Bitch is Back.
At midfield, the band will switch to the National Anthem, and the 6'1" Labrador will attempt to take a knee. The Reprimander-in-Chief will then pretend to engage Chomps in an argument over his lack of respect for the American way of life, before bodyslamming the 'dog' to the turf as though he were Vince McMahon of the WWE. He will then partially shave the mascot's head before directing security to escort the beaten beast off the field.
Trump will then bellow to the crowd "Get that son of a bitch off the field right now," initiating a call and response with the appreciative throng, alternating "son of a bitch" and "off the field." After a final, triumphant "You're fired!", the President will strut to the sideline to a thunderous roar.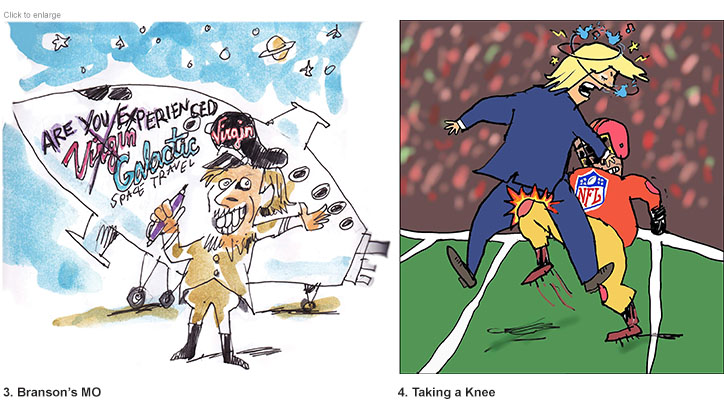 5. Politics: Maalox Mystery Tour
Bernie Sanders will inaugurate his 2020 Presidential campaign with a 1960s-style VW Microbus tour through all U.S. states that have rest stops situated no more than 90-minutes apart, and offer Early Bird Specials. Inspired by Ken Kesey's Merry Pranksters, the near-octogenarian, will enlist surviving Hippie icons like Cheech and Chong, Joan Baez, Janis Ian, Peter, Paul and various Fugs to barnstorm on his behalf. The vehicle will run on CBD, creating fumes which will mellow out rally-goers without that harsh reality check the Bern, Baby, Bern crowd does not dig.
Sanders will express confidence that it is best to confront the age question head-on like a drunk in an SUV, and that his appeal to simpler, higher times will resonate with voters of all ages. And he'll insist he's unconcerned that no one on board will drive at night.

6. Entertainment: Stormy und Drang
Adult star Stormy Daniels will expand her porn empire to include a dirty magazine entitled Potus which will feature photo spreads of her engaging in naughty acts with Donald J. Trump impersonators. This will inspire a series of X-rated videos with titles like Make America Grind Again, Takin' It in the Trump, Eatin' His Magic Mushroom, Short Don Silver, Stormy Wetter, Saturday Night Covfefe, Boobs on Boob Action, and Hole to the Chief.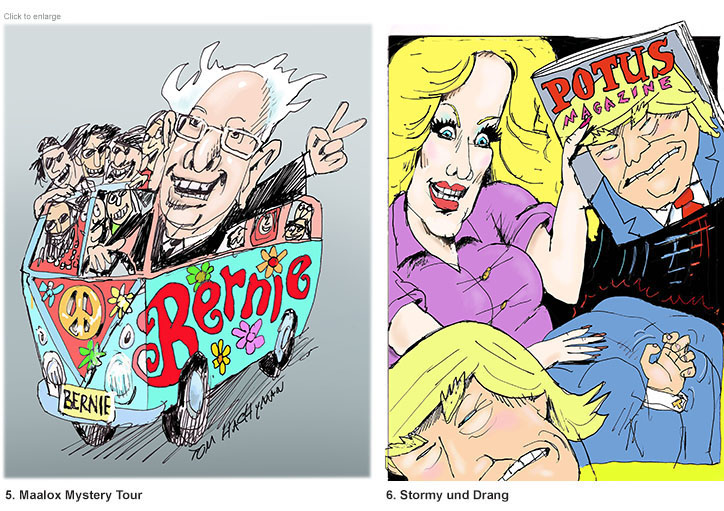 7. Law: Potty of Lincoln
It will not be the precarious health of progressive judicial icon Ruth Bader Ginsburg that will present President Trump with yet another opportunity to name a Supreme Court Justice, but, instead, the surprise resignation of fellow liberal Steven Breyer. He will be forced out by female Democratic legislators over his inappropriate remarks concerning Lady Justice, and replaced with "Squee", the high school drinking buddy Judge Kavanaugh referenced in his confirmation hearings.
X-ray imaging will determine that the granular remains of Republican President Abraham Lincoln will have turned over in his tomb in Springfield, IL.

8. Medicine: Steve Maddened
The sample of a grotesque cutaneous anomaly from the face of former presidential advisor Steve Bannon will lead to a stunning series of medical breakthroughs. Once the throbbing, dermal mass is subdued and subjected to a wide battery of tests at the CDC, it will be determined that the alt-right avatar is patient zero for 21st-century outbreaks of flesh-eating bacteria, ebola, swine flu, bubonic plague, halitosis, greyscale, DTs and bad karma.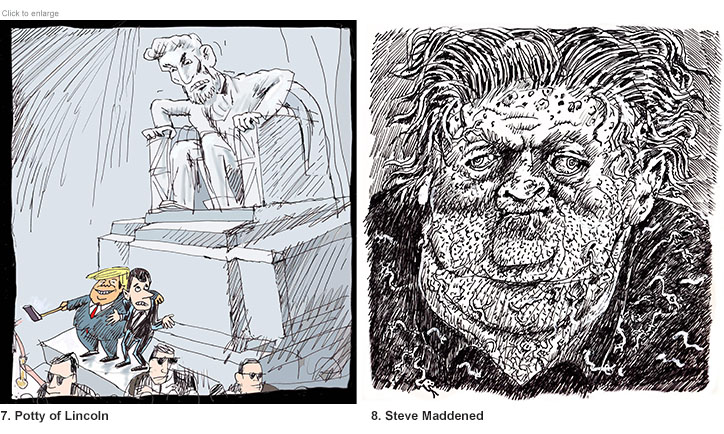 9. Equality: Team Tag
By presidential decree, teams in both the NFL and MLB will be forced to drop names judged offensive to Native Americans, and replace them with more appropriate slurs. The edict will state, 'Now that so-called 'Native Americans' are contained on reservations and pose little threat to 'Real Americans', (and the casino owners who wisely got out of the market when they did) it seems unnecessary to denigrate them further. The Cincinnati Reds may retain their name so long as it is clear that it refers to the Republican Party rather then a heathen skin tone.'
The Washington Redskins will become the Shitholes, the Kansas City Chiefs will be called the Bad Hombres, the Atlanta Braves will be renamed the Beaners, and the Cleveland Indians will be redubbed the Infidels.

10. Collusion: Dread Red Redemption
On May 9, the Annual Victory Day Parade in Moscow's Red Square will feature a salute to Russia's Foreign Intelligence Service's crack cyberhacking corps. President Putin will announce, "It is time for Motherland to acknowledge patriotic service of all loyal Bears, whether Fancy or Cozy or Wiki, in striking fear into hearts of adversaries. What will enemies do? Get off Facebook?"
President Trump will be invited to attend and be lured by the promise of really, really big missiles. And an offer of asylum at the same location as Edward Snowden, providing the NSA snitch gets to keep the room with a window.

12/28/18
---