Ornamental Breakdown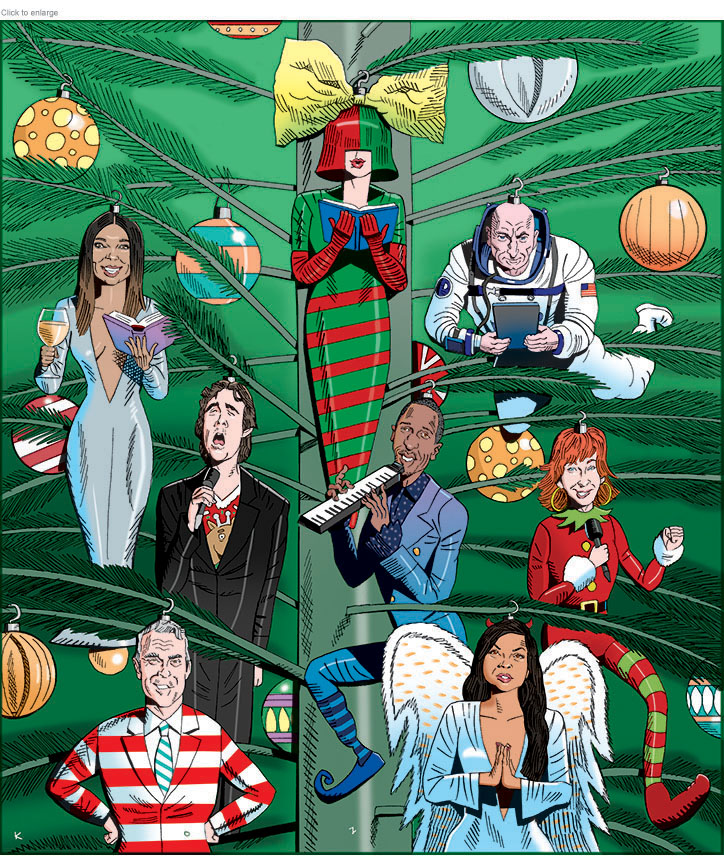 The year has simply flown by and it's time again to dispose of whatever income you have left on grudging gifts, while praying that you can still write them off as 'business expenses' after the Republicans pass their tax bill. Always remember to add 'LLC' after your name on the enclosed card, just in case. To help you select the perfect not-too-special something for that awfully average someone, we've enisted our Little Drama Boy, E. Basil St. Blaise, to review the best of the new crop of Holiday Albums.
Blaise says, "I like to fire up the portable butane range here in my mobile HQ –– which is currently parked in a Wal-Mart lot in Safford, AZ (until after the New Year's Sales) –– and warm up some of my special Groggy Nog. Then I spin these disks and see which ones get little Josef, my somewhat deaf affenpinscher, to yap the loudest. His ear, the left one, is still unerring. Then I pray some of those homicidally cheerful carolers will come along so I can reach up through the hatch in the roof of my trailer and pour some of the tepid Nog down on them and pretend it's boiling oil like in my favorite Chas. Addams cartoon. Sigh. I love this season.'
Every Day Is Christmas / Sia –– Sia troubles.
Christmas Everyday / Smokey Robinson –– Smokey and the band did.
You Make It Feel Like Christmas / Gwen Stefani –– Black-eyed peace.
Christmas Christmas / Cheap Trick –– Snow mas!
Dear December / The Minus 5 –– Non-plussed.
Christmas After Midnight / Fantasia –– Wheeze hours.
Finally It's Christmas / Hanson –– Present-day.
Let It Snow / 98 Degress –– Let it melt.
Christmas Back to You / Chanté Moore –– Moore the merrier.
The Christmas Wish / Herb Alpert –– Tootle eww.
My Kind of Christmas / Reba –– Air filcher.
Not So Silent Night / REO Speedwagon –– Noise to the world.
Christmas with Jon Batiste / Jon Batiste –– Dud of winter.
Christmas in Tahoe / Train –– Green sleaze.
Simply Christmas / Leslie Odom Jr. –– X-mas for Dummies.
Noël / Josh Groban –– No, Hell.
St. Blaise also dug through the teetering stack of non-fiction books on the night table next to his bed to find the ones that really put the 'Moi!' in memoir. Here are some gems from 2017 that you probably overlooked, but your unsuspecting giftee can look over.
Growing Up Fisher by Joely Fisher –– Joely old eff.
The Grouchy Historian by Ed Asner with ed. Weinberger –– Crank shaft.
A Good Life: Newspapering and Other Adventures by Ben Bradlee –– Special ed.
Endurance by Scott Kelly –– Gravitational bull.
We're Going to Need More Wine by Gabriel Union –– Drinking out loud.
Sisters First by Jenna Bush Hager and Barbara Pierce Bush –– Bush babies.
An American Family by Khizr Khan –– Right in the Khizr.
A River in Darkness: One Man's Escape from North Korea by Masaji Isikawa –– Korea & Lives.
Going Into Town: A Love Letter to New York by Roz Chast –– Chast itty belt.
Standing Strong by Teresa Giudice –– Jersey cowed.
I'm Fine…and Other Lies by Whitney Cummings –– Cummings and goings.
It Takes Two: Our Story by Jonathan and Drew Scott –– Scotts freak.
Believe Me by Yolanda Hadid –– Does the dirty Hadid.
There Is No F*cking Secret by Kelly Osbourne –– Or point.
Kirk and Anne: Letters of Love, Laughter, and a Lifetime in Hollywood by Kirk Douglas and Anne Douglas –– Douglas circa.
The Secrets of My Life by Caitlyn Jenner –– Cait spayed.
Cravings: How I Conquered Food by Judy Collins –– Sweet Judy blew lies.
Judy and I: My Life with Judy Garland by Sid Luft –– Luft waffle.
Superficial: Andy Cohen –– Cohen bothers.
Around the Way Girl by Taraji P. Henson –- Jam Henson.
12/19/17
---