Gift Rapt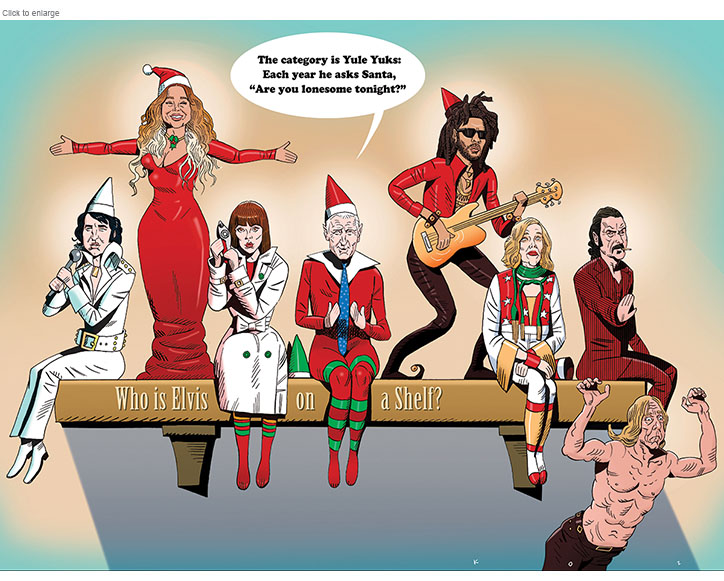 We've asked E. Basil St. Blaise, whose frequently red nose guides him through the foggiest of film plots to once again steer our holiday shopping carts to the best in Books, Music and Video gifts. These are suggestions perfect for you, your loved ones or that suspected someone you fear will send you something you don't need this Holiday Season. So burden your delivery person with a grudging, meaningless gesture not worth its packaging at a time when intrepid, overworked carriers are trying to save lives by transporting a critical vaccine. And then bitch when it's not on time.
St. Blaise is snugly and smugly ensconced in his mobile HQ somewhere in the Southwest with his trusty Affenpinscher. St. Blaise says of his critical canine, "Josef is the final arbiter on many of the musical selections –– if he winds up atop the spinning LP or CD player, pawing wildly as he growls, it's sure to be included. And chewed pages tend to recommend a book. Even he can yap into the Voice Assistant on the remote –– whatever that Ice Queen's name is –– and find the old TV shows streaming somewhere. The Blu-Ray boys must be thrilled there are still enough pack rats out there who buy DVD sets, even if they end up using them as door stops."
He added, "I see the editors saw fit to illustrate my giddy guide with an image of several of the artists included below depicted as Elves on a Shelf. I never was a big Jeopardy! fan –– I resisted reviewing the show, that began in 1964, in the form of a question. I instead summed it up as 'Ask a stupid answer….' But I suppose Alex Trebek, who exuded the understated pomposity one can only find in Canadians, deserves a pop on a page crafted by a professional know-it-all such as myself."
Books
That Time of Year: A Minnesota Life by Garrison Keillor –– Serial Keillor.
Girl With No Job: The Crazy Beautiful Life of an Instagram Thirst Monster by Claudia Oshry –– Unemployment lie.
No Time Like the Future: An Optimist Considers Mortality by Micheal J. Fox –– Pop the cheery.
I Want to Be Where the Normal People Are by Rachel Bloom –– Bloom's buried.
Greenlights by Matthew McConaughey –– All write, all write, all write.
Do You Feel Like I Do? by Peter Frampton –– Numb?
The Cobbler: How I Disrupted an Industry, Fell From Grace, and Came Back Stronger Than Ever by Steve Madden –– Heel raiser.
Let Love Rule by Lenny Kravitz –– Lenny and squiggly.
The Meaning of Mariah Carey by Mariah Carey –– They call the windy Mariah.
Me and Sister Bobbie: True Tales of the Family Band by Willie Nelson –– Wet Willie.
The Answer Is…: Reflections on My Life by Alex Trebek –– Question mock.

Music
Trouble No More: 50th Anniversary Collection / The Allman Brothers Band –– No Allman joy.
Layla & Other Assorted Love Songs: 50th Anniversary Deluxe Edition / Derek and the Dominos –– Dominos infect.
Morrison Hotel 50th Anniversary Edition / The Doors –– Don't check in.
First Take / Roberta Flack –– Flack: jack it.
1969 to 1974 / Fleetwood Mac –– Mac Duddy.
Live in Maui / Jimi Hendrix Experience –– After smoking island to ground.
Jewel Box / Elton John –– John D'oh!
Gimme Some Truth / John Lennon –– Gimme some break.
Flaming Pie / Paul McCartney –– Rue Paul.
Archives - Vol. 1: The Early Years (1963-1967) / Joni Mitchell –– Joni loves tchotchke.
The Bowie Years / Iggy Pop –– Iggy backed ride.
From Elvis In Nashville / Elvis Presley –– One out of Tenn.
Goats Head Soup / The Rolling Stones –– Soup to nuts.
Tea for the Tillerman/Mona Bone Jakon / Cat Stevens –– Yusuf force.
The Mothers 1970 / Frank Zappa –– Frank's red hot sores.
TV Boxed Sets
Deadwood: The Complete Series (Warner Bros.) –– Dakota panning.
Dukes of Hazzard: The Complete Series (Warner Bros.) ––– Dizzy Dukes.
Get Smart: The Complete Series (Warner Bros.) –– Grody to the Max.
The Office: The Complete Series (Universal) –– Dunder miffin'.
Perry Mason: The Complete Series (Paramount) –– Law of diminishing returns.
Rome (HBO) –– Sordid sandals.
Schitts' Creek: The Complete Collection (Lionsgate) –– Snore of the Roses.
The Sopranos: The Complete Series (HBO) –– Mob and pop.
Seinfeld: The Complete Series (Sony) –– Bent & Jerry.
True Blood: The Complete Series (HBO) –– A sucker born every minute.
Listen to E. Basil St. Blaise on his Critic's Corner Podcast.

12/16/20
---