The Missed of Time

Illustrated by Tom Hachtman
The Bureau of Prevision, a division of the State Department's Office of Budget and Planning, had a pretty rough year. Charged with foretelling events in the Homeland and Abroad, the predictors unexpectedly failed to provide heads-upses for the coronavirus pandemic, lockdowns, Black Lives Matter, public unrest and two Taylor Swift albums.
But Director Sybil Merwin is still head prophet at Previz because, as she explains, "We swore up and down that a booming economy presaged a Trump landslide and never did back off that particular oopsie. The President appreciated our unfactual but reassuring take which was based upon the examination of some faulty sheep innards we got from Pakistan. Our haruspex's divination was less than divine, but, ironically, it got us in tight with the President. We were the ones who told him that Las Vegas bookies had him winning on election night –– we meant a few numbers runners in New Mexcio, but it did the trick. We were 100% certain that would keep our doors open during and after the shutdown.
Sure, the past 12 months has shaken our teams confidence a tad, but we've learned to adapt to the new post-truth environment and realize our job is maybe more about wish-fulfillment then we were willing to admit. You say 'Tomorrow is another day?' We say, 'Frankly, my dear, I don't give a damn.'"
Here are the Top 11 predictions from the 2021 Seer's Catalogue.
1. Entertainment: Duck Out
When NBC and even OAN pass on a reboot of Donald J.Trump's signature reality TV show retitled The Apprentice: I Won, I Won, I Won he decides to license his brand to an irreverent animated character in a series for adults to help pay a few bills. The pilot episode of Blame Duck has the bellicose bird getting the hook on the Fowl & Friends morning show and being dragged off stage where he clips his left wing which goes totally lame. Back in his Palm Beach swamp Ol' Featherbrain buys a shotgun for his right wing and teams up with Phil Robinson and the Duck Dynasty boys to hunt the sitting ducks in his own family for sport.
It's ratings success with A Dolt Swim viewers, who are generally as high as Rudy after a magnum of red, will inspire a revolutionary spin-off dubbed Flame Duck.

2. IT: Cheep Bastard
When Facebook, Instagram and Twitter all disable Donald J. Trump's accounts and 'disenfranchise' his 89 million followers, the serial tweeter partners with Vladimir Putin's cyber forces to launch his own social messaging service dubbed Chitter. Though he only attracts 88,ooo followers to his so-called 'Anti-Social Media Platform' because all the haters decide not to sign on, he does produce up to 250 Cheeps a day, each one in 45 characters (in numeric honor of his Presidency), all caps. 25% of the Cheeps are attacks on Section 230 which he insists only applies to his enemies at Facebook and Twitter. The rest are hourly affirmations of his landslide 2020 victory.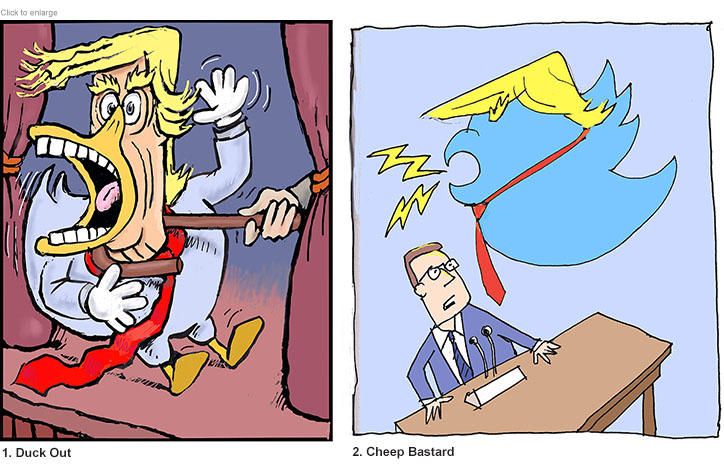 3. Media: DTSN
All the speculation that ex-President Trump would inaugurate a cable new network to rival FOX comes acropper when he announces the launch of the Donald Trump Shopping Network in time for back-to-school 2021. Kimberley Guilfoyle will assure viewers, at the top of her lungs, that 'The Best Is YET TO COME' as she anchors the nightly marketplace of all things MAGA. It's Savior Money time when father & daughter team Mike and Sarah Huckabee hawk a batch of unique everyday objects, including burnt English muffins, stained sheets and seashells, in which believers can discern the profile off both Donald J. Trump and Jesus.
'Coach' Jim Jordan will pin down the bargains, humping athletic supporters and men's bodywash in the Shower Room. DTSN expects firm support from the base for Melania's Be Bust brassiers. And the channel predicts boffo sales from Kellyanne's Con Way with her truth-busters blowouts and lie-away plans. Ivanka will give Gwyneth a run for her jade vaginal eggs with her Gop brand of personal beauty luxury accessories that include Bald-faced Depilatory Wax, Alabaster Bill Barr Butt Plugs, and Jared's Jizzy Body Creme.

4. Health: Bleach Banquet Bingo
Traitor Don's Hour on DTSN where the Chief COVID-denier tries to unload some of the vast overstock of Hydroxychloroqine, Clorox and Goya Beans he amassed during failed publicity stunts in the White House convinces the coronavirus to mutate hard and have another go at him.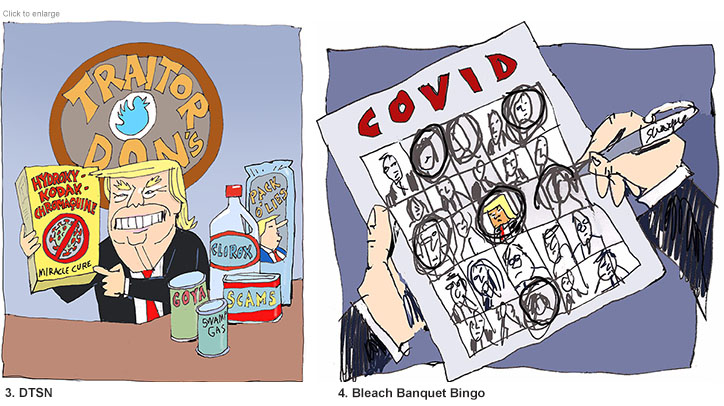 5. Foreign Affairs: Bear the Blunt
The massive Russian hack of U.S. governmental agencies including the Pentagon provided the FSB with a top-secret recipe for weapons-grade Kush. The same lab that produced Novochik will whip up multiple tons of the potent pot as part of a plot to dose the water supplies of every major American city. But a lab worker overcome by the herb's hyper-skunkosity will accidentally overturn a heater and set half the crop ablaze. The resultant 'mushroom' cloud will hang over the Kremlin's onion domes for days and, will cause, as seen in the drawing below… uhh, like, a very gnarly Russian Bear to roar and a witchy woman –– called maybe Baba something or other –– and, like, we can't exactly remember, but a pig? In overalls? A freakin' pig? Nyet way! And then… they will all… what were we saying?
After generations of jonesing for vodka, the Russian Parliament will vote on replacing grain alcohol with ultra-mellow Moscowie Wowie, but the debate over the move will stretch well into 2022 and remain unresolved.
6. International Business: Apple Turnover
Apple will continue to promise that it will a) someday move it's manufacturing facilities to the U.S. and b) until then, insist on the strictest protections for the workers in the Chinese factories where their products are currently made. To safeguard their rights Apple will insure that all staff have access to the latest versions of their game-changing, sleek new iPhones and iPads featuring five-element lens Ultrawide cameras with a generous ƒ/2.4 aperture, eye-popping 120° field of view and incredible 5x digital zoom. They will be encouraged to record any workplace abuse or unfair practice like a pro in dazzling color with undreamed of clarity and detail –– not to mention enhanced Night mode for those late nocturnal shifts.
They will be inspired to capture every stunning nuance in breathtaking photos, to upload them to iCloud, to return the devices to management, and to get back to work.
7. Civil Rights: Selfie Determination
In the wake of impassioned protests against racial discrimination and police brutality, law enforcement entities across the country will finally embrace sensible reform with the Stop and Get Frisky initiative. A totally dope alternative to unreliable body cams and dreary mug shots, this selfie-snapping app (with kewl filters and facial recognition capabilities) is sure to lessen tensions. How can it not help to forge a bond between officer and suspect when it puts de fun ahead of defunding? And if you've got nothing to hide why wouldn't you want a lasting record of the expression on your face just before the action goes down?

8. Economic Recovery: Checks Imbalances
Senate Majority Leader (did you really think two Democrats could win in Georgia? Georgia!?) McConnell will generously offer $2000 stimulus relief checks to lucky Americans. The catch is that there will be only 2000 of them and they will be hidden in single-serve boxes of a new breakfast cereal (unfortunately not available to those receiving food stamps.) Mitch Chex will taste like the cardboard shoes an old gentleman from Kentucky might be buried in, but everyone will want a bowlful in hopes that they'll score the 'Golden Ticket' of enough money to cover a month's rent and a bag or two of Everlasting Gobstoppers.
Note from Director Merwin, 01/06/21: Apparently both Democrats did win in Georgia. Oh well, nobody said we were mind readers.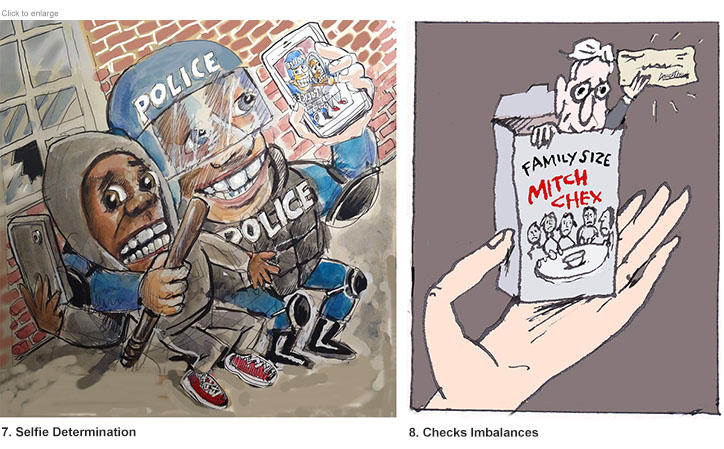 9. Real Estate: Infernal Combustion
A suspicious 4-alarm fire will break out at Trump Tower on 5th Avenue in New York City. Investigators will discount arson and conclude that the grotesque edifice spontaneously combusted when ex-President Donald J. Trump returned to his offices and uttered the words, "Liberty and Justice for all."

10. Environment: Plumb Loco
Throughout the year the Democratic Process will prove sluggish as Democrats and Republicans bicker endlessly in Congress and legislation backs up. Finally Lady Liberty will discover a clog in a Russell Senate Office Building Men's Room toilet left by a Proud Boy.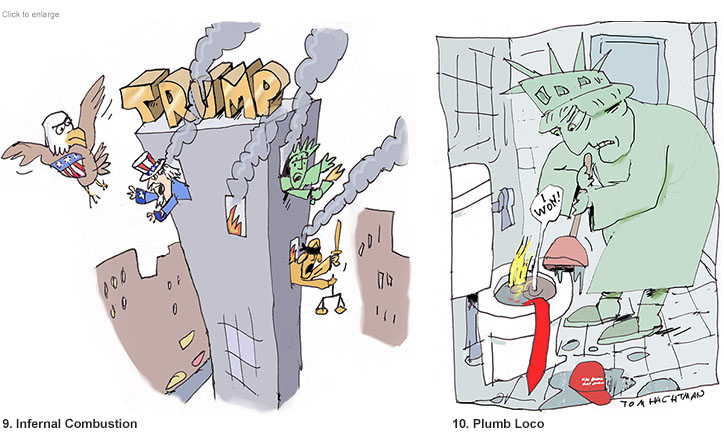 11. History: Mayflower Madden
The controversial quadricentennial celebration of the Pilgrim's Landing in Provincetown, MA, which was dampened due to pandemic restrictions in 2020, will warrant a further reckoning when archaeology students from Harvard discover traces of a foundation along the Cape Cod shoreline that suggests early Native American inhabitants tried to keep out sea-faring invaders from the East with a border wall. The existence of the surprisingly sophisticated barrier and sturdy cages behind it ready to imprison offspring of the Puritans who might get through, will only embolden the anti-Colonialists who denounced lauding the aggressors who came to spread germs and steal land. An inscription on a cornerstone, translated from the Wampanoag tongue, will read, "We shall build a big, beautiful wall and the White Devils shall pay for it."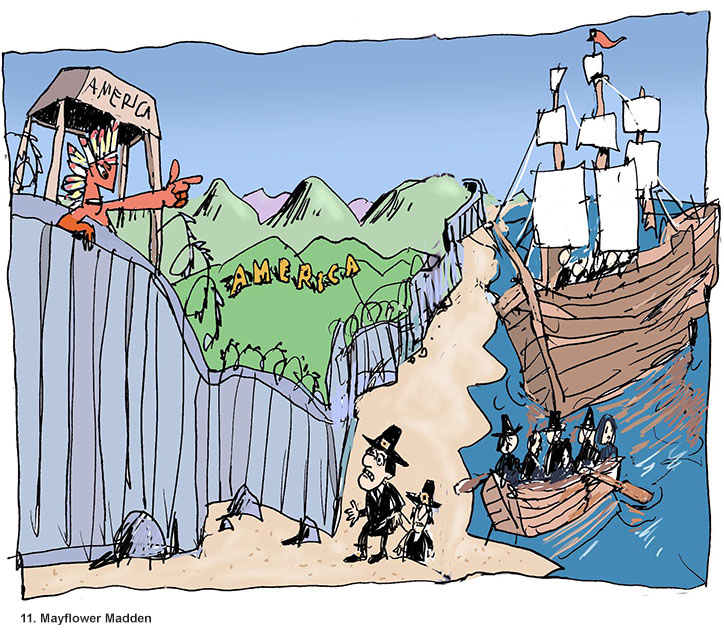 01/05/21
---