The Haunted Manchin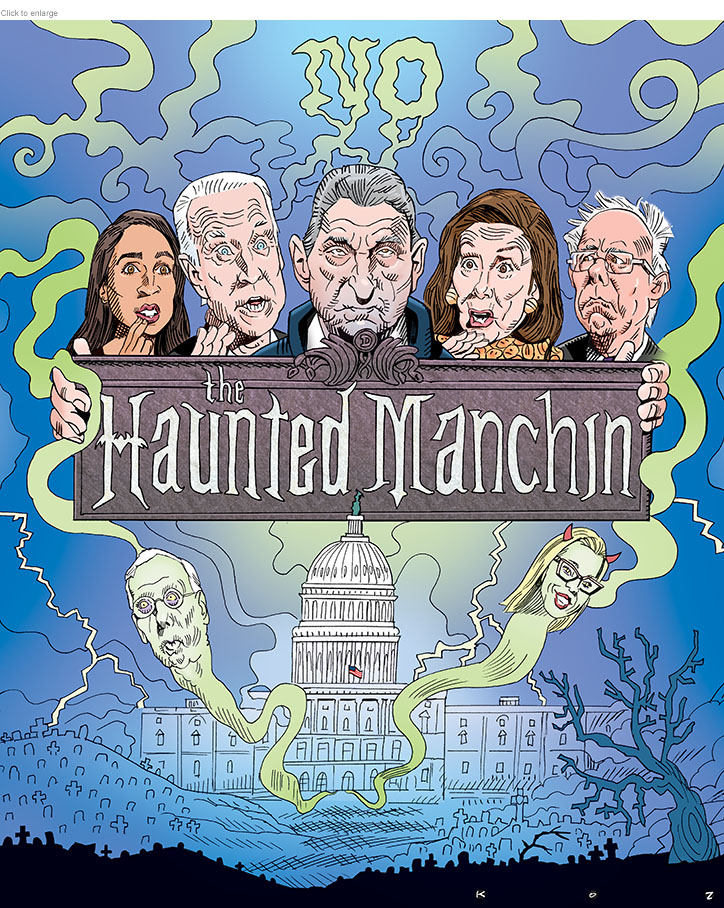 It's once again the season to summon E. Basil St. Blaise, our Mad Scientist of Cinema Studies, from his sepulchral mobile HQ (he purposely doesn't oil the creaky front door this time of year) to review some classic Halloween film fare.
With a Sleepy Hollow cocktail in one hand ("it gallops through your Ichabod Cranium and makes you wish you were headless.") and his faithful Affenpinscher, Josef, stretched across his pumpkin-pattern socked feet ("yes, that's a 'Baby Yoda' costume on him from The Mandalorian ((2019) –– Mando overboard.), who wants to know?") St. Blaise embraces the dank holiday spirit. "Well, I see the damned editors insisted on another 'political' cartoon to illustrate my annual ghoulish guide. I've never been a fan of real life horror, whether it be that January 6 Capitol ado which looked like a high-school production of Marino Girolami's spaghetti shocker Zombie Holocaust ((198o)) –– Pasta way.) or the fashions at the Met Gala.
Plus they've spoofed that witless and scare-free Eddie Murphy vehicle The Haunted Mansion ((2003) –– Roomer willies.), based upon a Disneyland 'ride' which made Abbott and Costello Meet Dr. Jekyll and Mr. Hyde ((1953) –– Schizo frenetic.) look like Oscar Wilde's The Picture of Dorian Gray ((1890) –– Filthy shades of Gray.) The novel, of course, not any of the film adaptations, the best of which was made in 1945 and starred waxen Hurd Hatfield who hardly seemed the real McCoy. I got the picture and dubbed it "Like watching pain dry." News that Disney is looking to reboot The Haunted Mansion sends shivers down one's timbers –– why not just rerelease Hillbillys in a Haunted House ((1967) –– Rube pall.)?
Lewton: Free Die It
While in the haunted dwelling mode, Josef and I always like to dig into some black-and-white golden moldies. A viewing of the Jack the Ripper variant The Lodger ((1944) – Red lettor day.) with the lumpy yet sinister Laird Cregar, reminded us of the 1940s master of mindlessless entertainment for the thinking person. By the time buffa film buff Marty Scorsese released his documentary on the formerly-obscure RKO producer, Val Lewton: The Man in the Shadows ((2007) –– Seeking Val ideation.) the critical community had certified a new sweetheart. Lewton's less-is-more approach (he was an auteurist producer) which stressed slow-building suspense generated by rarely-seen threats was largely dictated by a lack of scratch. He papered over the budgetary shortfalls with scraps of philosophical musings and shadowy cinematography.
The first-listed title below should not necessarily have you prowling off to see the overripe Paul Schrader remake with Nastassja Kinski and Malcolm McDowell, Cat People ((1979) –– Pussy wallow.) Or to watch the weirdly inert British thriller starring Barbara Shelley (grrr), Cat Girl ((1957) –– Mostly padding.)"
Cat People (1942) –– Lawdy, Miss Clawdy.
I Walked With a Zombie (1943) –– A shambles.
The Leopard Man (1943) –– Spot start.
The Seventh Victim (1943) –– Septi tanks.
The Ghost Ship (1943) –– Hell buoy.
The Curse of the Cat People (1944) –– Hiss boom bah.
The Body Snatcher (1945) –– Corpse correction.
Isle of the Dead (1945) –– Plague dead.
Bedlam (1948) –– Asylum records.
Carpenter Antsy
St. Blaise quibbles on: "The latest release in the long-running stab-fest Halloween Kills ((2021) –– Never say knifer again.) had us cranking up the VCR and DVD player to reconsider the oeuvre of Michael Myers' stepdad. With all the schlockmeisters who have tickled the cultist's fancy it seems to me that John Carpenter has received too little love.
Perhaps he was neither pretentious enough to thrill the nerdiest fanboys nor inept enough for them to mock. Carpenter was a solid craftsman who hammered together well-made scripts, plastering over plot holes and tightening the screws so that the audience didn't saw wood. How was that for constructing an extended metaphor? Nailed it!
And his musical scores! 'Inspired' by Mike Oldfield's Tubular Bells which reverberated through The Exorcist ((1973) –– Head-spinning.) they featured hammy, but hummable electronic minimalism. Think a Brian O, No! or a Philip Glass-half-filled.
Before retiring as a director, Carpenter also produced an anthology horror film for Showtime in which he served as the Coroner who narrated the three vignettes. Regarding 1993's Body Bags, I suggested you 'Switch the charnel.' His tendency to entitle many of his movies 'John Carpenter's This or That' (which I resist here) suggests the biggest monster he grappled with was his ego. Thus our little dour-to-dour tour leads to the dead end of his movie morgue."

Assault on Precinct 13 (1976) –– Nadir's raiders.
Halloween (1978) –– Forward slash.
The Fog (1980) –– Dead pirate joke.
Escape From New York (1981) –– Manhattan transfer.
The Thing (1982) –– Morph and windy.
Christine (1983) –– Auto manic transmission.
Starman (1984) –– Stellar dweller.
Big Trouble in Little China (1986) –– Poor chops.
Prince of Darkness (1987) –– Scratch and stiff.
They Live (1988) –– Rule of thump.
Memoirs of an Invisible Man (1992) –– Shite unseen.
In the Mouth of Madness (1994) –– Dental damn!
Village of the Damned (1995) –– Scars for kids.
Escape from L.A. (1996) –– Snake piss kin.
Vampires (1998) –– The bloodsucker proxy.
Ghosts of Mars (2001) –– Space heaver.
The Ward (2010) –– Ward removal.

Listen to E. Basil St. Blaise on his Critic's Corner Podcast.
10/29/21
---