OSCAR PETERSOUT 2011
Best Picture Nominees:
Black Swan –– Swan flake.
The Fighter –– Jabber wonky.
Inception — Dream weeper.
The Kids Are All Right — Mommy queerest.
The King's Speech –– Stutter steps.
127 Hours –– Disarming.
The Social Network — ROFL ticket.
Toy Story 3 — Play-doo.
True Grit –– Grit and bear it.
Winter's Bone –– Osteopathetic.
---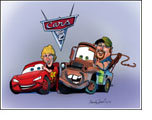 Cars 2 –– Bumper crap.
Bad Teacher –– Ed grimly.
Conan O'Brien Can't Stop –– Annoying me.
A Better Life –– Better than what?
Leap Year –– Anus horribilis.
The Best and the Brightest –– Sat this one out.
If a Tree Falls –– Why can't it be on this theatre?
General Orders No. 9 –– From column B.
Turtle: The Incredible Journey –– Shell schlock.
The Names of Love –– All 4-letter words.
17 Miracles –– Will not include Romney's election.
Passione –– Napoli ever after.
A Love Affair of Sorts –– Out of sorts.
Raw Faith –– More Unitarian Universalist fanaticism!
Farmageddon –– Apocalypse cow.
---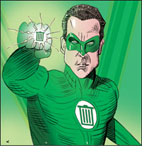 Green Lantern –– None too bright.
Mr. Popper's Penguins –– Tuxedo junk. Shun.
The Art of Getting By –– Mutt skills.
Kidnapped –– We all napped.
My Afternoons With Margueritte –– It takes a village idiot.
Buck –– Shot.
R –– Otten.
Page One: Inside The New York Times –– Grey Lady down.
Jig –– Is up.
Battle for Brooklyn –– The Heights of idiocy.
Angel of Evil –– Heel Milanese.
---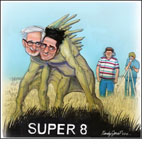 Super 8 –– The same old Spielberg.
Judy Moody and the NOT Bummer Summer –– This will just ruin the first month.
TrollHunter –– Look on foxnews.com.
Bride Flight –– Flee-brained.
The Trip –– Road to nowhere.
Road to Nowhere –– They made it.
Viva Riva –– The nil Riva.
One Lucky Elephant –– His part was cut.
Queen of the Sun –– Beegone.
Just Like Us –– I refuse to.
Reversion –– Reverse case scenario.
---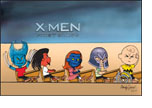 X-Men: First Class –– Mutant strain.
Submarine –– Baffles.
Beginners –– Poof Daddy.
Beautiful Boy –– Student bodies.
Mr. Nice –– Hash mark.
Love Wedding Marriage –– Tied up in knots.
Film Socialisme –– Left behind.
Yellowbrickroad –– Where Toto peed.
Small Town Murder Songs –– Humdumb.
The Last Mountain –– Hill of beans.
Empire of Silver –– Argent care.
Some Days Are Better Than Others –– Ditto movies.
Rejoice & Shout –– It's over!
!Women Art Revolution –– !W.A.R. whores.
---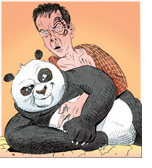 The Hangover Part II –– Hair of the dog that bit.
Kung Fu Panda 2 –– A Po excuse.
The Tree of Life –– Branch rickety.
Tuesday, After Christmas –– When the eggnog has soured.
The Abduction of Zack Butterfield –– Butterfield 8…shit.
Hello Lonesome –– Hello loathsome.
Puzzle –– Sodookie.
---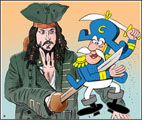 Pirates of the Caribbean: On Stranger Tides –– Low Tides.
Midnight in Paris –– Clichés longue.
The Lion of Judah –– Judah mawkish be.
We Are the Night –– Total suckfest.
Bloodworth –– Krisp Kristofferson.
Louder Than a Bomb –– But still a bomb.
35 and Ticking –– Me off.
Hard Breakers –– Hard-to-takers.
Cost of a Soul –– Two-bit.
---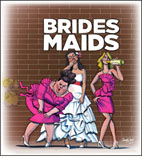 Bridesmaids
–– A three-skanky affair.
Priest
–– A clerical error.
Hesher
–– Metalheadache.
Everything Must Go
–– Ill-disposed.
Skateland
–– Dead rinker.
True Legend
–– Feud Manchu.
The First Grader
–– Wrote this.
Go For It!
–– With a knife.
The Big Bang
–– Whimpersnapper.
How to Live Forever
–– Eternal affairs.
The High Cost of Living
–– Forever.
L'Amour Fou
–– Heave Saint-Laurent.
---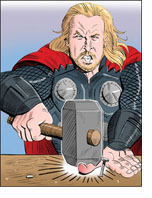 Thor –– Thunder-achiever.
Something Borrowed –– Like gonorrhea.
Jumping the Broom –– Sickly sweep.
Caterpillar –– Crawls.
The Beaver –– I would chuck if I could chuck.
Last Night –– Low fidelity.
Hobo With a Shotgun –– Tramp steamer.
Daydream Nation –– I imagined I was watching a decent movie.
There Be Dragons –– There be draggin'.
An Invisible Sign –– No, you can see my middle finger.
The Silent House –– Even the ushers were snoozing.
Make Believe –– OK, thith wath thwell!
Passion Play –– Angel fruitcake.
The Vintner's Luck –– Dying on the vine.
Harvest –– Weed 'em and reap.

---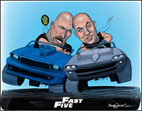 Fast Five –– Too lame blacktop.
Prom –– Miss.
Hoodwinked Too! Hood vs Evil –– Fart Hood.
Dylan Dog: Dead of Night –– One dog Night.
13 Assassins –– Overkill.
Cave of Forgotten Dreams –– Au bon paint.
Sympathy for Delicious –– Unpalatable.
We Go Way Back –– Not far enough.
Exporting Raymond –– Everybody loathes Raymond.
The Robber –– Hose.
That's What I Am –– A feature-length PSA.
Lebanon, Pa. –– Ceders of Lebanon.
---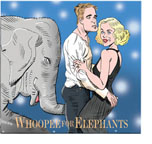 Water for Elephants –– Dumbo droppings.
Tyler Perry's Madea's Big Happy Family –– Perry pathetic.
African Cats –– Shot puss.
The Greatest Movie Ever Sold –– And now a turd from our sponsor.
Incendies –– Ash if.
Legend of the Fist: The Return of Chen Zhen –– I was expecting John Travolta.
The Bang Bang Club –– Doesn't click.
Stake Land –– Hammered.
Dumbstruck –– So shut up.
Deep Gold –– Panned.
Cougar Hunting –– Senior wenches.

---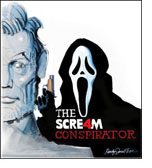 The Conspirator –– A plotboiler.
Scream 4 –– Craven' lunatic.
Rio –– Rotten to the macaw.
Atlas Shrugged Part 1 –– Rand illusion.
Armadillo –– War is Helmand.
Footprints –– Missteps.
The Double Hour –– Two for wan.
A Screaming Man –– Chad low.
The Imperialists Are Still Alive! –– Émigré hound.
The First Beautiful Thing –– The bella of the beast.
Fly Away –– Autistic license.
Square Grouper: The Godfathers of Ganja –– The Florida keys.
---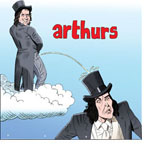 Arthur –– Deadly more.
Your Highness –– Bud knight.
Hanna –– Holey Hanna.
Soul Surfer –– Eh souls.
Meek's Cutoff –– At the ankles.
Born to be Wild –– Beastie buoys.
American: The Bill Hicks Story –– Crix nix Hix pix.
Henry's Crime –– Is the director named Henry?
The Prince of Montpensier –– Frog march.
Ceremony –– Down rite awful.
Blank City –– Punk'duh.
To Die Like a Man –– Trannie sez.
Meet Monica Velour –– Porn yesterday.
Meeting Spencer –– Meating Spencer.

---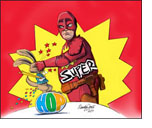 Hop –– Snore Easter.
Super –– Silly ass.
Source Code –– Cold Source.
Insidious –– Is hideous.
Rubber –– Dookie.
Trust –– Predator drone.
In a Better World –– This isn't released.
Wrecked –– 'em.
Queen to Play –– She was rooked.
Cat Run –– Pussy wallow.
The Four Times –– Quad injury.
The Elephant in the Living Room –– Trunk in the junk.
Circo –– Jerko.
Fat, Sick and Nearly Dead –– If only it had ended there.
Wretches & Jabberers –– An embarrassment of retches.
The Last Godfather –– O Seoul mio.
---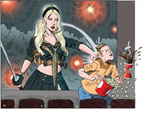 Sucker Punch –– Dumb Punch.
Diary of a Wimpy Kid 2: Rodrick Rules –– Wuss up.
Peep Rules –– Peepee rules.
Illegal –– Oughta' be.
Miral –– Schnabeldygook.
Potiche –– Deneuve of some people!
White Irish Drinkers –– Dipso facto.
Queen of the Sun: What Are the Bees Telling Us? –– Buzz off.
My Perestroika –– Garbagev.
Honey –– Sticky.
I Travel Because I Have to, I Come Back Because I Love You –– I left because I hate it.
One Hundred Mornings –– The crap of dawn.

---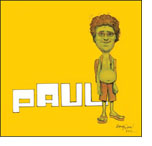 Paul –– Pall.
Limitless –– One duh drug.
The Lincoln Lawyer –– Shysterical.
Win Win –– Whine whine.
Cracks –– Not wise ones.
Winter in Wartime –– WW too-too.
Desert Flower –– A genital reminder.
The Music Never Stopped –– He had a soundtrack mind.
Nostalgia for the Light –– Completely in the dark.
The Butcher, The Chef and the Swordsman –– Attention, choppers.
I Am –– Bored.
0s & 1s –– But mostly 0s.
---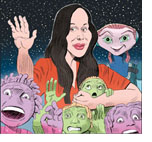 Mars Needs Moms –– They offer womb and board.
Red Riding Hood ––Dunces with wolves.
Battle: Los Angeles –– Invasion of the hottie snatchers.
Jane Eyre –– Brontësaurus.
Black Death –– Boobonic plague.
Kill the Irishman –– Green skeeves.
Elektra Luxx –– Laxx.
Certified Copy –– Repro man.
Monogamy –– Monotony.
The Desert of Forbidden Art –– Sand paintings.
Harvest –– A piece of crop.
---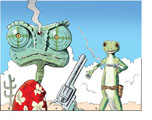 Rango –– Coma chameleon.
The Adjustment Bureau –– Are they chiropractors?
Beastly –– The beast is yet to cum.
Take Me Home Tonight –– '88 shit.
I Saw the Devil –– Kissing Santa Claus.
Uncle Boonme Who Can Recall His Past Lives –– And they bore even him.
HappyThankYouMorePlease –– SadSorryLessI'mBeggingYou.
Bereavement –– Lamentable.
Old Cats –– You gato be kidding.
Sons of Perdition –– Damned silly.
Trick of the Witch –– Hex a gone.
---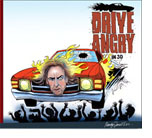 Drive Angry –– Rage rover.
Hall Pass –– Cheat sheet.
Of Gods and Men –– Do wha deity?
Heartbeats –– Skip.
The Grace Card –– Grace slick.
Everything Strange and New –– Nu?
A Good Man –– Is hard to find.
The Over the Hill Band –– Oldies but gooeys.

---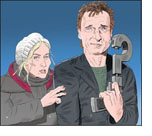 Unknown –– I wish.
I Am Number Four –– You are Number Two.
Big Mommas: Like Father, Like Son –– Gramma schooled.
Vanishing on 7th Street –– The Gone Show.
Even the Rain –– Can't wash away this mess.
Zero Bridge –– Kashmir sweater.
We Are What We Are –– Which is boring.
I Am –– You ain't.
Brotherhood –– Purple hazing.
The Chaperone –– Dated.
Putty Hill –– Silly Putty.
The Last Lions –– Roar sewage.
---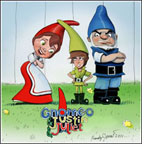 Gnomeo & Juliet –– Gnome mas!
Justin Bieber: Never Say Never –– Except in this case.
Just Go With It –– Just go on it.
The Eagle –– Has landed. With a thud.
Cedar Rapids –– Iowa an apology.
Poetry –– Slam.
Carancho –– Ambulance chaser shot.
In Her Skin –– Teeny whopper.
Carbon Nation –– Fizzy.
Vidal Sassoon: The Movie –– If you don't look good, he doesn't look good. You must look like shit.
Orgasm, Inc. –– Chick clit.
Certifiably Jonathan –– Winters of our discontent.

---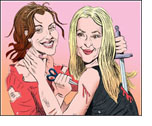 The Roommate –– Dorm and dumber.
Sanctum –– Skankdom.
Waiting for Forever –– That's what it feels like.
The Other Woman –– She crabs.
Frankie & Alice –– Frankie valley.
Cold Weather–– Brrrlesque.
Into Eternity –– A nuclear waste.
Dressed –– To nill.
Home –– Run!
The Troubadours –– Ballad drear.
---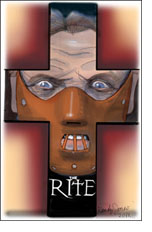 The Rite –– Stuff.
The Mechanic –– Grease monkey.
From Prada to Nada –– I wouldn't be Prada this.
Ip Man 2: Legend of the Grandmaster –– Works like Ipecac.
Kaboom –– Kablooey.
Lemmy –– Outta here.
Strongman –– Power balls.
When We Leave –– Awful Wiedersehen.
Scream of the Banshee –– Wail watch.
Seconds Apart –– Sloppy Seconds.
---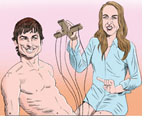 No Strings Attached –– Bonk mates.
The Way Back –– Trudger hunt.
The Company Men –– Hire end.
Mumbai Diaries –– India inked.
Johnny Mad Dog –– Distemper tantrums.
The Housemaid –– Dust might.
The Woodmans –– Choppy.
Applause –– Is unlikely.
Zenith –– Nadir.
Gabi on the Roof in July –– Diddler on the roof.
---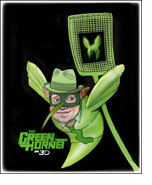 The Green Hornet –– Buzzworthless.
The Dilemma –– De lemon.
Every Day –– Routine.
The Heart Specialist –– Cardiyuks arrest.
Burning Palms –– From jerking off.
Ong Bak 3 –– Ong loose.
A Somewhat Gentle Man –– A somewhat lousy film.
Repo Chick –– You can have her.
Petition –– Lacks appeal.
Down For Life –– Or at least for the duration of this.
Plastic Planet –– Synthplop.

---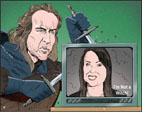 Season of the Witch –– Snored and sorcery.
The Time That Remains –– As I stare at my wristwatch.
If I Want to Whistle, I Whistle –– Blows.
No One Killed Jessica –– Or saw this movie.
Phil Ochs: There But For Fortune –– For old folkies.
Americatown –– U.S.-hole.